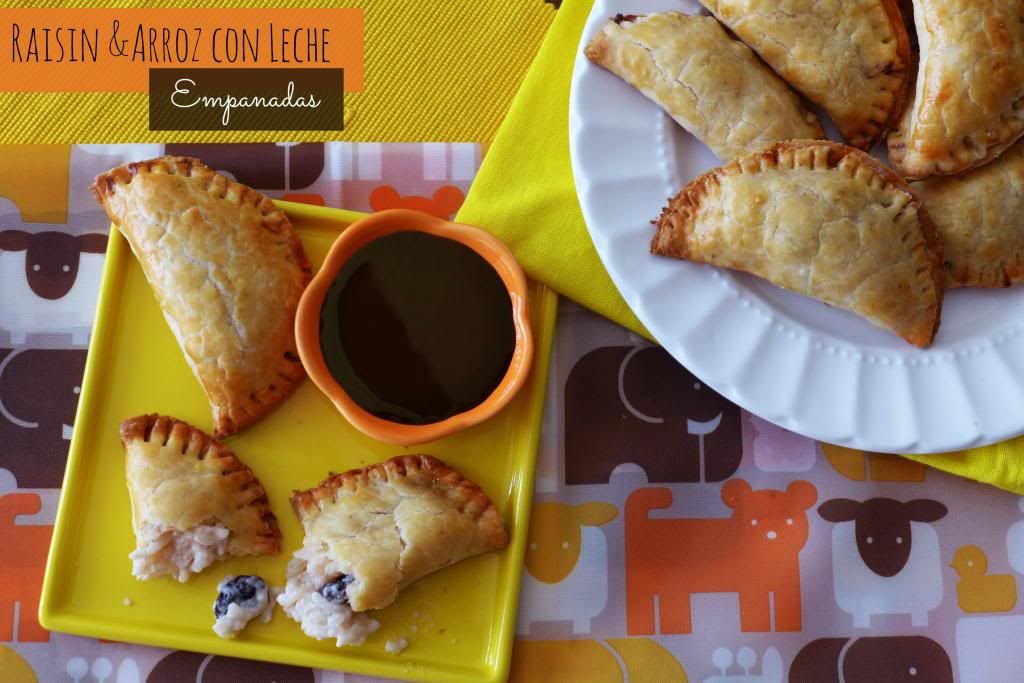 If I could wrap anything in an empanada, I would.  They are easy to make, easy to handle and whatever is inside of one, my son is sure enough to eat it.
We love arroz con leche con pasas (rice pudding with raisins) as a fun treat.  But when we are on the road, it's difficult for a 4-year-old to hold the container and spoon in a moving car without spilling and making a sticky mess.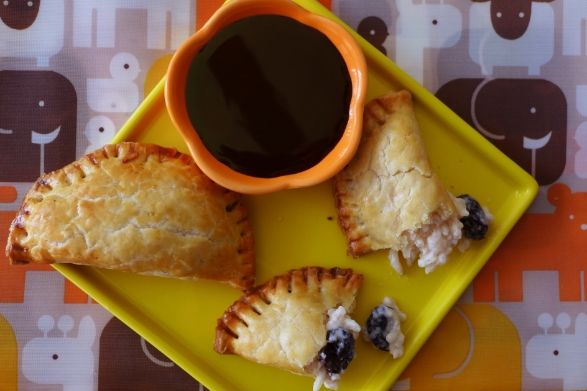 So I put my thinking cap on and decided to use the last of the ready made pie doughs I had in my freezer and make mini-empanadas for my little one for a weekend snack.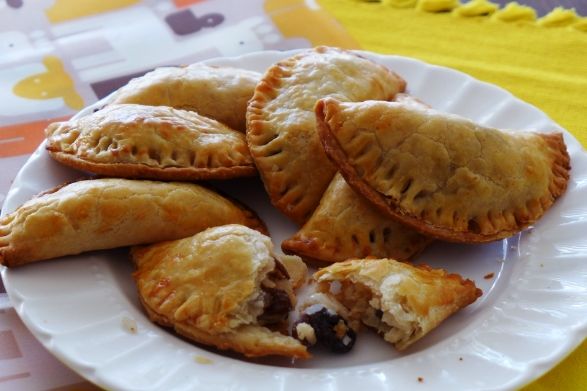 Not only were these the perfect size for his little hands but perfect for dipping.  I can't wait to make these again for my son's birthday party.  So easy!
Raisin & Arroz con Leche Empanadas
Ingredients
1 cup long-grain white rice
2 cups water
1 large cinnamon stick
1 pinch salt
1 can evaporated milk
¾ cup condensed milk
1/3 cup California raisins
1 teaspoon vanilla extract
½ cup sweetened coconut, shredded
1 9" inch ready made pie dough, thawed
1 egg, beaten
flour for dusting
chocolate syrup for dipping (optional)
Instructions
In a large saucepan, place the rice with the water, cinnamon stick and salt
Bring to a boil, lower heat and cook until most of the water has been absorbed.
Stir in milks and continue cooking for approximately 5 more minutes. Add raisins and cook for 2 more minutes.
Remove from heat and let cool.
Preheat oven to 450° F. Grease baking sheet.
Roll out pie dough on a flour surface and extend with rolling pin to approximately 12" in diameter.
Cut out 3" circles with the rim of a small bowl.
Place 1-1/2 heaping tablespoons of arroz con leche (rice pudding) and a teaspoon (or pinch of coconut) in the center of each dough circle.
Brush edges with egg; fold in half and crimp edges with fork to seal.
Place empanadas on prepared baking sheet; brush with egg.
Bake for 15 minutes or until golden. Serve warm with a side of chocolate syrup for dipping.
http://www.nibblesandfeasts.com/2013/02/raisin-arroz-con-leche-empanadas/
Copyright Nibbles and Feasts