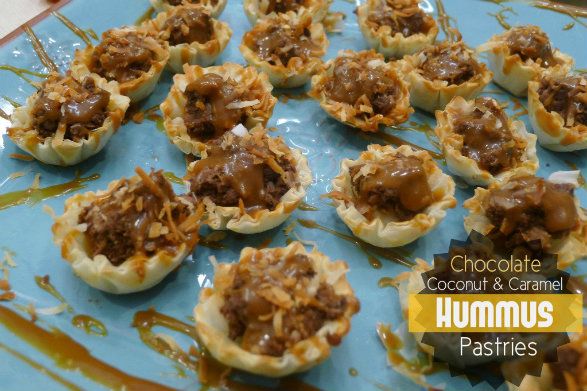 It really doesn't get better than hummus. Hummus is a ground up chickpea dip blended with a Mediterranean sesame seed paste known as Tahini.  Wait, it does get better… add chocolate, coconut and caramel to it and serve it as your next party's pastry dessert treat.
Before I get into my love for this dessert let me give you some background information on one of our favorite snacks.
Last October, I was invited to visit Sabra Hummus in Richmond, Virginia, where I found out just how amazing hummus is. It's full of protein, fiber, it's Kosher and gluten free.  It has no trans fat and no cholesterol.  Which means, no guilt!
Hummus was my son's first snack food because it's full of flavor and so gentle on little baby stomachs. Now, he devours it with pita chips, in his sandwich as a spread instead of mayo or as a single serve in their Grab n Go Packs.

During my Sabra visit, I had the opportunity to sample hummus in so many different  varieties.  If you're a hummus rookie, I recommend you start out with their Classic Hummus and eventually move on to more intense flavors such as Chipotle, Jalapeño and Asian Fusion Garden which are my favorites.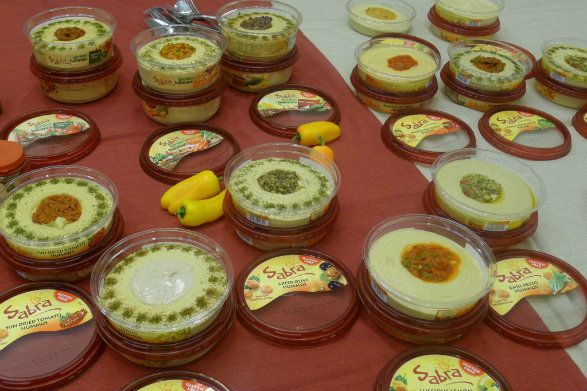 During our taste testing, I was extremely surprised at the versatility of this snack.  Besides dipping, it can be spread on breads, tortillas and fresh vegetables.  Dollop it on your favorite salad, soup, roasted vegetables or meat such as carne asada or roasted chicken.  It can be baked in biscuits, croissants or empanadas and last but not least it can be created into a dessert.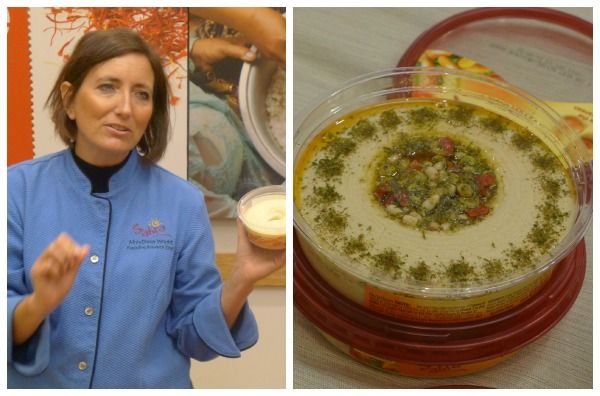 Mary Dawn Wright, Sabra's Executive Research Chef discussing the structure and taste profile of Sabra hummus

Chocolate, Coconut and Caramel Hummus Pastries
Ingredients
Ingredients for Caramel

1 cups sugar
1/4 cup water
1 cups heavy cream
2 tablespoons unsalted butter
1 teaspoon vanilla

Ingredients for Filling

1 cup Sabra® Classic Hummus
¾ cup Toasted coconut
1 cup finely grated premium chocolate (60% cocoa butter or more)
20 pre-baked phyllo pastry cups
1/4 cup toasted coconut
Instructions
Place sugar and caramel in a heavy bottomed sauce pan. Cook over medium heat until sugar begins to brown. Watch very closely, stirring infrequently. When sugar is a deep brown (but not burned looking!), remove from heat. Immediately and carefully add cream.
Stir well. Add butter and vanilla. Stir until well blended.
Pour into a storage container and refrigerate until ready to use.

To make filling

Mix all filling ingredients together. Refrigerate until ready to use.

To Serve:

Spoon a rounded teaspoon into phyllo pastry cup. Top with a rounded teaspoon of caramel. Sprinkle with toasted coconut.
Place on serving platter. Drizzle pastries and platter with caramel. Serve immediately.
Notes
Caramel can be prepared up to 2 days in advance. Purchased caramel can be used if you do not have the time or temperament to make caramel on the stovetop. Filling is best made the day it is served. Do not fill cups more than an hour before serving.
http://www.nibblesandfeasts.com/2013/01/chocolate-coconut-and-caramel-hummus-pastries/
Copyright Nibbles and Feasts
This is a sponsored post as part of the Sabra Tastemaker program.  All opinions are my own.