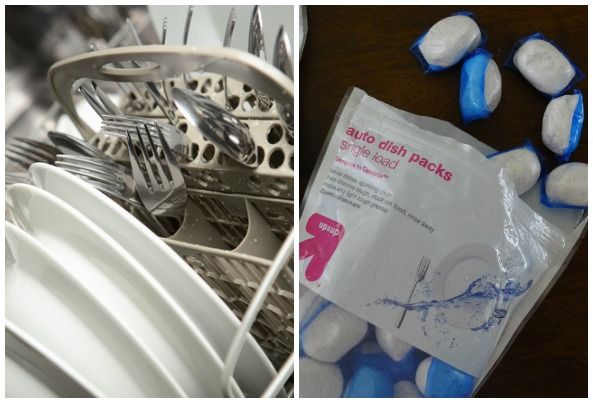 This post isn't about food.  It's about what happens after the food is made.  There is a lot of work that goes into a food post.  From grocery shopping to developing the recipe, to testing, testing again, cooking, photographing and yes… the dreaded clean up.   I can prepare all sorts of delicious treats all day long, but preparing all these treats doesn't leave much time and energy for clean up. After a busy day of whipping up some of my "masterpiece" recipes it seems like I use every pot, pan, dish, and utensil in my kitchen.  Washing those dirty dishes is the last thing I want to do, especially after hours of being in the kitchen.
A sneak peek into my kitchen after cooking and photographing one post!
Then I look over and I can see the grease monsters lurking in my sink!  I realize I can use the dishwasher, but I still have to rinse every dish before I put it in.  I have tried many dishwashing detergents and I found that Target's up&up Auto Dish Packs is my best kitchen assistant because it gets the job done!  Plus, it's very affordable, I get the perfect amount of dishwasher detergent, it requires no pouring, measuring and no mess.  It also helps dissolve the grease and removes all food from my dishes, so no rinsing required.  Squeaky clean dishes in no time and without the work? Sold!  It saves me so much time that I can spend the evenings reading books to my son and keep my manicure intact.
Disclosure: This is a sponsored post by Target and I received the product to facilitate the review. All opinions, are 100% my own.