Scalloped potatoes are my all-time favorite potato dish.  I take full advantage of serving and eating this dish at any chance I get during the holidays.
This year, I decided to change it up a bit and give it a bit of smokey heat to this classic plate of comfort.  I will call it my grown up version of scalloped potatoes.
Every time I've made this dish, I would have to slice each potato in thin rounds.  It took so much time out of my holiday meal preparation.  So much time in the kitchen, away from the family Thanksgiving talk in the living room and dining room.  I was missing out.
But now, I'm so excited to get back into the party rooms with my time saved with theZyliss Food slicer.  I've always been apprehensive about using a mandolin for food slicing because I've heard that it's the most dangerous tool in the kitchen.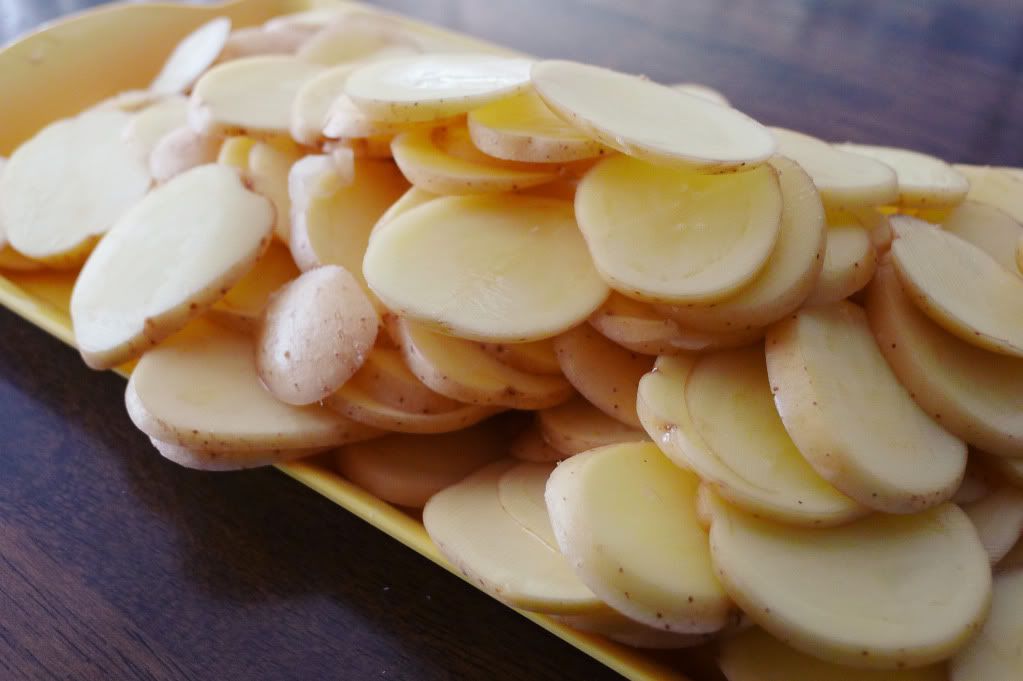 I gave this tool a chance and I was so pleased with how fast I was able to slice a pound of Baby Dutch Potatoes.  Five minutes!
I was able to slice with ease by using the food holder without a worry of cutting my hands.
With two blades, it has multiple slicing options: a sharp, angled serrated blade to cleanly slice onions, zucchini, tomatoes, and fruits, and a second julienne blade to slice carrots, potatoes, and apples into matchstick size cuts.  All in one, easy to wash tool.
The Zyliss Food Slicer is now the most popular tool in my kitchen this Thanksgiving.

Guajillo Spiced Scalloped Potatoes
Ingredients
Cooking spray
1-1/2 cups milk
1 tablespoon butter
2 garlic cloves, minced
2 pounds Melissa's Produce Baby Dutch Yellow Potatoes
1 teaspoon powdered guajillo chile
Salt and fresh cracked pepper to taste
1 cup cheddar cheese, grated
Instructions
Preheat oven to 375 degrees. Spray a 7x11-inch baking dish with cooking spray and set aside.
Heat milk, butter, guajillo chile powder and garlic in small saucepan and heat over medium heat until butter melts. Do not boil. Remove from heat.
Arrange a layer of potatoes over the entire bottom of baking dish. Pour a third of the milk mixture over the potatoes. Season with salt and pepper and sprinkle a 1/3 cup of shredded cheese.
Repeat with 2 more layers.
Bake until potatoes are tender and cheese is golden brown, about 45 minutes.
Remove from oven, top with a few dashes of guajillo chile powder and serve warm.
http://www.nibblesandfeasts.com/2012/11/guajillo-spiced-scalloped-potatoes/
Copyright Nibbles and Feasts
I received a Zyliss kitchen tool to facilitate with this recipe.  Recipe and opinions are 100% mine.