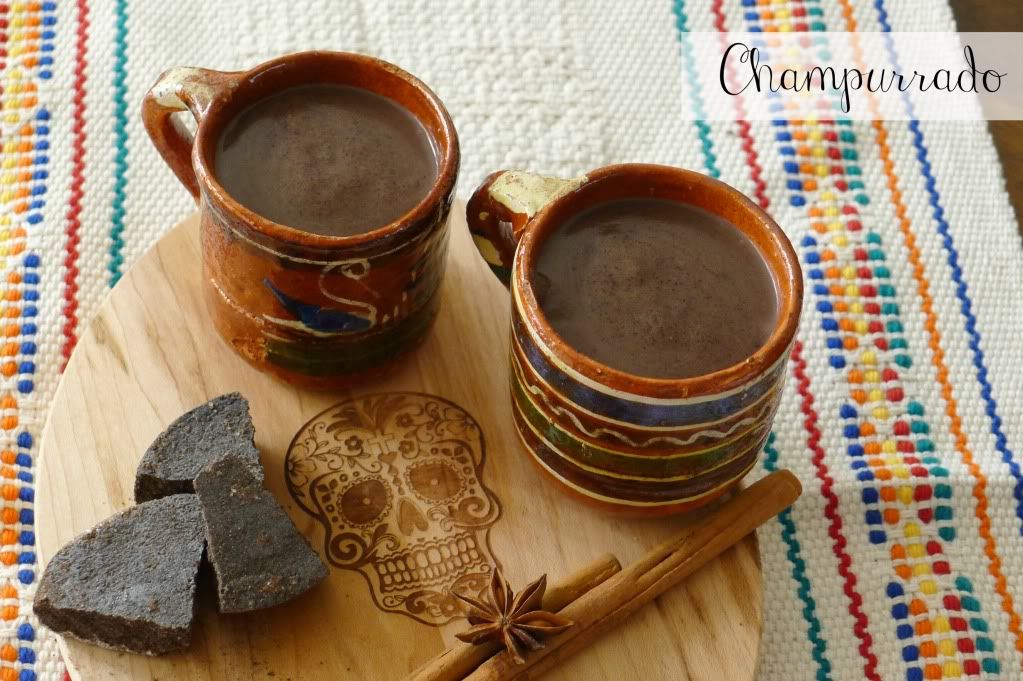 Growing up in Texas, I encountered many cold snowy days, walking home from elementary school through freezing slush and icy sidewalks. Melting icicles dripped in symphony from the mulberry trees that lined my street and fireplaces permeated the air with burning mesquite. Coming home to the smell of champurrado in the making was as if a welcoming, soft fleece blanket covered me in warmth and comfort.
The long freezing walks made it all worthwhile to finally experience that particular moment when my mom handed me the thick, steaming clay mug, filled with creamy champurrado.   The chocolate masa beverage in the mug warmed my hands and my mom's gesture truly warmed my heart.
We especially enjoyed it at our December posadas next to tamales on our plate ,  or as a cozy breakfast drink accompanying our huevos rancheros at our breakfast table.
Champurrado is customarily prepared in the winter around the holidays.  I've made several variations of it by adding anise or vanilla bean.  It really is up to the taster's preference on what version is the best.
This recipe below is my favorite way to enjoy a nice frothy cup of champurrado.  Create your own by experimenting with winter spices and sweet additions.
Ingredients
4 cups milk
1 cup water
¼ cup Maseca (corn flour)
1 Mexican chocolate tablet
2 medium piloncillo cones
1 teaspoon ground cinnamon (or 2 large cinnamon sticks)
1 anise star
Instructions
In a large pot over medium heat, whisk to bled flour with water until thickened. About 6 minutes. Add chocolate tablet, piloncillo, anise star and cinnamon and continue whisking until chocolate and piloncillo have melted.
Add milk gradually, continuing to whisk until all ingredients are mixed well. Remove anise star and cinnamon sticks. Serve hot.
http://www.nibblesandfeasts.com/2012/11/champurrado/
Copyright Nibbles and Feasts