Time for a break.  By break, I mean smoothie.  I've had my share of pretty delicious smoothies. But never, ever had I made one for myself with mango.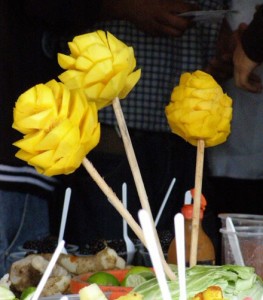 I'm thinking that maybe it was because the only way I would eat a mango before, was on a stick sprinkled with salt, chili powder and a nice squeeze of lemon.   In Mexico during my elementary school days, the fruit vendor would stand right outside the school's main entrance every Wednesday.  He anxiously waited for three 0′ clock to set off the school bell as an uncontrollable crowd of kids in blue and white uniforms ran as fast as they could because he only had a few for sale.  I scraped my knee a few times trying to get the last flower-shaped mango.  Lots of pushing and shoving occurred. Everyone wanted to get their hands on those precious golden mangoes. This time, the mangoes came to me! The National Mango Board asked me to come up with a recipe that featured mango.  But I couldn't just hand them a mango on a stick recipe.  So I did the next best thing.  Mango smoothie.
During my mango research, I found out that It's available year-round and one cup of mango is only 100 calories.  And talk about a super fruit!  Mangoes contain over 20 vitamins and minerals and contain 12% of the daily fiber requirement.  You can't go wrong with that!
As if my "break" smoothie wasn't special enough already, I decided to add some greek yogurt, vanilla and a banana to make it a little sweeter.  No added sugar was needed.  It was naturally sweet and oh so refreshing. Check out the simple how-to video on how I prepared this smoothie. Try it for yourself.  Garnish it with your favorite berries, grains and nuts for a complete mango smoothie experience.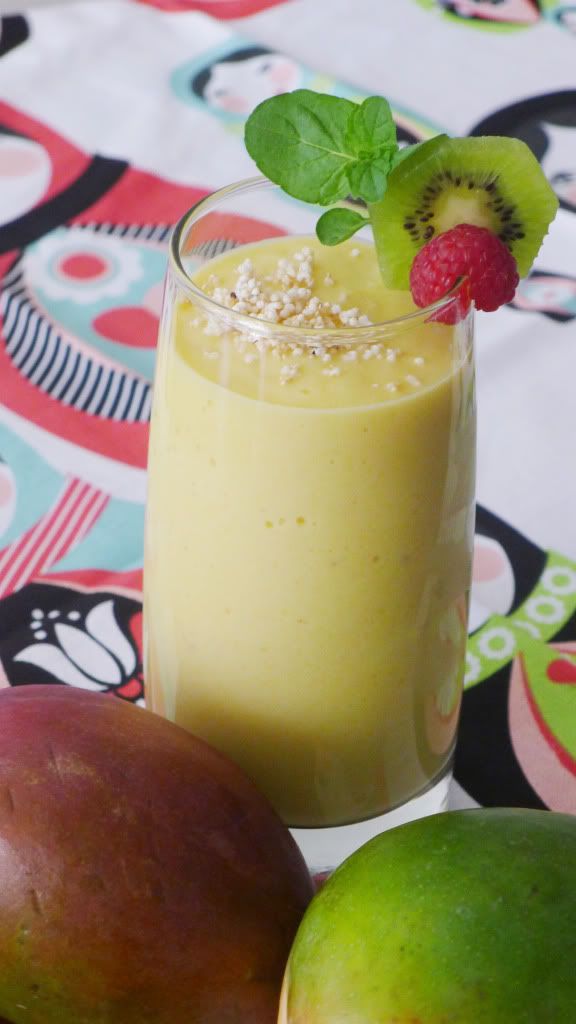 Ingredients
2 ripe mangoes, peeled and coarsely chopped (about 2 1/2 cups)
1/2 cup Greek yogurt
1 banana
1 teaspoon vanilla extract
8 ice cubes

For garnish

mint
kiwi
raspberries
amaranth
Instructions
Place the mangoes in a blender with bananas, yogurt, vanilla and ice. Blend on medium speed until smooth. Garnish with a kiwi slice, berries, mint sprig and a sprinkle of amaranth.
http://www.nibblesandfeasts.com/2012/10/mango-smoothie/
Copyright Nibbles and Feasts
 This is a sponsored post by the National Mango Board.  All opinions are my own.Otra vez… en español!
Es hora de un descanso. Y para hacerlo con estilo, se necesita un batido. He disfrutado de deliciosos batidos toda mi vida. Pero nunca, nunca me había hecho uno que contenga mango.
Estoy pensando que tal vez sea porque de pequeña, la única manera de como comía los mangos era con sal, chile y limón y montado en un palito de madera.  En México, durante mis días de escuela de primaria, el vendedor de frutas se paraba justo afuera de la entrada principal de la escuela todos los miércoles. Él esperaba ansiosamente a que las tres de la tarde llegaran.  Con el sonido de la campana, una multitud incontrolable de niños en uniforme azul y blanco corrían tan rápido hacia los mangos, porque sólo tenía unos pocos a la venta. Me raspaba las rodillas de vez en cuando tratando de alcanzar el último mango rebanado como una flor. Con empujones y aventadas, todos querían tener en sus manos esos dorados mangos. Esta vez, los mangos vinieron a mí!
El National Mango Board me ha pedido que creara una receta con mangos. Pero yo no podía entregarles una receta de  mango con chile, sal y limón montado en un palito de madera. Así que hice algo mejor.  Un batido de Mango. Durante mi investigación sobre los mangos, me enteré de que está deliciosa fruta esta disponible todo el año y que  una taza de mango es de sólo 100 calorías. Y si hablamos de una fruta super, los mangos contienen más de 20 vitaminas y minerales y contienen el 12% del requerimiento diario de fibra. Esto no esta nada mal! Como si mi batido de "descanso" no fuera lo suficiente, he decidido añadir un poco de yogur griego, vainilla, y un plátano para endulzarlo. No necesita azúcar! Es naturalmente dulce y tan refrescante. Echa un vistazo a al video y ve que fácil es de preparar. Pruébalo tu mismo. Adorna con tus frutas favoritas, granos y nueces para una experiencia de batido de mango muy completa.
Batido de Mango con Yogur
Rinde 2-4 porciones 
Ingredientes
2 mangos maduros, pelados y picados en cubos grandes (alrededor de 2 1/2 tazas)
1/2 taza de yogur griego
1 platano 1 cucharadita de extracto de vainilla
8 cubitos de hielo
Para adornar
menta
kiwi
frambuesas
amaranto
Instrucciones
Coloca los mangos en una licuadora con plátanos, yogur, vainilla y hielo. Mezcla a velocidad media hasta que quede suave.
Adorna con una rodaja de kiwi, frambuesa, una ramita de menta y una pizca de amaranto. Este es un post patrocinado por el National Mango Board. Todas las opiniones son mías.
The National Mango Board challenged me to spend a week creating healthier eating and snacking habits for my family. Join the conversation and one of my readers will receive a cookbook and a chance to win a shipment of mangos and $200 gift card to Williams-Sonoma.
This is a sponsored conversation written by me on behalf of National Mango Board. The opinions and text are all mine. Official Sweepstakes Rules.