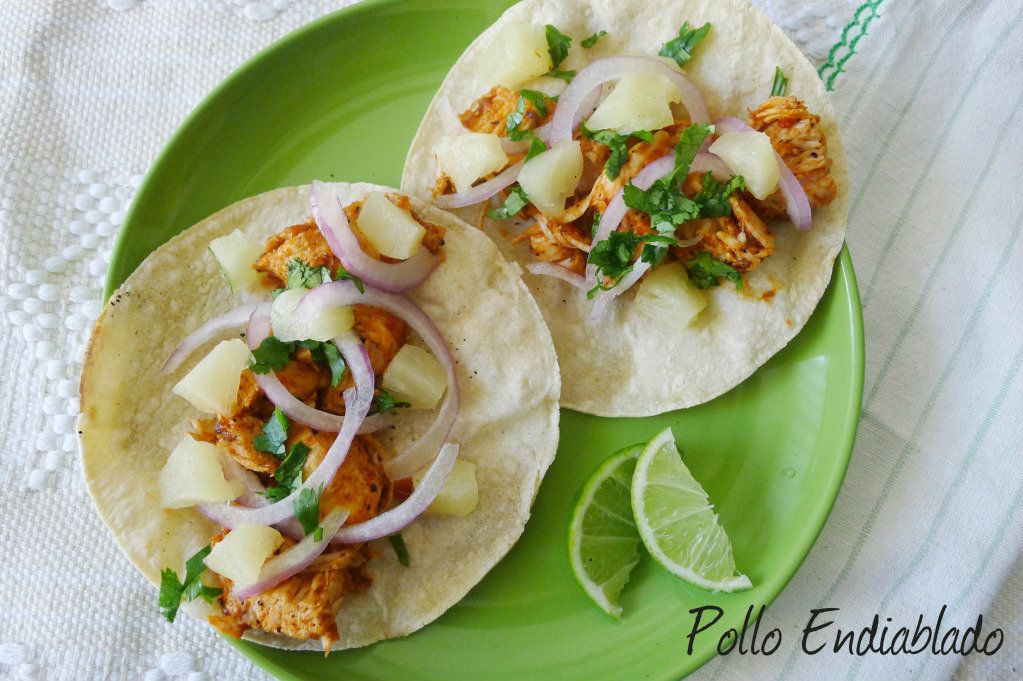 Before food trucks were trendy and called "mobile eateries," I frequented my share of "roach coaches" as they were endearingly called.  One of my favorites was a taco truck covered completely in white. No name.  We called it "The Taquito Man."
You shouted your order at a mysterious silhouette through an 8"x10" sized window. In return, you received a grease-stained piece of butcher paper with two miniature tacos topped with grilled green onions and thinner-than-a-fly's-wing napkin.  That napkin had to last you through dripping salsa, and beef and chicken drenched in adobo as one maneuvered to sit curbside, avoiding oil stains and cigarette butts, and  somehow, the napkin would always survive.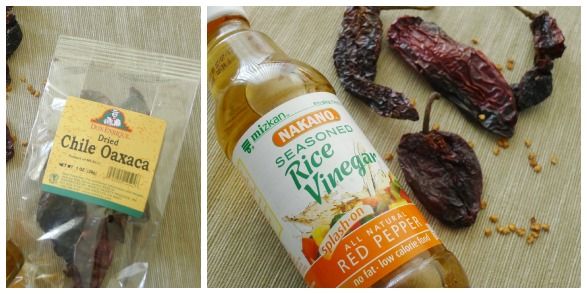 The taquito man had a specialty:  Tacos de Pollo Endiablado or Deviled Chicken Tacos.  Those tacos were so tangy and spicy, they had to be eaten with the sweetest pineapple chunks to balance out the heat.  Your mouth burned but one could not stop eating those tasty tacos.
To relive my days with the Taquito Man, I've created my own rendition of Deviled Chicken tacos using Nakano's All Natural Red Pepper Seasoned Rice Vinegar and Melissa's Produce newest addition to Don Enrique's dry goods family, dry Oaxacan chile. The tacos were smoky and tangy, not as spicy, but that was my choice.  For added spice, add a Serrano chile to the salsa before blending.
Deviled Chicken Tacos | Tacos de Pollo Endiablado
Ingredients
1.5 lbs chicken breast, skinless and boneless
1 celery stalk
5 dried Don Enrique Oaxaca Chile, seeds and stems removed
1 teaspoon dried rosemary
2 tablespoons Nakano All Natural Red Pepper Rice Vinegar
3 tablespoons olive oil
1 pinch onion powder
2 garlic cloves, minced
salt and pepper to taste

Garnish

Pineapple chunks
Cilantro, chopped
red onion slices
2 limes, sliced in quarters
Instructions
Boil Oaxaca chiles and rosemary in 1 cup of water until chile skin softens. Let cool then place in blender with water, rice vinegar, 2 tablespoons olive oil, onion powder, garlic, salt and pepper. Blend until smooth.
In a medium pot, boil chicken breasts, celery stalk, and a pinch of salt in 4-6 cups of water (enough to cover ingredients), for 20 minutes or until chicken has been fully cooked then shred.
In a medium skillet, heat 1 tablespoon of olive oil over medium heat. Place shredded chicken and carefully pour chile mixture, evenly coating chicken. Cook for 8-10 minutes.
Serve in tacos with pineapple chunks, cilantro, red onion slices and a squeeze of lime.
http://www.nibblesandfeasts.com/2012/10/deviled-chicken-tacos-tacos-de-pollo-endiablado/
Copyright Nibbles and Feasts
This is a sponsored post as part of the Mizkan blogger advocate program.  Recipe and opinions are my own.
Otra vez… en español
Antes de que los camiones de comida estuvieran moda y los renombraran "restaurants móviles", yo frecuentaba una "lonchera" como los llamaban cariñosamente. Uno de mis favoritos era un camión de tacos pintado completamente de blanco. No tenia nombre pero lo llamamos "El Taquito Man".
Uno gritaba su pedido a una silueta misteriosa a través de una ventana que media 8″x10″ de tamaño. A cambio, uno recibía una pieza de papel, manchada de grasa con dos tacos a la parilla cubiertos con cebollitas y una servilleta más delgada que ala de mosca. Esa servilleta te tenía que durar todo el transcurso de la comida, limpiar salsa que chorreaba del taco a las manos y maniobrar para sentarse en la banqueta, uno evitando manchas de aceite y colillas de cigarrillos, y de alguna manera, la servilleta siempre sobrevivía.
El Taquito Man tenia una especialidad: Tacos de Pollo endiablado. Los tacos eran tan picosos pero sabrosos, que se tenían que comer con trozos de piña muy dulce para balancear lo picante. La te boca ardía pero no se podía dejar de comer estos tacos tan apetitosos.
Para recordar mis días con los tacos del Taqito Man, he creado mi propia versión de tacos de pollo endiablado con el Vinagre de Arroz Nakano Natural, sazonado con chile rojo y chile Oaxaca seco de la marca Don Enrique de Melissa's Produce.  El resultado fue una delicia picosita con un toque de ahumado.  Si deseas que tus tacos sean mas picantes, agrega chile serrano a la mezcla antes de licuar.
Tacos de Pollo Endiablado
Rinde 4 porciones 
1.5 libras de pechuga de pollo, sin piel y sin hueso
1 tallo de apio
5 chiles Oaxaca secos marca Don Enrique, sin semillas y tallos
1 cucharadita de romero seco
2 cucharadas de Nakano All Natural Vinagre de Arroz sabor a Chile Rojo
3 cucharadas de aceite de oliva
1 pizca de cebolla en polvo
2 dientes de ajo, picados
sal y pimienta al gusto
Para sazonar
trozos de piña
Cilantro, picado
rodajas de cebolla roja
2 limones, cortados en cuartos
Instrucciones
Hierve los chiles Oaxaca y el romero en una taza de agua hasta que se ablanden. Deja enfriar y coloca en la licuadora con agua, vinagre de arroz, 2 cucharadas de aceite de oliva, cebolla en polvo, ajo, sal y pimienta. Licua hasta que quede suave.
En una olla mediana, hierva las pechugas de pollo, apio, y una pizca de sal en 4-6 tazas de agua (suficiente para cubrir los ingredientes), durante 20 minutos o hasta que el pollo se haya cocido completamente.  Deje enfriar y desmenuce.
En una sartén mediana, calienta 1 cucharada de aceite de oliva a fuego medio. Coloca el pollo desmenuzado y con cuidado vierta la mezcla de chile. Cocine durante 8-10 minutos.
Sirve en tortillas con trozos de piña, cilantro, rodajas de cebolla roja y unas gotas de limón.