Dia de los Muertos is a Mexican holiday celebrated on November 1 as Dia de los Angelitos, All Saints Day, remembering all deceased children.  November 2 is All Souls Day, honoring the spirits of the adults who have passed.
We immerse ourselves in this holiday every year.  It's a special day to remember our loved ones who've departed.  We build altars, decorate them with their favorite trinkets, sugar skulls, flowers and papel picado.  We prepare their favorite meals, serve them drinks and lay out candy.
But what exactly does the holiday mean?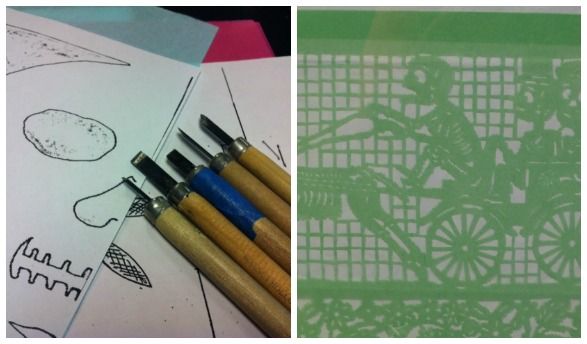 Papel picado tools and papel picado
In early October, I was among a group of bloggers invited to the Nestle corporate offices to get to know one another, share our cultural background and learn a little bit more about how we celebrate this special holiday.
It was a day full of laugher, tears and chit-chatting as we enjoyed our  Nescafe cafe de olla and pan de muerto (bread of the dead).  We learned how to bring out the inner catrina in us with a calaca face painting lesson as we cut our own papel picado.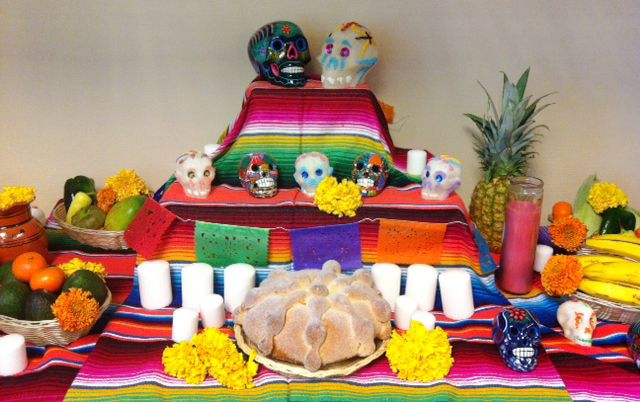 It is said that Dia de Los Muertos is interpreted as a way to mock death.  Colorful sugar skulls are eaten, playing with death as they melt in your mouth slowly crunching it all away.
Funny dancing skeletons are played with and laughed at. Songs and poems known as "calaveras literarias" are written depicting death as a joke.
"Tras mucho tiempo por los campos vagar
la muerte comenzó a reflexionar
que en sus años de juventud
no conoció a un huesudo con diferente actitud.
Siempre los huesos le vieron
pero por no tener carne se fueron
dejándola sola en el abandono
para convertirse lentamente en abono."
English Translation:
"After much time wandering through the fields
death began to reflect
that in her youth
had not met a corpse to love"
She always bared her bones
but not because of lacking meat
leaving her alone in the abandonment
slowly to become fertilizer."
Building your own altar is pretty simple.  It can be arranged on any flat surface, preferably a table or on stacked boxes, covered by cloth for a tiered look.  There are a few items an altar must display.
Cempazuchitl (Marigolds), an Aztec symbol for death, are arranged in arch or cross formation representing a passage between life and death.  Making the altar even more colorful, beautiful and fragrant.
Scents such as incense, white copal, cinnamon sticks, star anise and any other aromatic spices help the dead find their way as it clears up any negative energy.
Candles light the way for the spirits to their altar and represent faith and hope.
Water quenches the thirst of the honored spirits and represents purity and life.  A small glass of water as part of your altar is a must.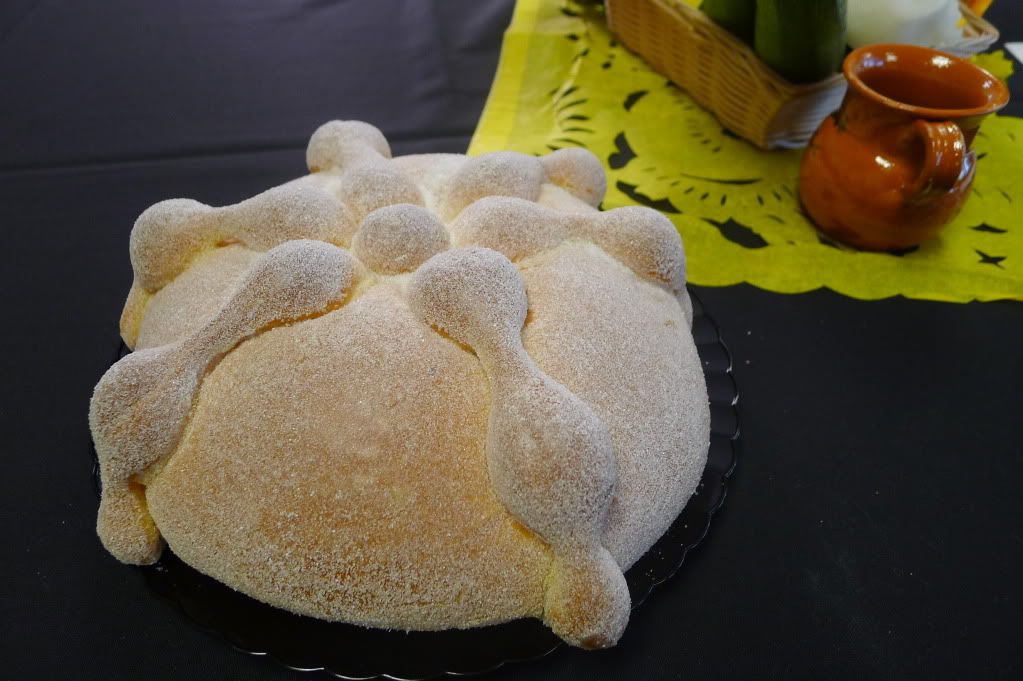 Photos or personal trinkets of the person(s) you are dedicating the altar to.  Grooming items, favorite games or jewelry add a very personal feel.
Food and drink as an ofrenda (offering) such as pan de muerto (bread of the dead), seasonal fruits, vegetables and other favorites of the person who you're honoring are an essential part to a Dia de Muertos altar.  Mole and tamales are a very traditional ofrenda.  Food should be covered with a piece of cloth or plastic prior to November 1. When Dia de Muertos arrives, those honored will consume the aroma and essence of the food.
This Dia de Muertos, celebrate with a cup of atole made with Nestle's Cafe de Olla and Chocolate Abuelita Granulado.  We love sitting around the table with a steaming cup accompanied with a pan dulce and remember those we've lost.  Below is a delicious recipe to try this Day of the Dead.  Enjoy!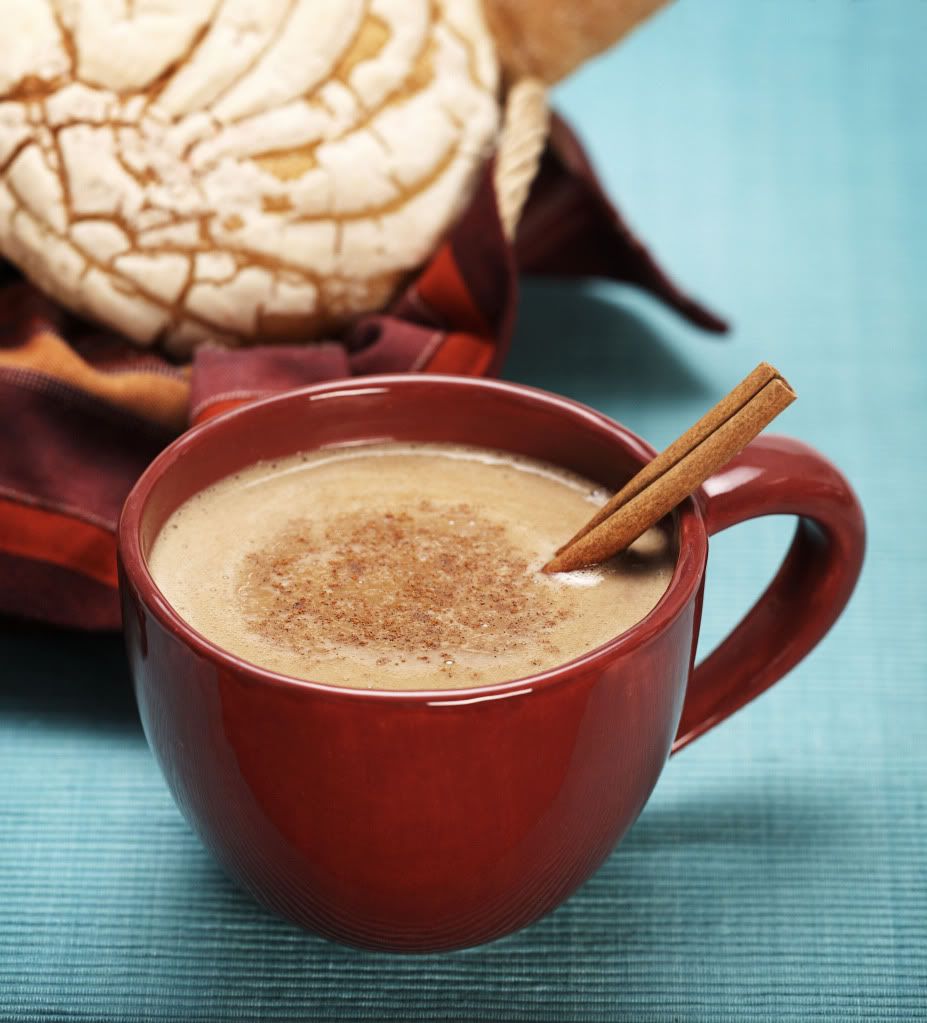 Ingredients
4 cups milk
3 tablespoons cornstarch
1/2 cup granulated sugar
3 tablespoons NESCAFÉ Café de Olla Instant Coffee Beverage Granules
2 teaspoons vanilla extract
Ground cinnamon for garnish
Instructions
Combine milk and cornstarch in medium saucepan and whisk until combined.
Add sugar and coffee granules; cook over medium-low heat, stirring constantly for about 15 minutes or until thickened (do not boil).
Remove from heat and add vanilla extract.
Serve warm and sprinkled with cinnamon.
http://www.nibblesandfeasts.com/2012/10/celebrating-vivecultura-with-nescafe-cafe-de-olla/
Copyright Nibbles and Feasts
Disclosure:  I was invited to a Dia de Los Muertos #ViveCultura event and received product and compensation for my time.  All opinions are my own.
Otra vez… en español!
El Día de los Muertos es una festividad mexicana que se celebra el 1 de noviembre como el Día de los Angelitos, recordando a todos los niños fallecidos. El 2 de noviembre es Día de los Muertos, en honor a los espíritus de los adultos que han muerto.
El Día de los Muertos es una fiesta cuando nos sumergimos en la tradición y es un día especial para recordar a nuestros seres queridos que han fallecido. Nosotros construimos altares, decoramos con sus artículos personales preferidos, calaveras de azúcar, flores y papel picado. Preparamos sus comidas favoritas con sus bebidas y postres favoritos.
Pero ¿qué significa exactamente este día?
A principios de octubre, fui invitada junto con un grupo de blogueras a las oficinas corporativas de Nestlé para llegar a conocernos unas a otras, compartir nuestras costumbres culturales y aprender un poco más acerca de cómo celebrar este día de fiesta tan especial.
Fue un día lleno de risas, lágrimas, platicas al disfrutar de nuestro Nescafé café de olla y pan de muerto. Nos presentaron un curso intensivo en como pintar caras con diseño de catrina y cortamos nuestro propio papel picado.
Se dice que el Día de los Muertos se interpreta como una forma de burlarse de la muerte. Coloridas calaveras de azúcar se consumen, jugando con la muerte, ya que se deshacen en la boca lentamente.
Los niños se divierten y se burlan con esqueletos danzantes. También se escriben canciones y poemas conocidos como "calaveras literarias" representando la muerte como una broma.
"Tras mucho tiempo por los campos vagar
la muerte comenzó a reflexionar
que en sus años de juventud
no conoció a un huesudo con diferente actitud.
Siempre los huesos le vieron
pero por no tener carne se fueron
dejándola sola en el abandono
para convertirse lentamente en abono."
La construcción de un altar es bastante simple. Se puede organizar en cualquier superficie plana, preferentemente una mesa o en cajas apiladas, cubiertas por tela creando niveles. Un altar debe de llevar varios objetos simbólicos:
Cempazuchitl.  Esta bella flor es un símbolo azteca de la muerte, acomodadas en forma de arco o cruz representa un paso entre la vida y la muerte. Hacen el altar aún más colorido, hermoso y fragante.
Aromas como el incienso, el copal blanco, ramas de canela, anís estrella y las especias aromáticas ayudan a los espíritus a encontrar su camino, ya que aclara cualquier energía negativa.
Fotos o baratijas personales de la persona(s) a quien se le dedica el altar. Artículos de aseo, juegos favoritos o joyas añaden un toque muy personal.
La comida y bebida como ofrenda, tales como pan de muerto, frutas de temporada, verduras y otros favoritos de la persona que usted está honrando son una parte esencial de un altar de Día de Muertos. Mole y tamales son una ofrenda muy tradicional. Los alimentos deben estar cubiertos con un pedazo de tela o de plástico antes del 1 de noviembre. Cuando llega el Día de Muertos, los homenajeados consumirá el aroma y la esencia de la comida.
Las velas iluminan el camino a los espíritus a su altar y representan la fe y la esperanza.
El agua sacia la sed de los espíritus honrados y representa la pureza y la vida. Un vaso pequeño de agua como parte de su altar es una necesidad para la decoración de un altar.
Este Día de los Muertos, celebra con una taza de atole hecho con Café Olla de Nestlé y de Chocolate Abuelita Granulado. Nos encanta sentarnos alrededor de la mesa con una taza humeante acompañada de un pan dulce y recordar aquellos que hemos perdido. A continuación te comparto una deliciosa receta para celebrar este Día de los Muertos.
Café de Olla Atole
4 tazas de leche
3 cucharadas de fécula de maíz
1/2 taza de azúcar granulada
3 cucharadas de NESCAFÉ Café de Olla granulado instantáneo
2 cucharaditas de extracto de vainilla
Canela en polvo para decorar
Instrucciones
Combina la leche y la fécula de maíz en una olla mediana y bata hasta que se mezclen.
Añade el azúcar y café y cocina a fuego medio-bajo, revolviendo constantemente durante unos 15 minutos o hasta que espese (sin hervir).
Retire del fuego y añade el extracto de vainilla.
Sirve caliente y espolvoreado con canela.
Fui invitada a un evento de Día de Muertos #ViveCultura y recibi producto y compensación por mi tiempo. Todas las opiniones son mías.