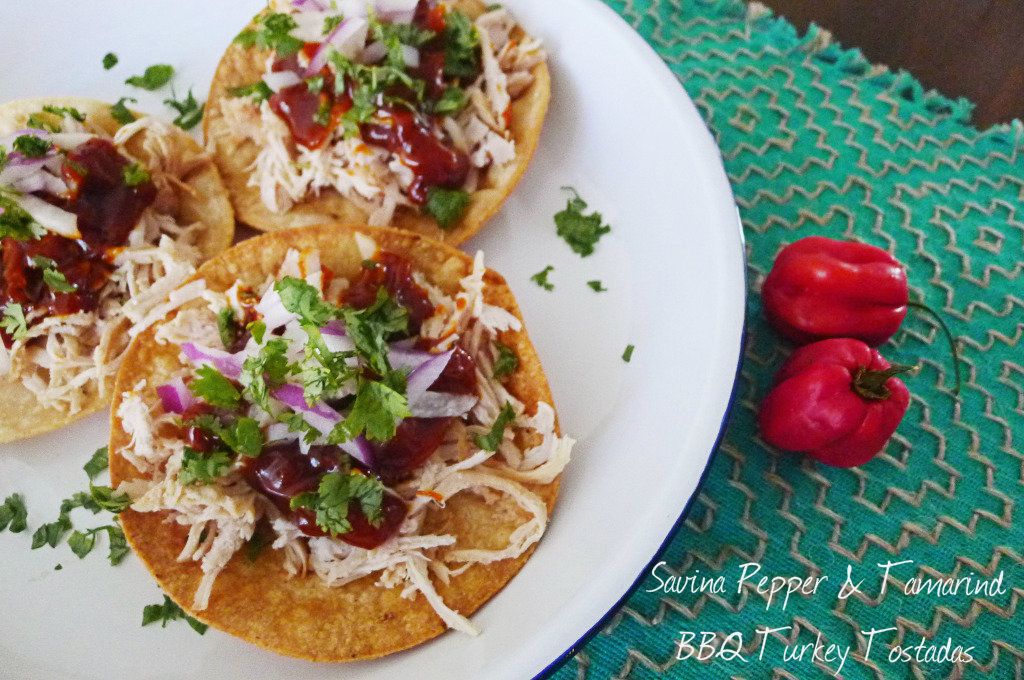 One of the hottest chile peppers in the world!  Yeap, I cooked with it.  The Savina Habanero Pepper is a product of California and it's 65 times hotter than the typical jalapeño chile we are used to.  Hot, hot, hot!
But please don't let that scare you.  There are several ways to incorporate this little heat bomb in your dishes.  I love spicy barbecue sauce, so I decided to make my own and give my turkey tostadas a giant fiery kick of flavor.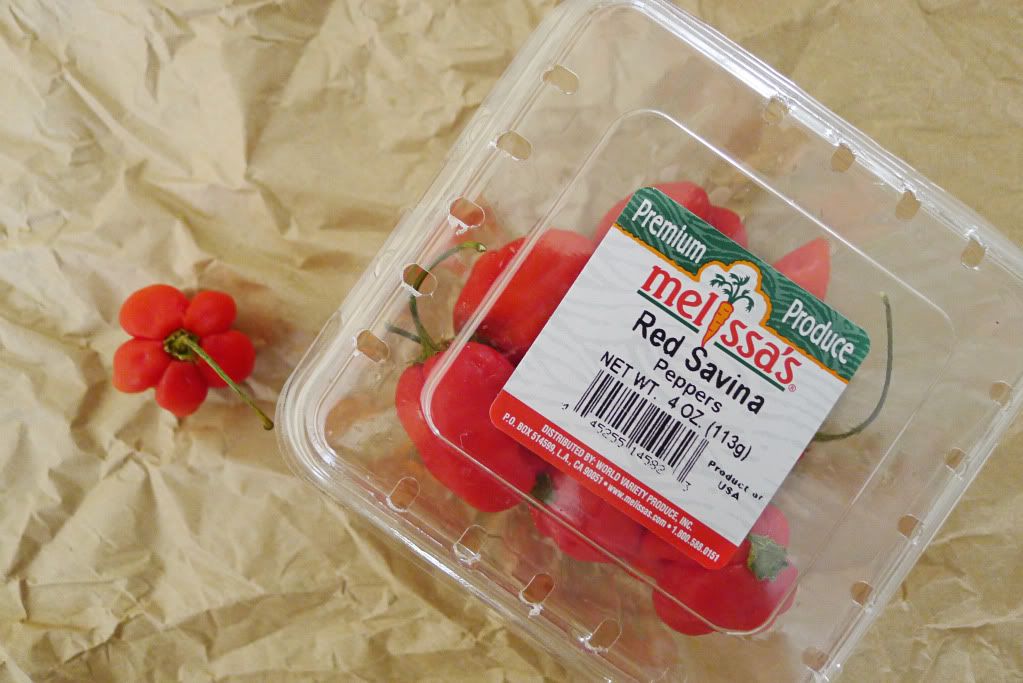 To prepare a lip-smacking sauce with the right balance of spicy-sweet, I asked for a little help from one of my favorite fruits, tamarind!  These little pods were a great help in taming these blistery beauties to an edible level of deliciousness.
The tamarind sweet-sour taste was actually able to vanquish the 350,000-575,000 Scoville units of the Savina habanero peppers.
To dice the pepper, I used rubber gloves to protect my skin from the burning oil the chile releases when you slice and dice.  Cut the pepper in the tiniest smithereens since it can pack a punch.  A little goes a long way.
I am so happy with this tasty dish.  I am specially happy I got to cook with a new ingredient and lived to tell you about it.  I encourage you to be adventurous in your kitchen.  Because my recipe was a hit even with the non-chile eaters in my house, I decided to debut the Red Savina Chile Peppers with their single Come on Baby Try my Fire.  Enjoy!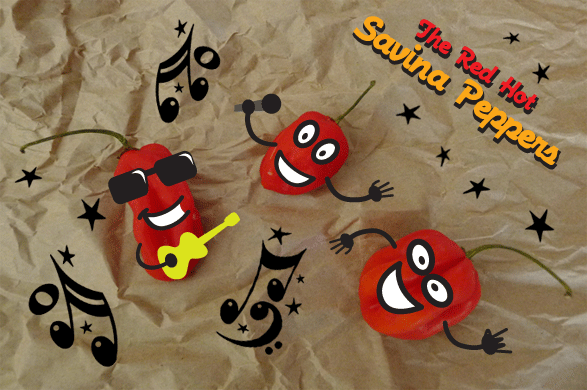 Come on Baby Try My Fire
Performed by the Red Hot Savina Peppers to The Doors, Come on Baby Light my Fire 
You know that I would burn your boots
You know that I'd make you a crier
If I was to say to you
Girl, we could taste hotter than fire
Come on baby, try my fire
Come on baby, try my fire
Try to set your lunch on fire
Lets blend our heat with something new
Tamarind will put out the fire
Try it now and burn out my fuse
This sauce takes BBQ a level higher
Come on baby, try my fire
Come on baby, try my fire
Try to set your mouth on fire, yeah
The time to pour it on is due
No time to wallow and admire
Try it on your meal and don't refuse
Because your love for me won't get tired
Come on baby, try my fire
Come on baby, try my fire
Try to set your lunch on fire, yeah
You know that it would be so good
Spicy-sweet all over your palate
If I was to say to you
Girl, it would be all you desire
Come on baby, try my fire
Come on baby, try my fire
Try to set your lunch on fire
Try to set your lunch on fire
Try to set your lunch on fire
Try to set your lunch on fire
Savina Pepper & Tamarind BBQ Turkey Tostadas
Ingredients
1 tablespoon olive oil
1/2 onion, finely diced
2 garlic cloves, minced
1/2 tablespoon ancho chile powder
1/2 tablespoon freshly cracked pepper
1 1/2 cup ketchup
1 tablespoon mustard
2 tablespoon apple cider vinegar
1 tablespoon unsulfured molasses
1/4 cup dark brown sugar, packed
1/2 teaspoon ginger, minced
1 Melissa's Produce Red Savina Habanero Pepper, deveined, seeded and finely minced
1/2 cup tamarind liquid*
1/4 teaspoon salt
1 cup jicama, julienne cut
1/3 cup red onion, thinly sliced
1/3 cup cilantro, chopped
8 tostadas
1 roasted turkey (or chicken) breast, shredded

Ingredients for Tamarind liquid

1 three ounce bag of Don Enrique Tamarind Pods
2 cups water for boiling
Instructions
For Tamarind Liquid

In a large bowl filled with water, soak Tamarind peppers overnight, cover.
When softened, boil tamarind in their liquid for 5-7 minutes. Let cool.
In a medium to large bowl, run tamrind and liquid through a strainer, scraping tamarind shells, seeds and pulp against the strainer sides to get all the tamarind water/juice. Set tamarind water/juice aside and discard shells.

To Prepare BBQ Sauce

In a medium to large pot, heat oil and sautee onion and garlic until translucent. Add ancho chile powder, pepper, salt, ketchup and mustard. Stir and mix well.
Add apple cider, molasses, brown sugar and ginger. Stir and mix well. Cook for 15 minutes without burning.
Add Red Savina Pepper and tamarind liquid. Simmer for 30 minutes more without burning.

To Assemble Tostadas

Place tostadas on a large platter. Top with shredded turkey (or chicken), barbecue sauce, jicama, red onion and chopped cilantro.
http://www.nibblesandfeasts.com/2012/09/savina-chile-and-tamarind-bbq-sauce/
Copyright Nibbles and Feasts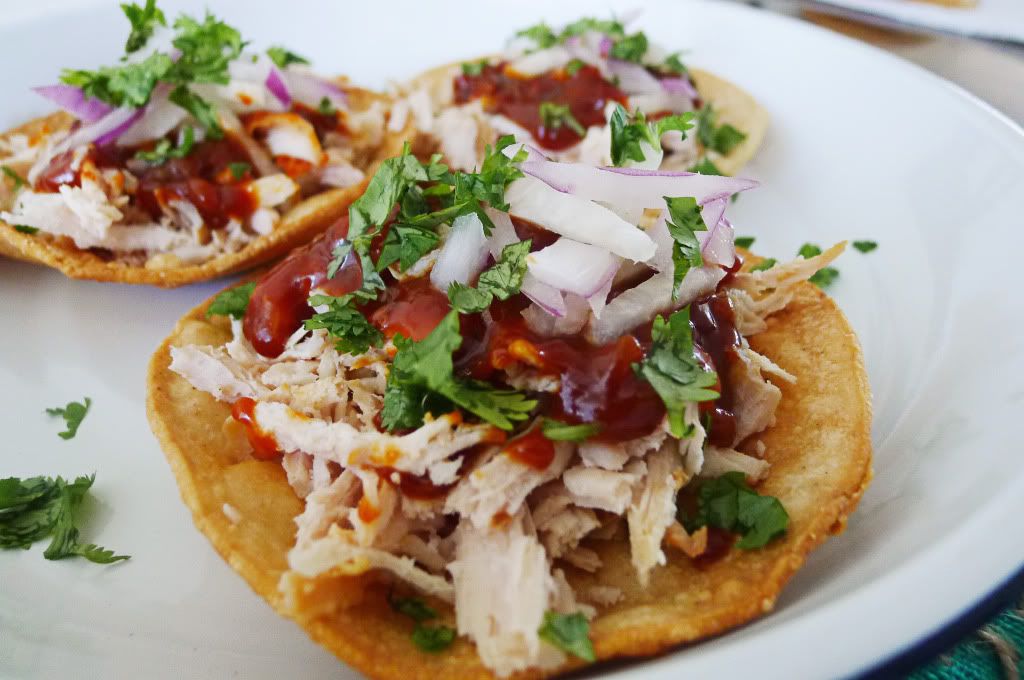 I received a sample of Red Savina Habanero Peppers and Tamarind pods by Melissa's Produce to facilitate this recipe.  All opinions are 100% my own.