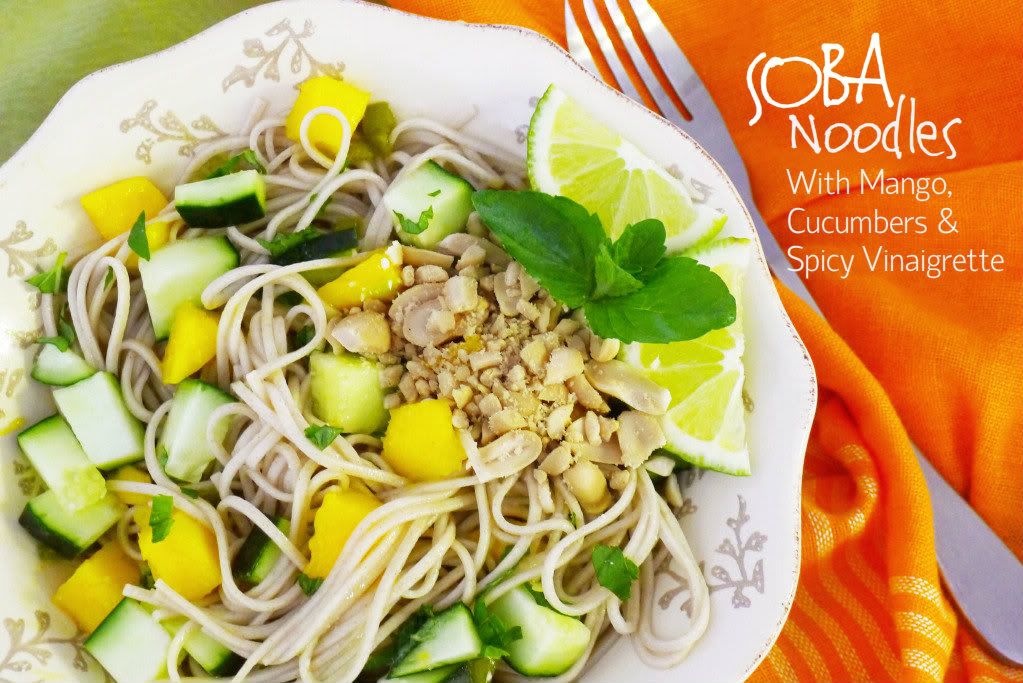 One of my favorite seasons in Los Angeles is June gloom. Wait, is June gloom a season?  For me it is.  It's worthy of being placed into it's own season category.  What is June gloom?  Throughout the month of June, the Pacific marine layer hovers over Los Angeles until midday, when the sun lazily decides to make an appearance during the day.  Giving us a few weeks of overcast, cool mornings.
Never knowing if the day will stay cool or warm up a bit, I customarily prepare with a light scarf or sweater in my car just in case.
I feel the same about noodles…
Noodles are year-round in my home.  Cold, soba noodles are my solution to a warm, almost-summer, midday.   Think of it as a cold refreshing but spicy pasta salad with some unexpected goodies such as mangoes, cucumbers, peanuts and jalapeños.  "Say what?!"  I hear ya.  Yes, these unexpected ingredients can only be brought together by a great vinaigrette.
So when I was asked to try out Nakano Rice Vinegar, I jumped at the opportunity to put it to the test with my June gloom cold soba noodle recipe.  The only dilemma I had was choosing which rice vinegar to use because Nakano has 7 different varieties.  After coin tosses and rock-paper-scissoring my choice, Roasted Garlic was the winner.
Can June gloom possibly be more enjoyable?  It definitely just did.  The result was a sweet, savory and spicy bowl of freshness topped with roasted peanuts that disappeared faster than you can say "people in LA are spoiled by the climate."

Soba Noodles with Mango, Cucumbers & Spicy Vinaigrette
Ingredients
3/4 cup Nakano Rice Vinegar
1/4 cup sugar
3/4 teaspoon salt
3 large garlic cloves, chopped
1 jalapeño, seeded, chopped
3 tablespoons fresh lime juice
1 tablespoon oriental sesame or basil oil
1 1/2 teaspoons grated lime peel
12 ounces soba noodles
1 large English hothouse cucumber, cut in cubes
1 large ripe mango, peeled, halved, pitted, thinly sliced crosswise
1 cup chopped fresh mint
1 cup chopped toasted salted peanuts
Lime wedges for garnish
Instructions
In a small saucepan, warm Nakano Rice Vinegar, sugar, and salt over medium heat, until sugar dissolves, about 1 minute. Stir in garlic and jalapeño. Let cool. Stir in lime juice, oil, and lime peel.
Cook noodles in large pot of water until tender, stirring occasionally. Drain well. Rinse under cold water; drain again. Transfer noodles to dish-towel-lined dish to drain excess water. Transfer noodles to large bowl and add dressing and toss to coat.
Gently toss in cucumber, mango and mint to noodles. Sprinkle with chopped peanuts. Garnish with lime wedges.
http://www.nibblesandfeasts.com/2012/06/soba-noodles-with-mango-cucumbers-spicy-vinaigrette/
Copyright Nibbles and Feasts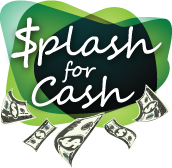 Enter to win up to $600 in the Nakano "Splash for Cash" giveaway.  All you have to do is sign up for their monthly e-Newsletter and you'll be automatically entered to win.  Good luck!
This is a sponsored post as part of the Mizkan blogger advocate program.  Recipe and opinions are my own.
Otra vez… en español!
Una de mis estaciones favoritas en Los Ángeles es "June Gloom". Bueno, no es exactamente una temporada pero para mí lo es. Es digno de tener su propia categoría de temporada. ¿Qué es June Gloom? Durante el mes de junio, la neblina del Pacífico cubre Los Angeles y sus ciudades cercanas, llegando a el mediodía, hasta que el sol perezoso decide aparecer durante el día. Esta "temporada" nos da unas semanas de mañanas nubladas y frescas.
No se sabe si el día se mantendrá fresco o un poco caliente, por costumbre me preparo con una bufanda ligera o suéter en mi coche por si acaso.
Pienso lo mismo sobre la pasta …
Los fideos y pastas se sirven todo el año en mi casa. La pasta de soba fría, es mi solución para estos días de ambiente fresco y cálido. Es parecida a una ensalada de pasta fría refrescante y picante, con algunos ingredientes inesperados, tales como mangos, pepinos, cacahuates y jalapeños. "¿Qué?" Sí, estos ingredientes sólo pueden ser servidos con un gran vinagreta.
Así que cuando me pidieron que probara Nakano Vinagre de Arroz, no dejé pasar la oportunidad de ponerlo a prueba con mi receta de pasta de soba. El único dilema que yo tuve fue seleccionar el vinagre de arroz debido a que Nakano cuenta con 7 variedades diferentes. Después de lanzar una moneda al aire y jugar piedra-papel y tijera para hacer mi elección, el vinagre de ajo asado fue el ganador.
June gloom posiblemente pueda ser más agradable? Definitivamente. Con este vinagre de arroz de Nakano, el resultado fue un plato dulce, salado y picante lleno de frescura.  Tan delicioso que desapareció   antes de que  uno pudiera decir "la gente de Los Ángeles son mimados por el clima."
Participa y podrás ganar hasta $600 en el  sorteo de Nakano "Splash for Cash". Todo lo que tienes que hacer es registrarte para recibir el boletín electrónico mensual y estarás automáticamente registrado en el sorteo. ¡Buena suerte!
Este es un post patrocinado, como parte de la campaña de Mizkan. La receta y las opiniones son completamente mías.