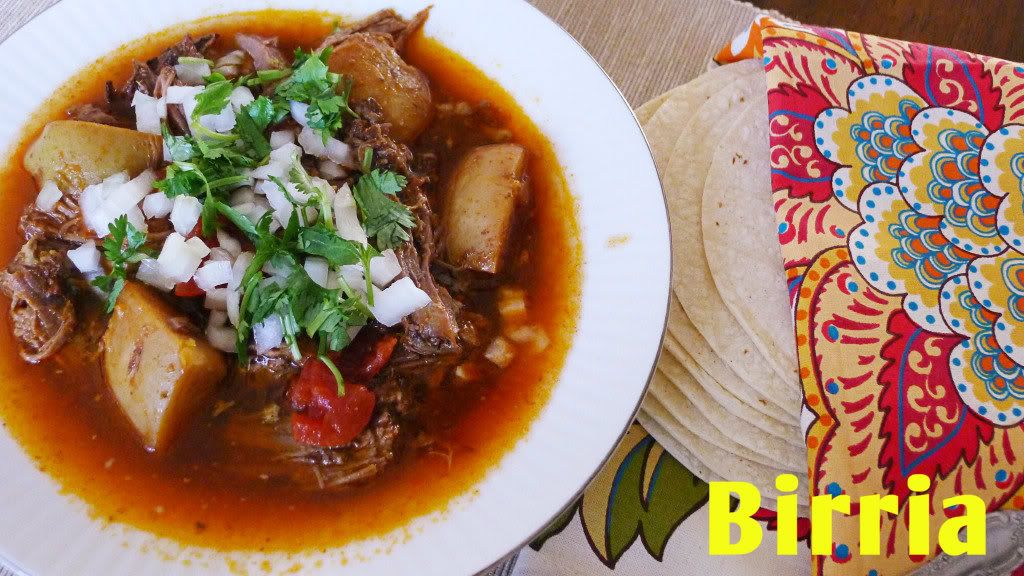 I must admit I was a bit intimidated about even the thought of attempting to cook birria.  I had heard that it is a very labor intensive and time consuming, not to mention cooked in a pit oven and mastering the blend of spices beforehand in order to achieve that consommé perfection.
An emblematic dish in Guadalajara, Jalisco, birria is customarily cooked with lamb or goat.  This dish is so special, it is traditionally enjoyed at weddings, baptism parties and large family affairs.
When Mountain States Rosen asked me to give their Cedar Springs American lamb a try, cooking birria immediately came to mind.  Since I don't have a pit oven, I decided to use my handy dandy slow cooker.
I never imagined how easy it is to cook this lamb dish.  Prepping time took less than ten minutes.  If you want to achieve that delicate, velvety texture, cook the lamb in your slow cooker over night (8-10 hours) on high.  The next morning, you will have a melt in your mouth and falling off the bone result.  The incredible, spicy aroma of the blend of spices and simmering lamb permeated our home and we couldn't wait to try it the next day.
Mountai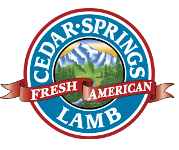 n States Rosen Cedar Springs American Lamb is USDA "all natural", and it is rich in flavor and nutrients.  Their lambs are born and raised responsibly on open U.S. pastures and are carefully tended to by MSR producer-growers, many of which are third-, fourth and fifth generation ranchers that understand the value and care-in production and animal well-being.
I really want you to experience lamb like I just did.  Mountain States Rosen is allowing me to give away a Cedar Springs leg of lamb to one of you!
Giveaway is closed.  Congratulations Yanira! 

You can have up to 5 total entries each; however, please note that you have to comment back and let me know which of the actions you took, so that I can keep track of them.
Comment below and tell me what dish you plan to prepare if you win.
Like Mountain States Rosen on Facebook
Like Nibbles and Feasts on Facebook
Follow Nibbles and Feasts on Twitter
Tweet:  I just entered to win a Cedar Springs leg of Lamb on @NibblesNFeasts http://bit.ly/Magz5J
Open to U.S. Residents only.  No PO Boxes, please. Must be 18 years or older to enter.   Contest ends June 27, 2012 at 11:59 PM, PST and one (1) winner will be randomly chosen from all entries through random.org.
This is a sponsored post by Mountain State Rosen Lamb.  I was compensated and provided with product to facilitate this post.  Recipe and opinions are my own.
[amd-zlrecipe-recipe:30]
Otra vez… en español!
Debo admitir que estaba un poco intimidada por la sola idea de tratar de cocinar birria. Había oído que el proceso era muy laborioso y se tardaba mucho tiempo, especialment con un horno de pozo y perfeccionar la mezcla de especies con el fin de alcanzar ese consomé tan increible.
Un plato emblemático de Guadalajara, Jalisco, la birria habitualmente se cocina con carne de cordero o de cabra. Este platillo es tan especial, que se sirve en bodas, bautizos y celebraciones de familia en grande.
Cuando Mountain States Rosen me pidió que cocinara su carne de cordero, la birria de inmediato me vino a la mente. Puesto que no tengo un horno de pozo, decidí usar mi olla de cocción lenta.
Nunca me imaginé lo fácil que fue cocinar este platillo de cordero. El tiempo de preparación tardó menos de diez minutos. Si queremos lograr los mejores resultados en poco tiempo, cocinar el cordero en olla de cocción lenta durante la noche (8-10 horas) en alto es lo mejor. A la mañana siguiente, tendrás un platillo para chuparte los dedos. El aroma es increíble, la mezcla de especies y la carne cocinadas a fuego lento impregno nuestra casa y no podíamos esperar a probar esta delicia.
La carne de cordero de Mountain States Rosen es USDA "completamente natural", y es rica en sabor y nutrientes. Su corderos nacen y se crían de manera responsable en los pastizales abiertos de Estados Unidos y son cuidadosamente atendidos por productores-agricultores, muchos de los cuales son ganaderos de tercera, cuarta y quinta generación que comprenden el valor y el cuidado en la producción y el bienestar de los animales.
Realmente quiero que experimenten en cocinar el cordero como el que acabo de hacer yo. Mountain States Rosen me ha permitido regalar su producto de Cedar Springs a uno de ustedes!

El sorteo se ha cerrado.  Felicidades Yanira!
Pueden tener un máximo de 5 entradas totales cada uno, sin embargo, tengan en cuenta que tienen que comentar de nuevo aqui y decirme cuáles de las medidas tomaron para que yo pueda contarlos como entradas.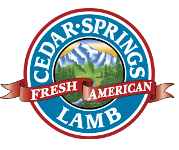 Opina abajo y dime qué platillo vas a preparar, si ganas.
Dale "like" a Mountain States Rosen en Facebook
Dale "like" a Nibbles and Feasts en Facebook
Sigue a Nibbles and Feasts en Twitter
Manda un tweet: Acabo de entrar al sorteo para ganar producto de Cedar Springsen @NibblesNFeasts http://bit.ly/Magz5J
Abierto a residentes de Estados Unidos solamente. No se permiten apartados. Deben tener 18 años o más para entrar. El concurso termina el 27 de junio, 2012 a las 11:59 PM, PST y un (1) ganador será elegido al azar entre todas las inscripciones a través de  random.org.
Este es un post patrocinado por Mountain States Rosen. Fui compensada y proporcionada con el producto para facilitar esta entrada. La receta y las opiniones son mías.
Birria Estilo Jalisco
Ingredientes
6 dientes de ajo, pelados y picados finamente
1/4 taza chile California en polvo
1/4 taza de chile guajillo en polvo
1/2 cucharadita de comino molido
1 cucharadita de pimienta negra
3 cucharadas de vinagre de manzana
1/2 taza de agua
sal
8 papas rojas rebanadas en cuartos
3 libras de pierna de cordero Cedar Springs, sin hueso
Una lata de 15 onzas de tomates picados en el líquido
1 cucharadita de orégano mexicano
Para Decorar
1/3 taza de cebolla amarilla, finamente picada
1/2 taza de cilantro finamente picado
1 limón, cortado en trozos
Instrucciones
En un tazón mediano mezcle el ajo, chile en polvo, comino, pimienta negra, vinagre, 1 cucharadita de sal y agua. Coloque las papas en la olla de cocción lenta, cubriendo completamente el fondo. Espolvoree las papas con sal. Coloque la carne de cordero sobre las papas y frote toda la marinada de chile sobre la carne. Vierta suficiente agua en la olla de cocción lenta para cubrir las papas y una cuarta parte de la carne de cordero. cubra y cocine durante 8-10 horas en alto.
Retire con cuidado la carne de la olla y coloque en un plato grande o bandeja. Quite la grasa extra y desmenuce en trozos grandes con las manos. Retire las papas  y colóquelas en un tazón grande separado. Quite la grasa extra del caldo.
En una cacerola mediana, a fuego medio, cocine los tomates con el líquido hasta que el líquido y los tomates se hayan espesado un poco. Añada con cuidado el caldo de la olla de cocción lenta. Mezcle y añada el orégano y 1 cucharadita de sal. Lleve a ebullición.
Para servir: Coloque 3-4  piezas de papa y la carne de cordero en recipientes hondos. Vierta el caldo sobre cada uno de ellos y cubra con la cebolla picada, cilantro y unas gotas de jugo de limón. Coma con tortillas calientes.
Rinde: 6-8