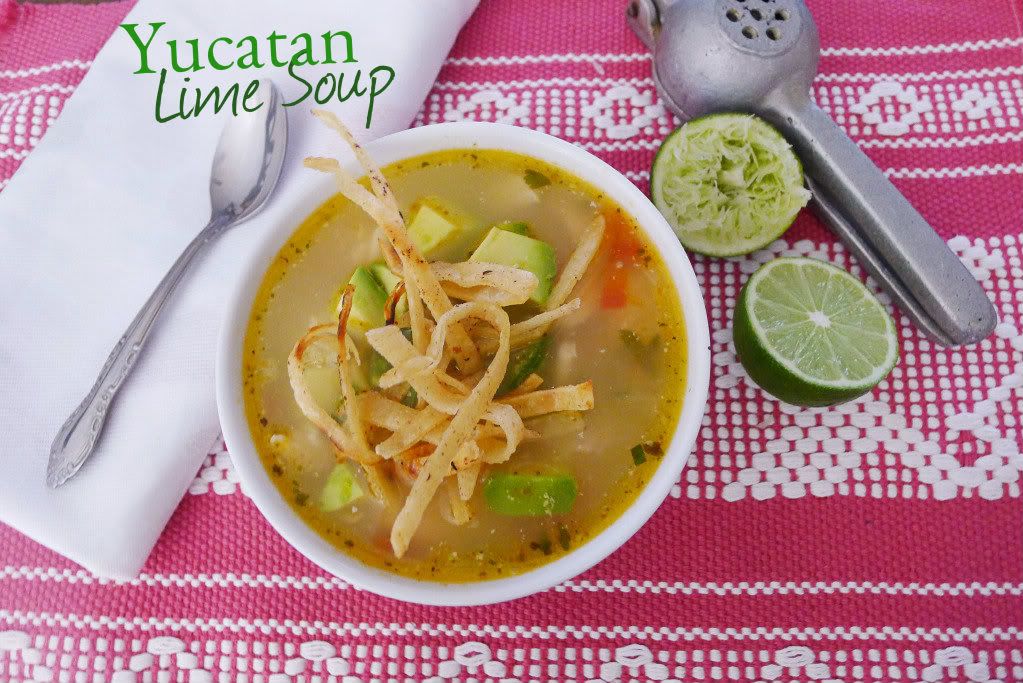 I AM A SOUP GIRL … there, I said it.
I'll take a soup over pizza, over ice cream … very close to choosing it over chocolate, but I have to draw the line somewhere. I will eat a steamy, burn-my-tongue brothy soup in 100+ degree weather.
Yucatan lime soup was the soup that made me a soup girl.  Not only is it tangy and full of flavors but it comes from a pretty amazing place.
Yucatecan cuisine has tons of European flair.  The strong European influence comes from back in the day when the peninsula was considered to be very isolated from the rest of Mexico.  It was extremely difficult to travel to that area because of its mountainous terrain and poor roads.  Relying on influence deriving from New Orleans, France and Cuban port contacts, their unique and exquisite mix of Mexican, European and Caribbean cuisine came to be.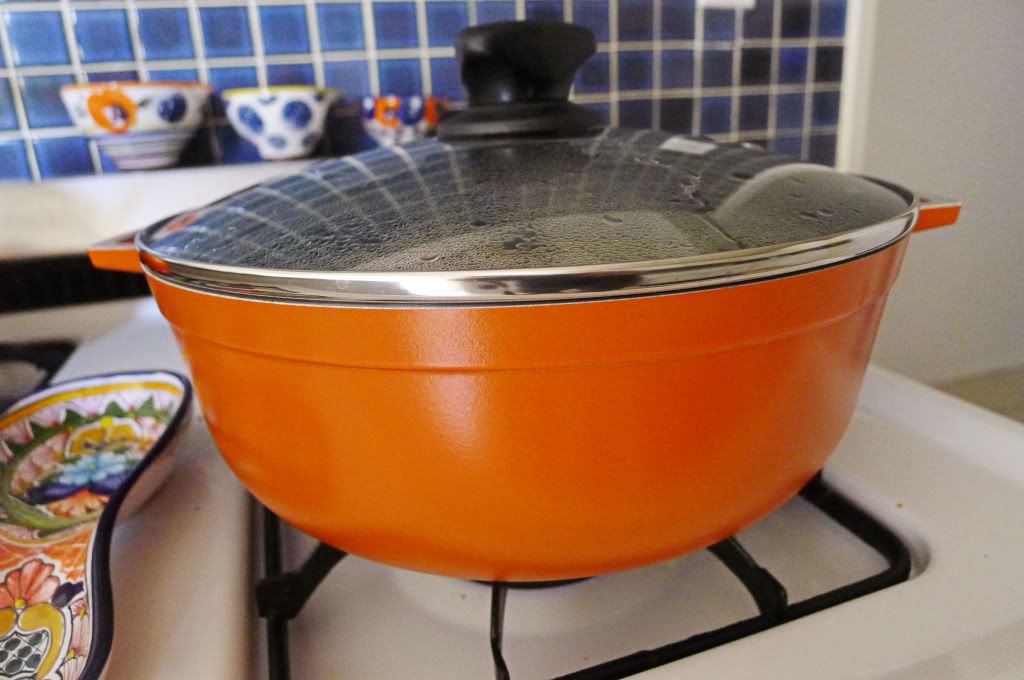 I found the perfect opportunity to make this tasty soup with IMUSA's porcelain exterior caldero. It is ideal for making soups and stews because of its tempered glass lid.  The beautiful design adds a pop of color to my kitchen and it is  very easy to clean.  Now you can have your own!  All you have to do is follow the entry instructions below.  Good luck!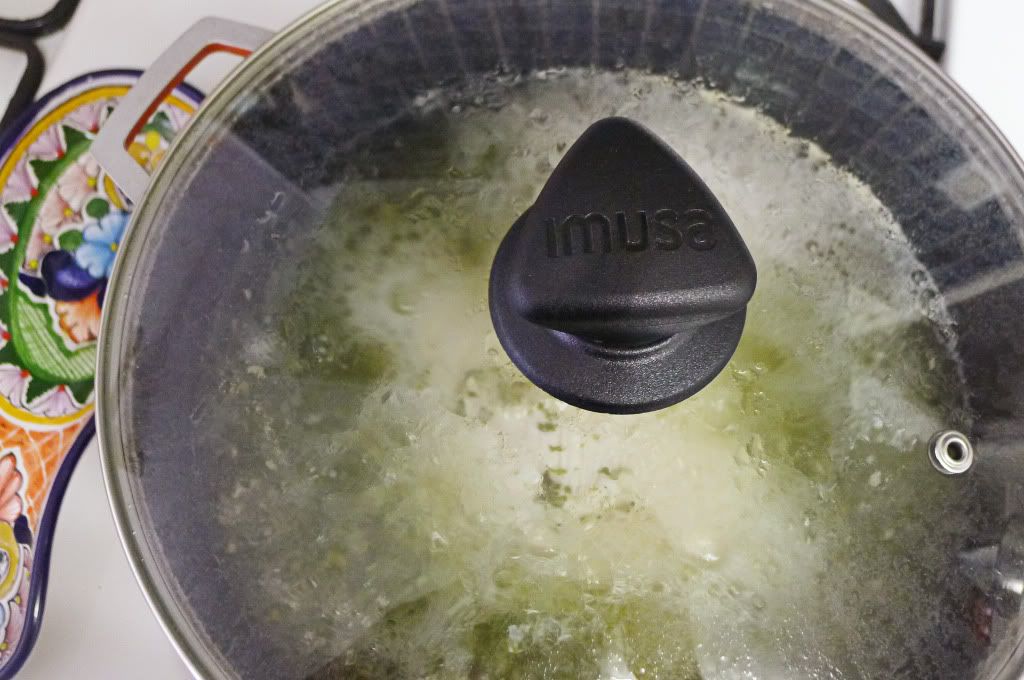 Enter to win an IMUSA Porcelain Exterior Caldero with Tempered Glass Lid
Like Nibbles and Feasts on Facebook
Follow Nibbles and Feasts on Twitter
Like IMUSA USA on Facebook
Tweet:  I just entered to win an @IMUSAUSA caldero via @NibblesNFeasts http://bit.ly/JgneHt
You can have up to 5 total entries each; however, please note that you have to comment back and let me know which of the actions you took, so that I can keep track of them.
Open to U.S. Residents only.  No PO Boxes, please. Must be 18 years or older to enter.   Contest ends May 19, 2012 at 11:59 PM, PST and one (1) winner will be randomly chosen from all entries through random.org.
[amd-zlrecipe-recipe:25]
This is not a sponsored post.  I received an IMUSA Caldero to facilitate this review. All opinions are my own.
Otra vez… en español!
Me encantan las sopas.
Prefiero una sopa que pizza, que un helado … no tanto como al chocolate porque tengo mis limites pero si, amo a las sopas casi igual que al chocolate. Me puedo comer una sopa caliente que cause que me queme la lengua durante el verano y en grados de 100+.
La sopa de lima de Yucatán fue la sopa que me causo el amor por las sopas.  No es sólo acida y picante pero llena de ricos sabores. Lo mejor de este platillo es que proviene de un lugar espectacular.
La cocina yucateca esta llena de características europeas. La influencia europea viene de que la península de Yucatán fue considerada como muy aislada del resto de México. Era extremadamente difícil viajar a esa zona debido a su terreno montañoso y las malas carreteras. Basándose en la influencia derivada de contactos de los puertos de  Nueva Orleans, Francia y Cuba, esta combinación gastronómica mexicana, europea y caribeña es única.
Me pareció la oportunidad perfecta para hacer esta sopa deliciosa con el caldero de exterior de porcelana de IMUSA. Es ideal para hacer sopas y guisos, debido a su tapa de vidrio templado. El hermoso diseño añada un toque de color a la cocina y es muy fácil de limpiar. Ahora tu te puedes ganar tu propio caldero! Todo lo que tienes que hacer es seguir las instrucciones despues de este post. ¡Buena suerte!
Participa y podrás ganar un caldero con exterior de porcelana de IMUSA con tapa de vidrio templado
Comenta a continuación y dime que vas a preparar con tu caldero si lo ganas.
Cada acción a continuación también cuenta como una entrada:
El sorteo se ha CERRADO.  Felicidades Teresa Saucedo!
Dale "like" a Nibbles and Feasts en Facebook
Sigue a Nibbles and Feasts en Twitter
Dale "like" a IMUSA USA en Facebook
Manda un tweet: Gana un @IMUSAUSA caldero a través de @NibblesNFeasts http://bit.ly/JgneHt
Puedes tener un máximo de 5 entradas totales cada uno, sin embargo, toma en cuenta que tienes que comentar de Nuevo aqui y dejarme saber cuáles de las medidas tomaste, para que las entradas sean validas.
Abierto a residentes de Estados Unidos solamente. No se permiten PO Boxes. Debes tener 18 años o más para concursar. El concurso termina el 19 de mayo 2012 a las 11:59 PM, PST y un (1) ganador será elegido al azar entre todas las inscripciones a través random.org.
Sopa de Lima Yucateca
Ingredientes
3 tortillas de maíz (de 6 pulgadas), cortadas en tiras y fritas
1 cucharada de aceite de canola
2 mitades de pechuga de pollo sin piel, sin hueso
2 latas (de 14.5 onzas) de caldo de pollo, sin grasa y reducido en sodio
3 dientes de ajo, finamente picados
2 ramitas de perejil
1 cebolla amarilla mediana, picada
2 jitomates medianos, picados
1 chile jalapeño, sin semillas, sin venas y picado
1 cucharadita de orégano mexicano molido
1 cucharadita de sal
1/3 taza de jugo de limón fresco
1/4 taza de cilantro fresco picado
1 aguacate grande, pelado y picado en cubos
Instrucciones
Coloca las pechugas de pollo, el caldo de pollo, el ajo y el perejil en una olla mediana. Lleva a ebullición y luego reduce el calor y cocina a fuego lento hasta que el pollo se cocine completamente, aproximadamente 20 minutos.
Dejar enfriar el pollo en el caldo y desmenuza en trozos grandes. Reserva en un plato.
Cuela el caldo de pollo a través de un colador en un tazón grande y reserva.
En una olla grande, calienta el aceite y sofríe la cebolla hasta que esté tierna, unos 3 minutos. Agrega los tomates, jalapeños y el orégano. Cocina y revuelve hasta que la mezcla esté casi seca, unos 5 minutos.
Añada el caldo de pollo reservado, pollo desmenuzado, sal, jugo de limón y el cilantro. Llevar a ebullición, reduce el fuego a fuego lento durante 5 minutos.
Para servir, divida la sopa en 4 tazones para sopa. Sirve la sopa y decora con tiras de tortilla y cubos de aguacate. Sirva caliente.
Rinde 4 personas