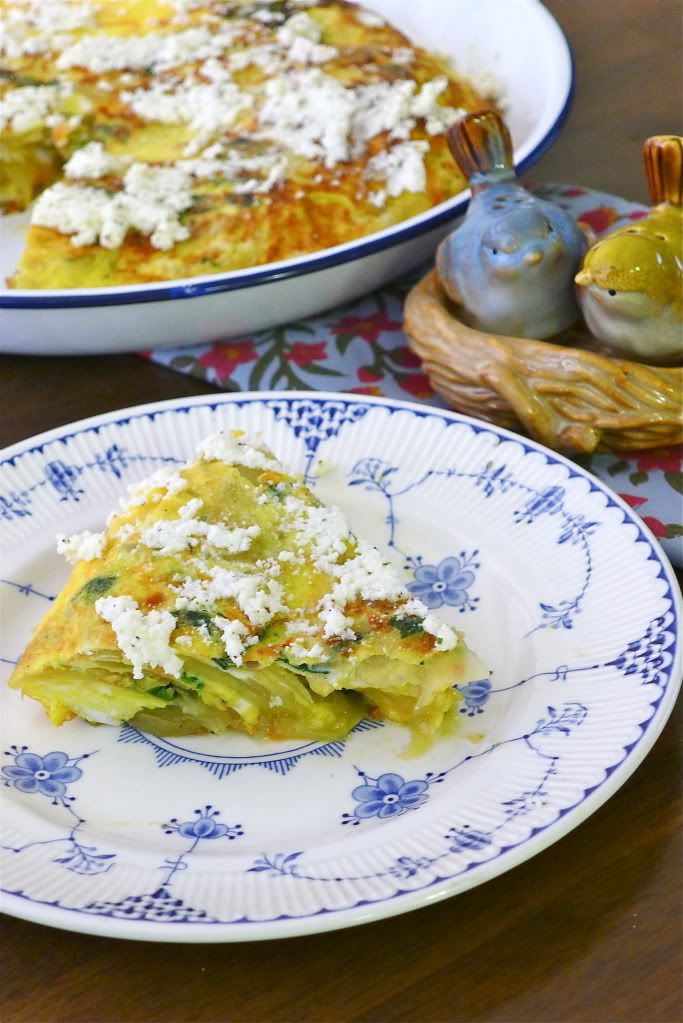 "No hay mal que por bien no venga", or "when life gives you lemons, make lemonade".  Well, in this case eggs.
I had been struggling this week to come up with breakfast/brunch dish idea to celebrate Easter with my family.  On my way back home from my weekly grocery trip, I carried way too many grocery bags from the car to the front door. In the struggle of juggling heavy bags, a toddler in tow and finding my house keys, the bag carrying the egg cartons suffered a casualty.
I managed to save most of the cracked eggs and when life gives you cracked eggs, you make a tortilla española!
Traditional Tortilla Española usually calls for eggs, potatoes and onions.  I decided to add more veggies and some Supremo Requeson to top it off.  The result was a versatile and flavorful dish that could be eaten morning, noon, night, hot, cold, as a meal or tapa.
Happy Easter my friends!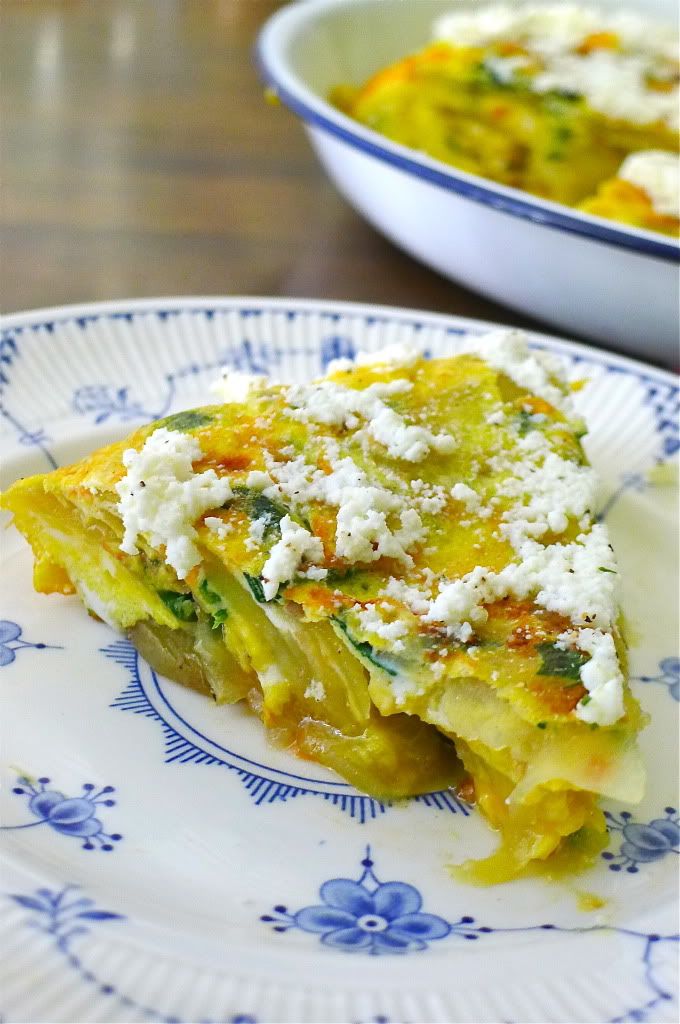 Ingredients
8 eggs, beaten
4 medium potatoes, thinly sliced (on a mandolin)
1 medium onion, diced
1 tomato, diced
1 cup spinach, packed
Oil for frying
1/3 cup of requeson (I used Supremo)
Salt and pepper to taste
Instructions
In a large, heavy non-stick pan heat the frying oil over a low-medium flame.
Carefully add onions and potatoes and fry until potatoes are soft. Try not to burn.
Add tomatoes and spinach. Continue cooking for about 2 minutes.
Pour beaten eggs over fried vegetables and mix with a large spoon.
Allow the eggs to cook around the edges. Carefully lift the edge and check if the egg has browned slightly. The middle section should still be runny.
When eggs have slightly browned, turn the entire omelet over to cook on the other side. To do this, take a large 12" heat proof plate upside down and place over the frying pan. Quickly flip by holding on to the frying pan by the handle with one hand and holding the upside down plate steadily over the pan. The omelet will fall onto the plate.
Heat up 1 tablespoon of frying oil in the pan and slide the omelet back on the pan. Cook for 3 minutes.
Let the tortilla sit in the pan for two more minutes.
Transfer to a serving plate, spread requeson and sprinkle salt and pepper to taste. Slice into wedges and enjoy!
http://www.nibblesandfeasts.com/2012/04/tortilla-espanola-my-way/
Copyright Nibbles and Feasts
Otra vez… en español!
"No hay mal que por bien no venga"
Había estado batallando esta semana con ideas para el menú del desayuno para celebrar la Pascua con mi familia. Al regresar a mi casa de mi viaje semanal de supermercado, llegue con demasiadas bolsas y las cargaba desde el coche a la puerta principal. En la lucha y malabares con bolsas pesadas, mi hijo de 3 años y la búsqueda de las llaves para abrir la puerta, la bolsa que transportaba las cajas de huevos sufrió un desastre.
Me las arreglé para salvar la mayor parte de los huevos rotos y cuando la vida te da huevos roto, se hace una tortilla española!
La tortilla española tradicional generalmente lleva huevos, papas y cebollas. He decidido añadirle más verduras y un poco de Requesón Supremo como aderezo. El resultado fue un plato versátil y sabrosa que se podía comer por la mañana, mediodía, noche, frío, caliente como una comida principal o una tapa.
Felices Pascuas mis amigos!
Tortilla Española
8 huevos batidos
4 papas medianas cortadas en rodajas finas (con una mandolina)
1 cebolla mediana, finamente picada
1 tomate, cortado en cubitos
1 taza de espinacas
Aceite para freír
1/3 taza de requesón (yo usé Supremo)
Sal y pimienta al gusto
En una sartén grande y antiadherente calienta el aceite a fuego medio-bajo.  Con cuidado, agrega las cebollas y las papas y fríe hasta que las papas estén blandas. Trata de no quemarlas.  Agrega los tomates y las espinacas. Continua cocinando durante unos 2 minutos.
Vierte el huevo batido sobre las verduras fritas y mezcla con una cuchara grande.
Deja que el huevo se cocinen alrededor de los bordes. Con cuidado, levanta el borde y revisa si el huevo se haya dorado un poco. La sección de el medio aún debe de estar un poco cruda.
Cuando los huevos se doren ligeramente, voltea la tortilla para cocinar del otro lado. Toma un plato grande de 12 " resistente al calor y colócalo boca abajo sobre la sartén. Rápidamente voltea la sartén sosteniéndolo por el mango con una mano y sosteniendo el plato sobre la sartén. La tortilla se caerá sobre el plato.
Caliente 1 cucharada de aceite para freír en la sartén y deslice la tortilla cuidadosamente sobre la sartén. Cocine durante 3 minutos.
Deja que la tortilla se asiente en la sartén durante dos minutos más.
Pasa la tortilla a un plato de servir, extiende el requesón y espolvorear sal y pimienta al gusto. Cortar en trozos y disfruta!