Believe it or not, I've never really been fond of tomatoes.  I'm one of those people that pick it out of their hamburger and dread the soggy mess those darn slices leave behind.  Cherry tomatoes, not a fan either.  They squirt when I bite, so I kick them to the side of my salad or stealthly place them on my husband's plate.  My old roommate used to call it "tomato abuse,"  yes I admit it… It was.
Until now…
My bloggy friend, Leslie from La Cocina de Leslie started a Food of the Month Club and I really wanted to take part in it. She selects a special ingredient and we all cook and blog around this ingredient. And guess what the first food item for 2012 was?… Yeap, tomatoes.
My husband says it's phsycological because I love green tomatoes and I love tomato soup, cooked tomatoes, entomatadas … ketchup.  Just kidding.
We trekked our way to the Hollywood Farmer's market and saw this guy…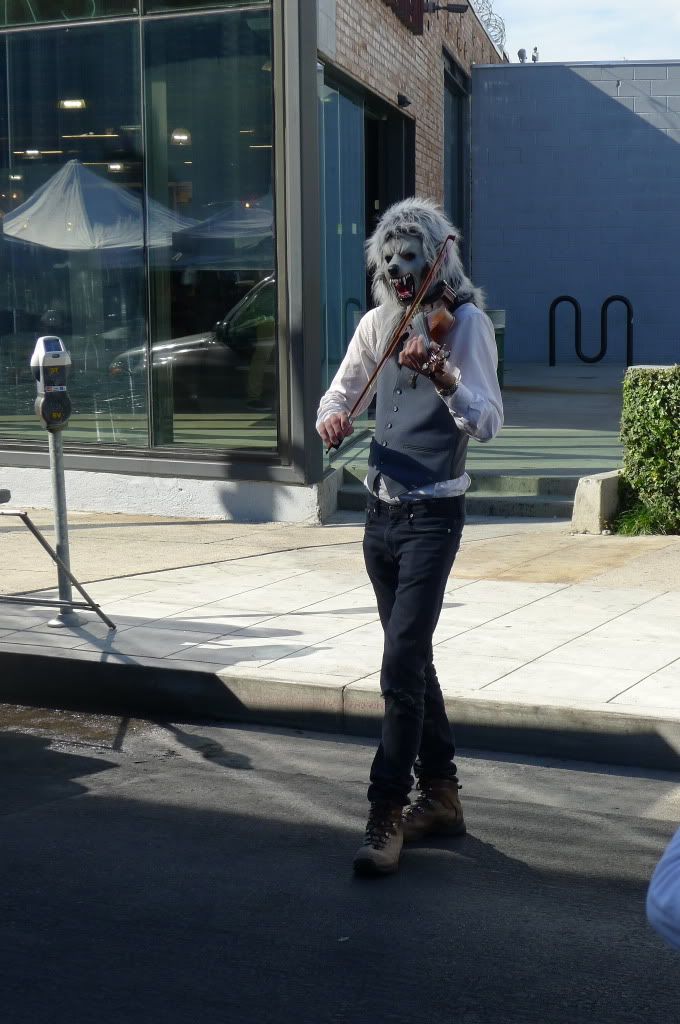 The Hollywood Farmers Market Werewolf Violinist
Do you think it's a sign to stay away from tomatoes?
I found the most beautiful Heirloom tomatoes and I decided to go for it.  I faced my fears and made a salad.
I never cook with watercress.  What the heck, I added it to the salad too.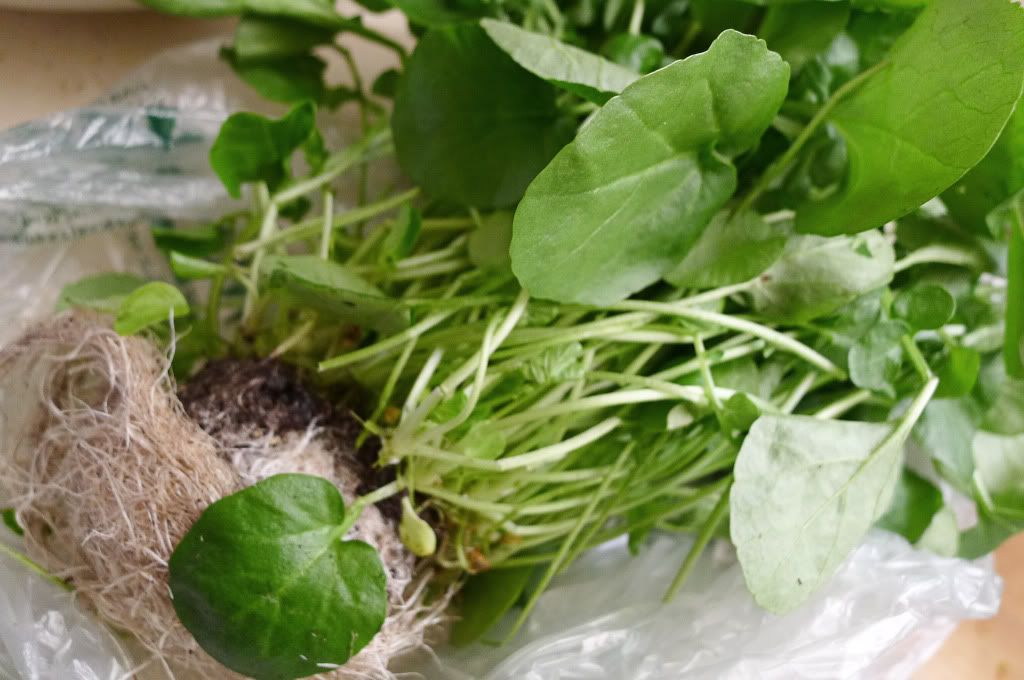 Make sure you pick a thick pasta.  This was the thickest I could find…

I also found a great use for my Basil Olive Oil I purchased on my recent Los Olivos trip.
Heirloom Tomato Salad with Pasta, Watercress, Pine Nuts and Basil Oil
Ingredients
1/2 pound of thick pasta (I used large ziti)
Basil infused olive oil
1 pound ripe Heirloom tomatoes, sliced in rounds
3/4 cup pine nuts, I used Melissa's Produce Italian Pine Nuts
1 bunch watercress leaves, roughly chopped
Kosher salt
Pepper to taste
Optional: Sprinkle feta or cotija cheese for added flavor.
Instructions
Cook the pasta in a large pot of boiling salted water with a splash of oil to keep it from sticking together. Boil for 15 minutes, or according to the directions on the package. Drain well and allow to cool. Place the pasta in a bowl and add the tomatoes, watercress, pine nuts and salt and pepper to taste. Pour in basil olive oil and toss well. Optional: add cheese.
http://www.nibblesandfeasts.com/2012/01/heirloom-tomato-salad-with-pasta-watercress-pine-nuts-and-basil-oil/
Copyright Nibbles and Feasts
Otra vez… en español!
Créanlo o no, nunca he sido aficionada de los tomates. Soy una de esas personas que lo sacan  de su hamburguesa por el temor de que remoje el pan. Tomatitos cherry, tampoco soy fan.  Detesto que me salpiquen cuando los muerda, así que los separo a un lado de la ensalada o los coloco rápidamente sobre el plato de mi marido. Mi compañera de cuarto en la universidad le llamaba "el abuso de tomate", sí, lo admito … si lo era.
Hasta ahora …
Mi amiga bloguera, Leslie de La Cocina de Leslie comenzó un club del mes y yo tenía muchas ganas de participar. Se trata de que ella selecciona un ingrediente especial y todas cocinan y bloguean una receta basada en este ingrediente. Y adivinen cual fue el primer ingrediente del año 2012? … Sip,  tomates.
Mi marido dice que es psicológico  porque me encanta el tomate verde y me encanta la sopa de tomate, tomates cocidos, entomatadas … la cátsup. Es broma.
Fuimos al famoso mercado del agricultor en Hollywood y vimos al hombre lobo violinista …
¿Crees que es una señal de que me  mantenga alejada de los tomates?
Encontré unos tomates Heirloom más bellos y decidí basar mi platillo en ello. Me enfrenté a mis miedos e hice una ensalada.
Nunca cocino con berros.  Así que también decidí agregarlos a la ensalada.
Asegúrese de elegir una pasta gruesa. Esta fue la más gruesa que pude encontrar …
Ensalada de Tomates Heirloom con Pasta, Berro, Piñones y Aceite de Albahaca
Ingredients
1 / 2 libra de pasta gruesa (yo usé ziti grande)
Aceite de oliva con infusión de albahaca
1 libra de tomates heirloom, en rodajas
3 / 4 taza de piñones Italianos, Melissa Produce
1 manojo de hojas de berro, picadas
sal de mar
Pimienta al gusto
Opcional: Espolvoree queso feta o queso Cotija para darle más sabor.
Hierva la pasta en una olla grande con agua y poquita sal con un chorrito de aceite para evitar que se pegue. Hierva durante 15 minutos, o de acuerdo a las instrucciones del paquete. Escurra bien y deje enfriar. Coloque la pasta en un tazón y agregue las rebanadas de tomates, berros, los piñones y la sal y pimienta al gusto. Vierta el aceite de oliva con infusión de albahaca y mezcle bien. Opcional: agregar el queso.
Rinde 6 porciones