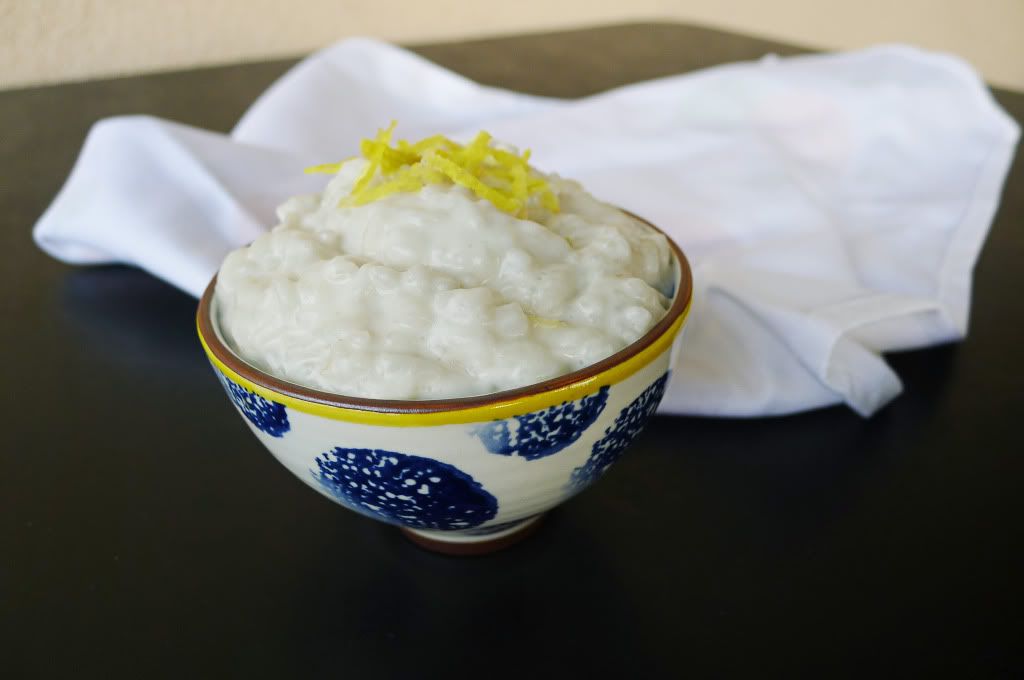 I've prepared my share of Mexican arroz con leche (rice pudding).  A little condensed milk here, some cinnamon,  raisins, sugar y listo!  This time I wanted to make something similar but with some ingredients out of my comfort zone.  I chose coconut milk and Buddha's Hand citron for a coconut lime rice version.
This is a Buddha's Hand Citron (also known as Fingered Citron).  It originates from the Himalayas and is used for perfuming rooms and clothing by being placed in closets and drawers.  It is a symbol of happiness and a long full life.  This exquisite fruit is also used as table top decoration and altar offering.  The "hand" can be either open or closed but the top picks are the Buddha's Hands that are closed because they resemble praying hands.
In Japan the "bushukan," as the Buddha's Hand citron is called, is a popular gift at New Year's, for it is believed to bestow good fortune on a household.
The rind is yellow and very fragrant, an aroma of sweet lemon cookies.  The interior is all pith, no juice or seeds.  Not bitter.
The peel can be candied or used as zest for drinks, salads and flavoring for fish.  The "fingers" can also be boiled and made into tea, or placed in vodka bottles to infuse a citrus flavor.
I decided to include it in sweet rice pudding to add a zesty flavor.  The citrus taste was not overbearing.  It was perfect.
If you would like to experience this beautiful citron, you can find them at Melissa's Produce.
Happy New Year!
Coconut Rice Pudding with Buddha's Hand Citron
Ingredients
1/2 cup white rice (the shorter, the stickier)
13.5 oz unsweetened coconut milk
1-1/4 cups almond milk
1/4 cup sugar
2 teaspoons grated Buddha's Hand Citron plus 1 tbsp for garnish (can substitute with lime zest)
Instructions
In a bowl soak rice in cold water to cover 20 minutes. Drain rice in a sieve. In a heavy saucepan bring coconut milk, rice, almond milk, sugar, and a pinch salt to a boil and gently simmer, uncovered, stirring occasionally, 25 minutes. Remove pan from heat.
Stir Buddha's Hand Citron zest (or lime zest) into pudding. Divide pudding among four 2/3-cup custard cups. Puddings may be made 2 days ahead and chilled, covered.
Serve warm or chilled and garnish with more zest.
Notes
Buddha's Hand Citron zest can be substituted with lime zest.
http://www.nibblesandfeasts.com/2012/01/coconut-rice-pudding-with-buddhas-hand-citron/
Copyright Nibbles and Feasts
Otra vez…en español!
El arroz con leche es un postre muy conocido en mi hogar.  Es fácil de hacer, con ingredientes muy conocidos: un poco de leche condensada, un poco de canela, las pasas, el azúcar y listo! Esta vez quería hacer algo similar, pero con algunos ingredientes muy fuera de lo común para mi y mi familia. Elegí la leche de coco y el Citrón Mano de Buda  para una versión de arroz con leche de coco y limón.
Este es un Citron Mano de Buda. Tiene su origen en la region de los Himalayas y se utiliza como un aromatizante en las habitaciones y la ropa.  Se acostumbra colocarlos en armarios y cajones. Es un símbolo de la felicidad y una larga vida. Esta exquisita fruta también se utiliza como decoración de mesa y ofrendas para altares. La "mano" puede ser abierta o cerrada, pero las mas populares son las manos del Buda que están cerradas porque se parecen a manos en posición de oración o rezando.
En Japón, el "bushukan", como el Citrón mano de Buda se le llama, es un regalo muy popular en Año Nuevo, ya que se cree que otorgan buena fortuna en el hogar.
La cascara es de color amarillo y muy fragante, un aroma de las galletas de limón dulce. El interior es todo de médula, no jugo o semillas. No es amargo.
La cáscara puede ser comida confitada o ralladura en bebidas, ensaladas y sazon en platillos con pescado. Los "dedos" También se pueden hervir y se convierte en un dulce té, o se colocan en botellas de vodka para infundir un sabor cítrico.
Me decidí a incluirlo en el arroz con leche para agregarle un sabor citrico. El sabor no era dominante. Fue perfecto.
Si  le gustaría experimentar con este hermosa fruta, la puede puede encontrar en Melissa's Produce.  Se la recomiendo.
Feliz Año Nuevo!
Arroz con Leche de Coco y Citron Mano de Buda

Ingredientes
1 / 2 taza de arroz blanco (entre mas corto el arroz, más pegajoso)
13.5 oz lata de leche de coco sin azúcar
1-1/4 tazas de leche de almendra
1 / 4 taza de azúcar
2 cucharaditas de ralladura de Citron mano de Buda, más 1 cucharada para decorar (se puede sustituir con cáscara de limón)
En un tazón remoje el arroz en agua fría por 20 minutos. Pase el arroz por un colador. En una olla coloque la leche de coco, arroz, leche de almendras, azúcar y una pizca de sal hasta que hierva suavemente a fuego lento, sin tapar, revolviendo ocasionalmente, unos 25 minutos y el arroz este cocido. Retire la sartén del fuego.
Cuidadosamente, mezcle la ralladura Citron mano de Buda (o ralladura de limón) en el arroz. Divida entre cuatro moldes de ceramica para flan. Sirva caliente o frío y adorne con más ralladura.  El arroz con leche de coco se pueden hacer con 2 días de anticipación.
Rinde 4 porciones