Keep Calm and Eat Tacos… that's my new motto.  I'm a weirdo stressball.  Just ask anyone.  Laundry not done, I stress, arugula spent too much time in the refrigerator, stress… work project looking close to not being completed on time, borderline heart attack and maybe some convulsions.
My new motto for 2012 is to enjoy every minute with my family.  The work will always be there.
I will take more deep breaths, learn to relax and enjoy the moment.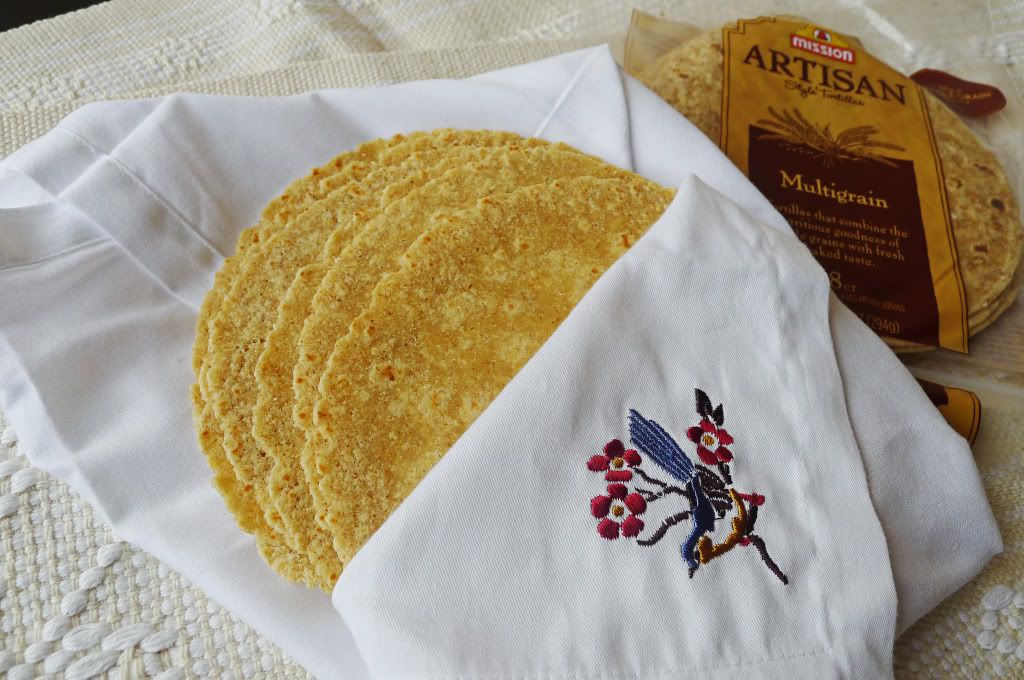 At this very moment, I'm enjoying these rustic tacos made from cactus paddles growing in my back yard. We macheted these suckers, de-spined them, rubbed them with olive oil and threw them on the grill.
What better way to enjoy these flavorful and healthy soft tacos than with Mission's Artisan Style Tortilla.  I've died and gone to tortilla heaven because they are made with wholesome grains in four varieties: Corn & Whole Wheat Blend, Ancient Grains, Multigrain and Flaxseed and Blue Corn Blend.  No other tortillas have this texture and blend.
Cactus Salad Tacos | Tacos de Nopalitos
Ingredients
Mission Artisan Tortillas
1 ½ lbs nopales-cooked (grilled or broiled), sliced in strips
1 small onion, chopped
2 medium tomatoes, chopped
½ bunch of cilantro chopped
1 ½ tbsp lime juice
3 tbsp olive oil
1 tsp salt
½ tsp pepper
1 tsp Mexican dried oregano, crushed
1/3 cup cotija cheese, crumbled
Instructions
De-spine, roast or grill the cactus paddles, then slice in strips. Chop onion and tomatoes and mix with the nopales and cilantro. Chill for about 15 minutes.
In a separate bow add lime juice, oil, salt, pepper and oregano and stir to blend. Add to cactus salad and gently toss.
Warm up your tortillas on a skillet.
Assemble the tacos. Garnish with Cotija cheese.
http://www.nibblesandfeasts.com/2012/01/cactus-salad-tacos-tacos-de-nopalitos-with-mission-artisan-tortillas/
Copyright Nibbles and Feasts
Mantener la calma y comer tacos … ese es mi nuevo lema. Yo me estreso por todo, preguntenle a cualquiera. Si la ropa sucia se me junta, me estreso. Si la lechufa a pasado demasiado tiempo en el refrigerador, estrés … si el proyecto de trabajo no esta terminado a tiempo, me da un ataque de ansiedad y tal vez algunas convulsiones.
Mi nuevo lema para 2012 es disfrutar de cada minuto con mi familia. El trabajo siempre estará allí.
Voy a tomar respiraciones profundas, aprender a relajarme y disfrutar del momento.
En este mismo momento, estoy disfrutando de estos tacos rústicos hechos con nopalitos que crecen en mi patio. Los cortamos y les quitamos las espinas, se frotan con aceite de oliva y los arrojó sobre la parrilla.
¿Qué mejor manera de disfrutar de estos sabrosos tacos saludables que con tortillas estilo artesanal Mission. He muerto e ido al cielo de las tortillas. Son tan saludables y hechas con granos de cuatro variedades: maíz y mezcla de trigo, granos antiguos (ancient grains), multigrano y de linaza y una mezcla de maíz azul. No hay otras tortillas que tengan esta textura y mezcla.
Tacos de Nopalitos
Ingredientes
Mission ArtisanTortillas
1 ½ lb. nopales cocidos (asados o a la parrilla), cortados en tiras
1 cebolla pequeña, picada
2 tomates medianos, picados
½ manojo de cilantro picado
1 ½ cucharada de jugo de limón
3 cucharadas de aceite de oliva
1 cucharadita de sal
½ cucharadita de pimienta
1 cucharadita de orégano mexicano, seco
1 / 3 taza de queso cotija, desmoronado
Quite las espinas de los nopales y cocínelos (hiérvalos o áselos), luego córtelos en tiras. Pique la cebolla, el tomate y el cilantro y mezcle con las tiras de nopales. Reserve en el refrigerador durante unos 15 minutos.
En un tazón, añada el jugo de limón, aceite, sal, pimienta y orégano y mezcle. Añada la ensalada de nopal y mezcle cuidadosamente.
Caliente sus tortillas en comal.
Prepare los tacos y espolvoree con queso Cotija.
Rinde: 4-6 personas