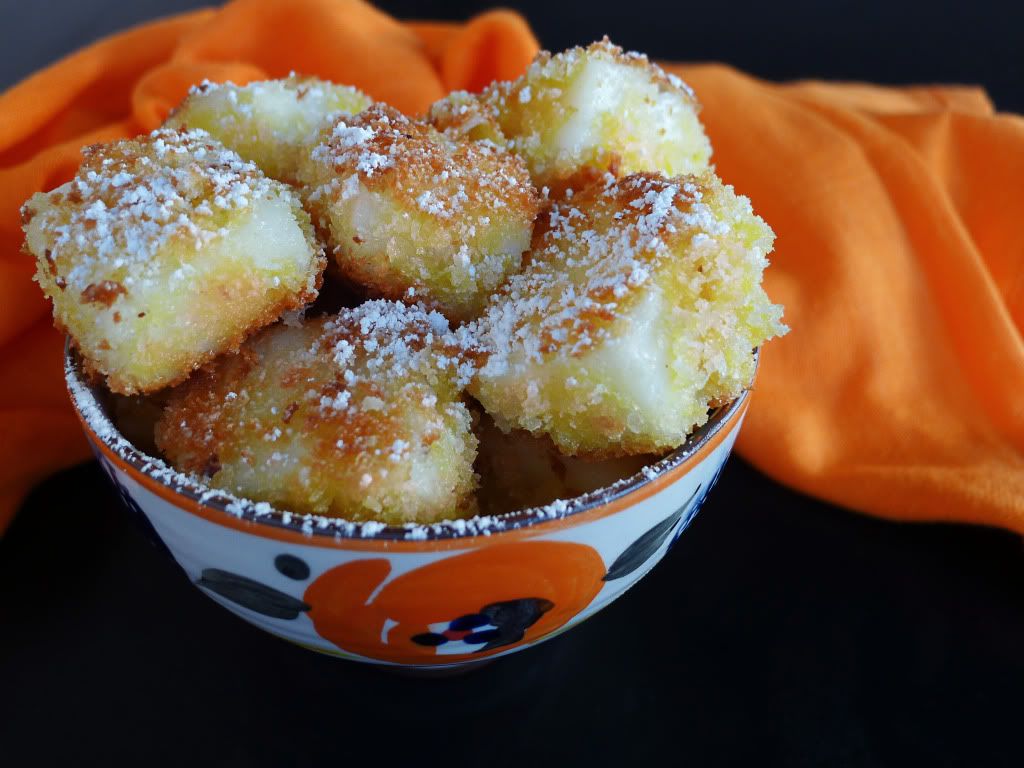 Is it possible to fry milk?  Of course it is!  Fried milk is a crunchy, warm custard that slowly oozes at your first bite.  The main ingredient in this recipe is milk of course but you can add your favorite spice such as nutmeg, cinnamon, or pumpkin pie spice.  I like to top mine with powdered sugar, but if you want a slightly different twist, sprinkle it with cinnamon mixed with granulated sugar.
Leche Frita originated in Spain and is their most popular street food.  Think of it as the churro or buñuelo of Mexico.
This recipe calls for very few ingredients and is very simple to make.  You do need three hours or more of refrigeration time for the custard to harden and be ready for the glorious breading and frying.  When preparing the custard in the boiling process, the key is to constantly whisk the mixture and avoid bubbles as it begins to thicken.
Fried milk goes perfect with a side of ice cream.  I love pairing it with green tea ice cream with a drizzle of chocolate syrup.
What better way to incorporate milk in your meal?  Dessert! Now that's what I call #positivismo.
Ingredients
1/2 cups sugar
1/2 cups cornstarch
1/4 tsp. ground nutmeg
3 cups milk
1 tbsp. butter
1/4 tsp. grated lemon peel
2 eggs, beaten
3/4 cup dry bread crumbs
Oil for frying
Powdered sugar
Instructions
In a medium saucepan over medium heat, warm up milk.
In a medium bowl, whisk sugar, cornstarch and nutmeg until combined. Add to warm milk saucepan and heat to boiling over medium heat. Stir constantly, boil 1 minute. Remove from heat.
Stir in butter and peel. Spread in ungreased 8 x 8 inch dish. Refrigerate uncovered at least 3 hours.
Cut into 2 inch squares. Dip squares into eggs. Coat with crumbs. Fry until light brown. Drain. Sprinkle with powdered sugar and serve immediately.
http://www.nibblesandfeasts.com/2011/12/street-food-of-spain-fried-milk-leche-frita-recipe/
Copyright Nibbles and Feasts
For more information about the benefits of milk visit the Master of the Glass Half Full on Facebook or Twitter under #positivismo.  This is post is part of a sponsored campaign with the California Milk Processor's Board and Latina Mom Bloggers.


¿Es posible freír leche? Por supuesto que lo es! La leche frita es una crujiente, crema caliente que rezuma lentamente en el primer bocado. El principal ingrediente de esta receta es la leche, por supuesto, pero usted puede agregar sus especias favoritas, tales como la nuez moscada, la canela, o especias para pay de calabaza. A mi me gusta con azúcar glas  espolvoreada  por encima, pero si quieres algo diferente, la espolvorear  con canela mezclada con azúcar granulada.
Leche Frita se originó en España y es la comida más popular en los puestecitos ambulantes. Esta delicia es igual de popularidad que el curro o buñuelo en México.
Esta receta requiere de muy pocos ingredientes y es muy fácil de hacer. Lo que se necesita es tiempo, así  que se requiere que se enfrié tres o más horas en el refrigerador para que la crema se endurezca y este lista para empanizar y freír.  Cuando se prepara la crema en el proceso de ebullición, la clave está en que se bata constante y se evite burbujas, ya que comienza a espesar.
La Leche frita va perfecta con helado. Me encanta combinarla con helado de té verde y un chorrito de jarabe de chocolate.
¿Qué mejor manera de incorporar la leche en su comida? El postre! Eso sí que es #positivismo.
Leche Frita
Ingredientes
1 / 2 tazas de azúcar
1 / 2 taza de almidón de maíz
1 / 4 cdta. de nuez moscada molida
3 tazas de leche
1 cda. mantequilla
1 / 4 cdta. cáscara de limón rallada
2 huevos batidos
3 / 4 taza de pan rallado
Aceite para freír
azúcar en polvo
En una cacerola mediana a fuego medio, caliente la leche.
En un tazón mediano, mezcle el azúcar, la maicena y la nuez moscada hasta que se incorporen muy bien. Añade a la olla de la leche caliente la leche y caliente a ebullición a fuego medio. Revuelva constantemente, hierva 1 minuto. Retire del fuego.
Agregue la mantequilla y la ralladura. Vierta la mezcla sobre un recipiente de vidrio de 8 x 8 pulgadas. Refrigere destapado al menos 3 horas.
Cortar en cubitos de 2 pulgadas. Bañe los cubos en el huevo, cubra con las migajas de pan y fría hasta que se doren. Seque con toallitas de papel. Espolvoree con azúcar en polvo y sirva inmediatamente.
Para obtener más información acerca de los beneficios de la leche visite el Maestro de el vaso medio lleno en Facebook o Twitter bajo # positivismo. Este post es parte de una campaña patrocinada con el Consejo de Procesadores de Leche de California y Latina Mom BLoggers.