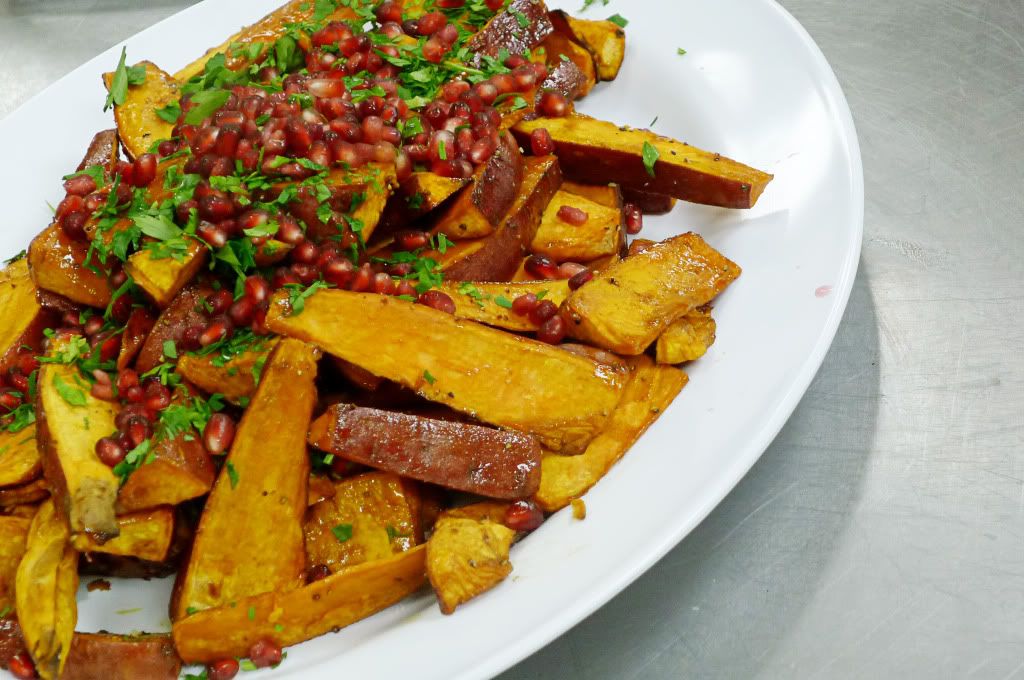 Simple Gourmet Founder Melanie Barsuk
and Executive Chef, Taji Mar
One day, I will prepare an entire Thanksgiving meal from scratch.  But alas, with my insane schedule, I make time to prepare at least one dish to contribute to our family's Thanksgiving pot luck.  I usually spend WEEKS thinking and rethinking of what I will be preparing without compromising an entire morning.
I have found my dish…
I was recently invited to a Simple Gourmet Cooking Class focusing on simplifying your Thanksgiving dinner and all prepping leading up to the feast. 
The experts, founder Melanie Barsuk and Executive Chef, Taji Marie thaugh me to think outside placing marshmallows on my sweet potatoes…boring!
Don't get me wrong, I love marshmallows and don't have anything against them.  They're fluffy, melty and do wonders for hot chocolate.

Let's think outside the box a bit and lets re-vamp and simplify our Thanksgiving sweet potatoes this year by enhancing with pomegranate glaze.
I "sampled" meaning… inhaled this dish.. three times.  Not a pretty sight but convinced, very convinced that I must share this delight with the rest of my family.

Pomegranate Lacquered Sweet Potatoes
Recipe from Simple Gourmet

1 cup 100% pomegranate juice
1/3 cup honey
3 tbsp brown sugar
1 tbsp orange zest
1 cinnamon stick
1 garlic clove, peeled and left whole
3 tbsp butter, cold
4-5 lbs sweet potatoes, cut into 1/2-inch wedges (skins left on)
olive oil
salt and pepper
1 cup pomegranate seeds
1/4 cup chopped parsley
Preheat oven to 400 degrees.
In a small pot combine the pomegranate juice, honey, brown sugar, orange zest, cinnamon stick and garlic clove.  Place over high heat, bring to a boil and cook for 5 minutes or until reduced by half (just thick enough to coat the back of a spoon).  Remove from heat and whisk in the cold butter.
Toss the potato wedges with olive oil, salt and pepper.  Add about 1/4 cup of the pomegranate glaze and place on backing sheets so the potatoes are not overlapping.  Roast for 10 minutes.  Drizzle with a little more glaze and continue roasting until tender — about another 10 minutes.
Remove from oven and empty into a large bowl.  Toss with the remaining glaze.  Taste and season with more salt and pepper as needed.
serve warm or room temperature topped with the pomegranate seeds and chopped parsley for garnish.
Serves 8-10
The delicious aftermath
For those of us afraid of Thanksgiving and all the work it entails, Simple Gourmet has provided a very helpful Thanksgiving dinner timeline to make our lives easier…
Thanksgiving Play-by-play
by Simple Gourmet

3 – 1 Week ahead:
Buy non-perishables & freezer items, order fresh turkey,
ask someone to bring dessert and ask someone to bring wine/beverages.

3 Days ahead:
pick up turkey and buy perishables.
2 Days ahead (Tuesday):
Set the table, set up self-serve bar area, pull out platters and serving utensils,
but bread for dressing and let dry out.
1 Day ahead (Wednesday):
Make dressing (don't bake, wrap and refrigerate),
make cranberries and refrigerate, make gratin (don't bake),
wrap and refrigerate, assemble antipasto platter.
7 Hours before dinner:
Remove turkey from refrigerator and preheat oven,
get the rest of the turkey ingredients ready,
get coffee pot ready to torn on for after dinner.
6 Hours before dinner:
Get turkey ready for oven and begin roasting.
2 Hours before dinner:
Remove dressing from fridge, remove gratin from fridge,
put cranberries in serving dish and set aside,
make sweet potatoes and keep at room temperature when done.
When turkey is done (about 45 minutes – 1 hour before dinner):
Remove turkey from oven (thermometer should read 165 degrees in the breast),
put dressing in the oven, put gratin in the oven, set turkey aside and make gravy.
15-20 minutes before dinner:
Re-warm sweet potatoes in the oven, carve turkey.
Just before sitting down:
Turn coffee pot on, set pies out on the counter (if refrigerated)….ENJOY!
No compensation was received.  I was treated to a cooking class by Simple Gourmet.  All opinions are my own.