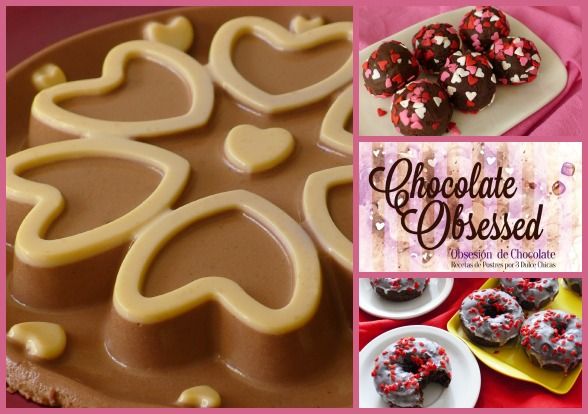 What do you get when you put together three sweet girls who love to cook, love to blog and are locas for chocolate?  You get an ebook full of indulgent chocolate obsessed recipes!
Since we love our readers as much as we love chocolate, we decided to compile some of our favorite decadent chocolate recipes as a Valentine's Day gift to you!  All you have to do is click here and download this free e-book or save it on to your issuu library. Easy as that!
Wishing you a day full of love and chocolate!  Happy Valentine's Day from Nibbles and Feasts, Sweet Life and Presley's Pantry.
 Otra vez… en español!
¿Qué pasa cuando juntas tres dulces chicas a quien les encanta cocinar, escribir en sus blogs y están locas por el chocolate? Un  ebook lleno de recetas de chocolate!
Como queremos a nuestros lectores tanto como queremos el chocolate, hemos decidido recopilar algunas de nuestras recetas favoritas de chocolate decadentes como regalo del Día de San Valentín para ti! Todo lo que tienes que hacer es clic aquí y descarga este e-book gratis o guardarlo en su biblioteca issuu. Tan fácil como eso!
Te deseamos un día lleno de amor y chocolate! Feliz Día de San Valentín de Nibbles and Feasts, Sweet Life y Presley's Pantry.