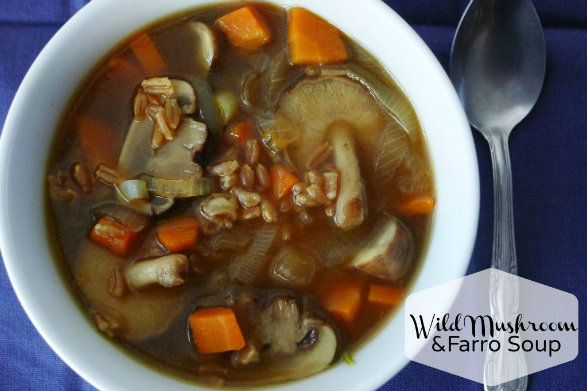 You could say that I am a professional grocery shopper.  With recipe development and testing I make a minimum of three grocery trips a week to different grocery stores.  This does not include the farmer's market trip on the weekend.  So you could say that I have this grocery shopping downright perfected on where to go to find a particular ingredient.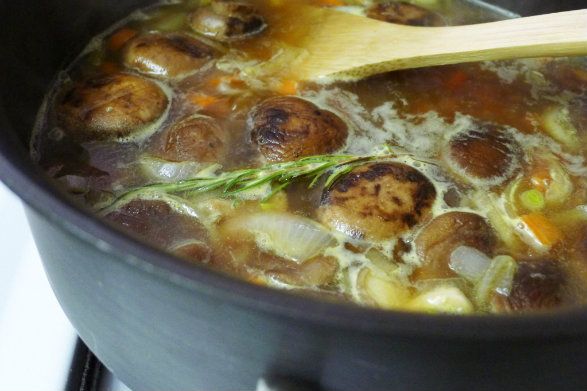 This is serious business.   I usually take a categorized list but I wouldn't consider myself a disciplined grocery shopper.  I have a problem of brainstorming during my trips and end up with more groceries in my cart that I had anticipated.   This turns out to be a storage issue at home and a strain on my pocketbook.
A few weeks ago I had the opportunity to try out a new home delivery grocery shopping service in Los Angeles, Sustainable Produce Urban Delivery or SPUD.  The concept is similar to shopping for clothing or shoes online.  You place your order and your delivery arrives fresh at your doorstep. Can life get any simpler?  This is a great way to buy what you need with the convenience of home delivery.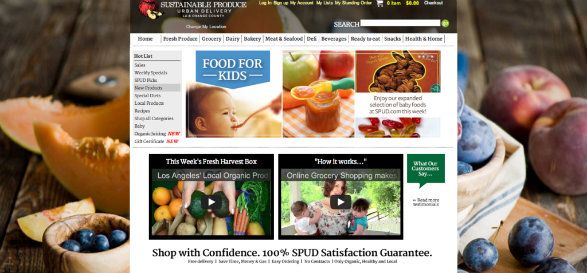 What I also loved about SPUD is that it also has an Organic Juicing Club where you receive specially formulated juicing recipes by experts along with your fruit and veggie delivery for whatever your health goal might be.
To try out the service, I decided to plan for a craving that I had been having during these winter days:  Wild Mushroom and Farro Soup.  Ordering my groceries took me less than 10 minutes, saving me time, money and gas.
For more information on SPUD, visit their Facebook page and join their community.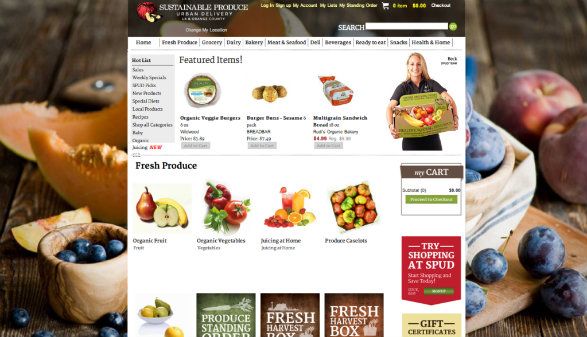 Wild Mushroom and Farro Soup
Ingredients
2 tablespoons canola oil
½lb fresh cremini mushrooms, chopped
½lb fresh shiitake mushrooms, chopped
1 small onion, chopped
1 cup carrots, chopped
2 garlic cloves, chopped
1 cup canned tomatoes, chopped
6 cups vegetable broth or mushroom broth
8 ounces uncooked farro, rinsed and soaked overnight.
1 fresh rosemary sprig
Salt and Pepper to taste
Instructions
In a large saucepan, heat oil over medium heat.
Add onion, garlic and carrots until onions become translucent.
Add mushrooms, stirring constantly until mushrooms have released their liquid.
Add tomatoes, broth, farro and rosemary and cook for 45 minutes or until farro is tender.
Salt and pepper to taste.
To serve, remove rosemary sprig and ladle in soup bowls.
http://www.nibblesandfeasts.com/2013/01/wild-mushroom-and-farro-soup/
Copyright Nibbles and Feasts
Disclosure: I was not compensated for this post, but I did receive product for review from Sustainable Produce Urban Delivery, a company that sources local and fresh produce for delivery to your doorstep, as part of a campaign with MomsLA.com. All opinions are my own.