There isn't a day that goes by that I don't have at least one cup of coffee.  I can drink it at any time of the day, no matter what the temperature is outside. I can have it black or sweetened up.  Doesn't matter.  If I'm having coffee in the mornings, it's usually accompanied by a good breakfast.  But if I'm having a late afternoon coffee break, I have to have at least a bite of a scone to go with it.
Our daily trips to the coffee shops were putting a dent on our budget so I decided to take our late afternoon coffee and scone cravings to Casa de Sanchez, AKA my house.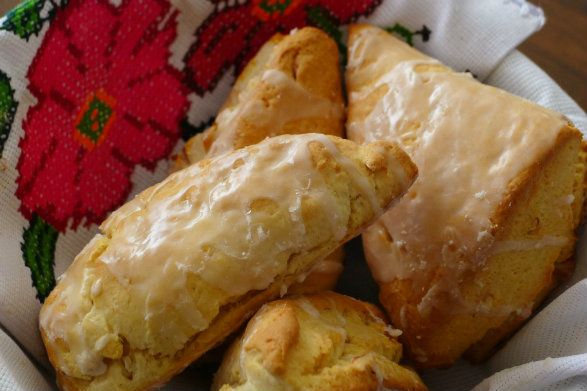 I grabbed my apron, some basic ingredients from my pantry and got to work.  The days of expensive scones are over!
If you're ever planning a brunch or just a coffee get-together with family and friends at home, give this recipe a try.  It was quick, easy, sweet and delicious.
Ingredients
5 cups biscuit mix
1/2 cup sugar
1/2 cup butter, unsalted
4 eggs
1/2 cup milk
1 vanilla bean bean pod
1/2 cup slivered almonds
Flour for dusting

Ingredients for glaze

2 cups powdered sugar
2 lemons, juiced
1 teaspoon almond extract
Instructions
Preheat oven to 400 ° F.
In a large bowl, whisk together biscuit mix, sugar and butter until smooth.
In a separate bowl, beat eggs, beans scraped from vanilla bean pod and milk.
Add egg and milk mixture to the dry ingredients and mix with wooden spoon. Fold in slivered almonds with a wooden spoon.
Place dough on a floured surface and mold into a rectangle about 1/2-inch thick.
With a knife, cut into four squares and cut those squares into 2 triangles each.
Place dough triangles on a greased baking sheet and bake for 15 minutes or until golden.
Remove and let cool.

Instructions for glaze:

In a medium bowl, whisk together, powdered sugar, lemon juice and almond extract until runny and smooth. Drizzle over warm scones and serve immediately.
http://www.nibblesandfeasts.com/2013/01/almond-vanilla-scones/
Copyright Nibbles and Feasts