There is nothing more comforting than nice cup of tea with a decadent piece of sweet bread after a long day of Christmas shopping.  It's a nice reward to myself for scratching everyone off my list and resisting the urge of buying myself something.  Big accomplishment.
That was way too much self-control for me.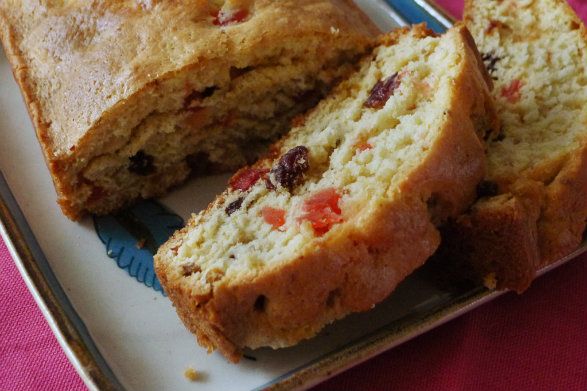 Following the Christmas theme, I decided to make a delicate teacake that resembles a holiday fruitcake.  Packed with California raisins, candied cherries and a hint of citrusy syrup, this teacake paired perfectly with my Earl Gray tea.  No self-control here whatsoever and that's ok.  What better Christmas present than to have the opportunity to share it with my family, sit around the dining room table and reminisce of Christmas past.
With this recipe, I'd like to wish you and your family a safe and happy holiday season!
Merry Christmas!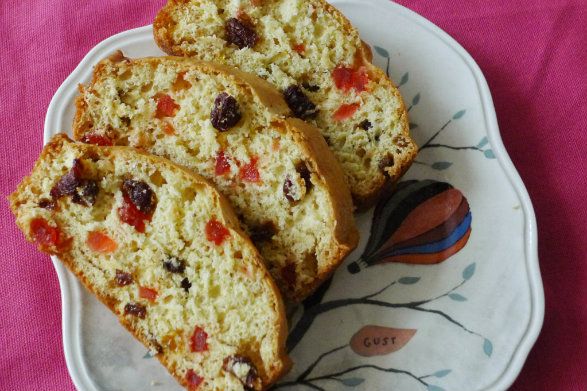 Raisin and Cherry Tea Cake
Ingredients
1-1/2 cups all-purpose flour
2 teaspoons baking powder
1/2 teaspoon kosher salt
1 cup plain whole-milk yogurt
1 cup sugar
3 large eggs
2 teaspoon grated orang zest
1/2 teaspoon pure vanilla extract
1/2 cup vegetable oil
1/3 cup candied cherries, chopped
½ cup mixed variety of California raisins

For Syrup:

1/3 cup sugar
1/3 cup freshly squeezed lemon juice
Instructions
Preheat the oven to 350 degrees F . Grease one large loaf pan (or two mini loaf pans). Line the bottoms with parchment paper. Grease and flour the pan.
In a medium bowl sift together the flour, baking powder and salt.
In a large bowl whisk together yogurt, 1 cup sugar, eggs, orange zest and vanilla. Slowly whisk the dry ingredients into the wet ingredients. With a rubber spatula, fold the vegetable oil, cherries and raisins into the batter, making sure it's all incorporated.
Pour the batter in in pan (or divide batter between two pans). Bake for 45-50 min, or until a toothpick inserted in the center of the loaf comes out clean.
While the loaf bakes, place syrup ingredients in a small saucepan. Cook over low heat and stir till the sugar dissolves and the mixture is clear. Set it aside.
Let loaf cool in the pan for 10 minutes.
With knife or skewer, poke holes over the top of the loaf, about 1/2-inch apart. Spoon the syrup over, gently pushing the edges away from the pan so the syrup slides down inside the pan. Allow the syrup to soak in.
Remove the loaf from pan, peel off the parchment paper, and allow the loaves to cool on a wire rack.
http://www.nibblesandfeasts.com/2012/12/raisin-and-cherry-tea-cake/
Copyright Nibbles and Feasts