There are many fun New Year's traditions my family and I like to do when the clock strikes midnight.
We bang pots and pans and dance around the house for year-round joy, take out our luggage to the middle of the street and sit on it for a few minutes to bring restful travel in the new year.  And let's not mention the red or yellow unmentionables we are required to wear the last day of the year to attract luck, happiness and money.
One of my favorites is the 12 lucky grapes tradition. On December 31, we eat a grape with each bell strike at midnight. One every second.  It's fun, it's messy and believed to bring prosperity in the New Year.
This New Year's Eve, I will be incorporating the fun from the 12 lucky grapes tradition into my Creamy Frosted Grapes dessert. What better way to ring in the 2013 than with vanilla cream coated sweet grapes topped with brown sugar and pecans?  I guarantee you will be asking for more than 12 once you get your hands on this dessert that is easy to make and requires very few ingredients.
Wishing you a New Year filled with blessings, love and abundant health.
Happy New Year!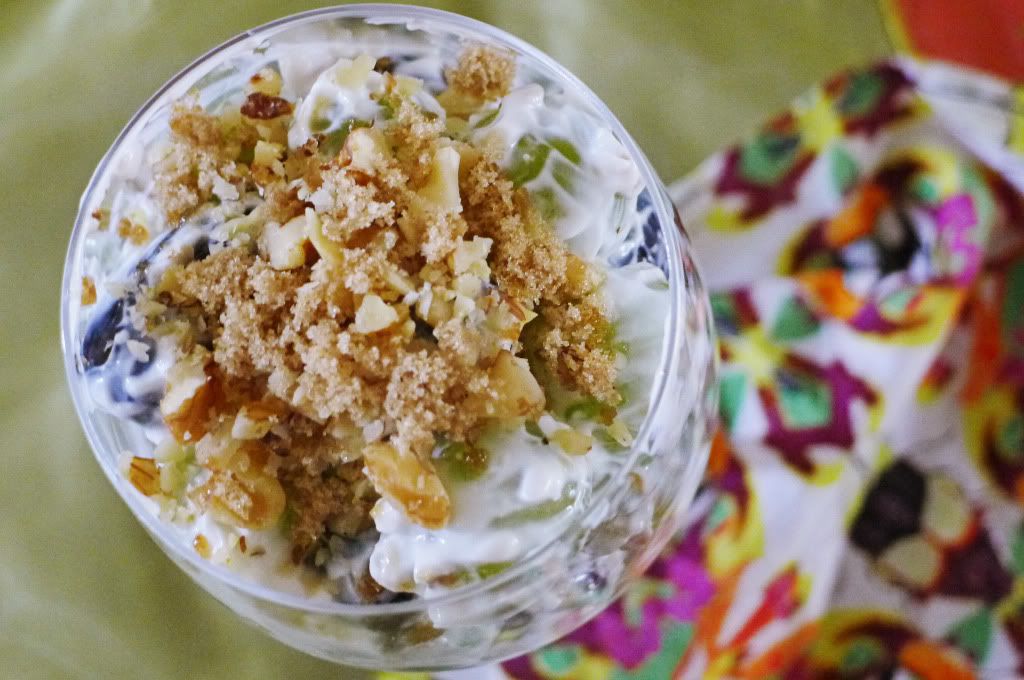 Ingredients
1.5 lbs. red and green Melissa's Produce grapes (I used Moscato)
4 oz cream cheese, room temperature
½ cup sour cream
½ tablespoon vanilla extract
¼ cup granulated sugar

for garnish

¼ cup brown sugar
¼ cup pecans, chopped
Instructions
In large mixing bowl, mix cream cheese, sour cream, vanilla extract and granulated sugar until smooth.
Add grapes and carefully fold into cream mixture with a wooden spoon until well combined.
In a small separate bowl combine brown sugar and chopped pecans.
To serve, spoon grapes onto a bowl or deep glass (such as a wine glass) and garnish with brown sugar and pecan mixture.
http://www.nibblesandfeasts.com/2012/12/grape-dessert/
Copyright Nibbles and Feasts