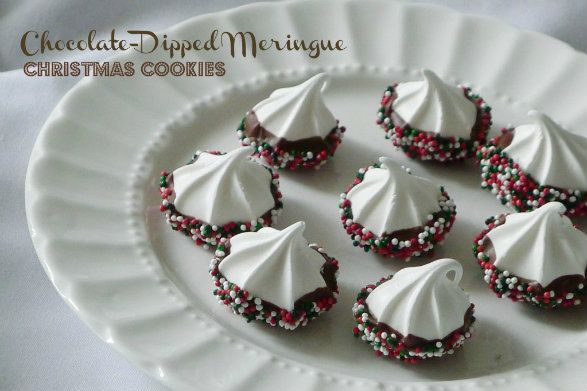 The first time I ever experienced a snowfall was the winter I moved from Mexico to Texas.  It was our first holiday season in the United States and the record-breaking snowfall made it that more special. I was eight years old and mesmerized by the falling flakes that accumulated on our front yard.  I watched them one by one gracefully dance down to form a fluffy white blanket.  Covering old lawn chairs and what was left of what the landlord said were geraniums on the flowerbed.
We had no furniture, no decorations and no money but us kids didn't care.  My brother and I danced, twirled as the snow fell and made our first snowman. My little sister, a toddler then, watched us from the window as she giggled and frosted the glass with her breath.
That day, our next-door neighbors, an elderly couple, walked over with a large tray covered with a beautifully embroidered cloth napkin.  They introduced themselves and uncovered the tray, revealing the most beautiful meringue cookies dipped in chocolate.  I had no idea what these little peaks of delight were, but they made me feel welcomed. I love recreating those cookies for my family and friends.  They symbolize so much to me and bring back so many great memories of our first Christmas in the U.S.
Whether it's a personalized card or cookies right out of the oven, I love sharing the warmth of the holiday season with my family, friends and, of course, my readers! Comment below and I'll mail you a card featuring my favorite cookie recipe, and Cardstore will share a coupon code for 75% off holiday cards so you can whip up a special batch of cards for the people you love. Just follow these simple steps:
Step 1: Leave a comment below sharing your recipe for a happy holiday
Step 2: When the registration box appears, complete the form
Step 3: That's it! My recipe and a coupon code from Cardstore will be sent to you by mail
This is a sponsored conversation written by me on behalf of Cardstore. The opinions and text are all mine.