One of my favorite vegetables to cook are cactus paddles. Did you know the paddles of a cactus are considered a vegetable but the prickly pears that grow from it is fruit!  You get the best of both worlds.  It's so abundant, delicious and good for you.  When I find it fresh at the grocery store, I get so giddy and my mind starts to wander the infinite variety of dishes I can prepare with it.  This time, I decided to leave the paddle whole and use it as a base for cooked veggies.  Sometimes, I get lucky and find the cactus paddles with the thorns removed but this time, I had to do it myself.
To remove cactus paddle thorns, take a pairing knife and carefully scrape the thorns off the cactus.  Be careful!  The thorns are sharp and can easily get you if you're not watching.  The unexpected "ouch!" is worth this tasty, healthy dish.
To grill and or fry the cactus paddles, I used Soy bean oil.  It's excellent because of it's high smoke point at 465°F which makes it so much easier to grill and fry the paddles perfectly.  Soybean oil is one of the most versatile ingredients that you can use in the kitchen, helping you create all your favorite traditional meals without compromising taste.  
I was surprised to find out the infinity of recipes you can prepare with soy.  It's a protein rich in vitamins, minerals including folate and potassium.  I want you to try it too!   Check out the recipes at SoyConnection.com and enter to win a $25 Walmart gift card below to help you purchase the ingredients for your next meal cooked with soy.  Good luck!
Cactus Huaraches
Serves 4
Ingredients
4 Cactus paddles, cleaned with thorns removed
4 tablespoons soy cooking oil
salt and pepper to taste
1 garlic clove, diced
1 mexican squash, chopped
2 tomatoes, chopped
1 yellow onion, chopped
1 jalapeño pepper, finely diced
Instructions
Brush cactus paddles with 2 tablespoons of soy oil. Sprinkle with salt and pepper.
In a skillet, or comal over medium heat (or hot grill), place cactus paddles on skillet or heat and cook until tender and color darkens. Remove from heat.
In a separate pan, heat 2 tablespoons of soy oil over medium heat and place garlic and tomato. Add onion, squash and jalapeño until vegetables are tender. Salt and pepper to taste.
To assemble: Place cactus paddles on a serving plate and spoon vegetables on top.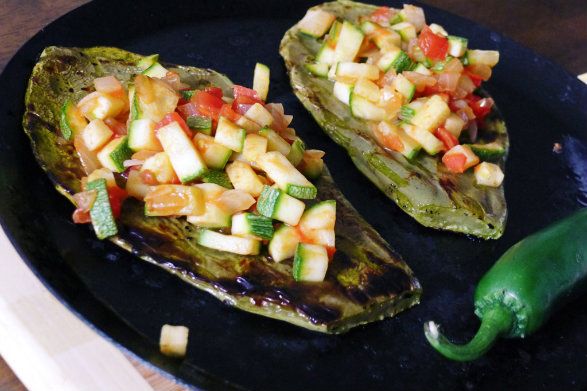 And now for the GIVEAWAY:
Win a $25 Walmart Gift Card

You can have up to 5 entries each; however, please note that you have to comment back and let me know which of the actions you took, so that I can keep track of them.
TO ENTER:  
1.  Mandatory entry: Comment below and tell me what your favorite soy bean dish is.
2. Like The United Soy Bean Board on Facebook
3. Like Nibbles and Feasts on Facebook
4. Follow Nibbles and Feasts on Twitter
5. Tweet about the giveaway and come back here letting me know that you did. Sample tweet: Enter to win a a $25 Walmart giftcard! via @NibblesNFeasts: http://www.nibblesandfeasts.com/?p=5515 #soyparasoy
Open to U.S. Residents only. No PO Boxes, please. Must be 18 years or older to enter. Contest ends December 23, 2012 at 11:59 PM, PST and one (1) winner will be randomly chosen from all entries through random.org.