My morning cup of coffee is my mood ring for the day. Just like lipstick, the darker the shade, the more intense I feel. Thanks to International Delight's 50 Shades of I.D., I am able to measure exactly what my day will be like in the mood scale. Lately, I've been a little number 35: Tingling Sensations.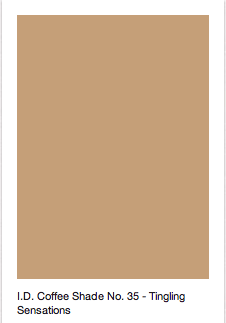 I think I've reached my happy medium, the perfect amount of intense with a dash of care-free.  In lipstick terms, this would be a pretty mauve with a little bit of shimmer to avoid being taken too seriously. There's still a fun gal in me.
Where is this magical color palette of coffee shades you ask? Pinterest of course! Isn't that the place where lots of magic happens? It makes your time magically disappear but at the same time making your creativity appear. It's magic I tell you.
Now that we've discussed what shade my coffee takes on in the morning, let's talk about flavor. You can't go wrong with some of the flavors International Delight offers: From Heath Bar to York Peppermint Pattie and Almond Joy. I like them all! But for now, White Chocolate Mocha is the flavor of the moment. I'm obsessed! My morning is guaranteed to be off to a good start when I add a hint of mocha goodness to my cup of joe that "tingles my sensations".
Which shade are you? Go to Fifty Shades of International Delight on Pinterest and find and share your shade of I.D.!
This is a sponsored conversation written by me on behalf of International Delight. The opinions and text are all mine.