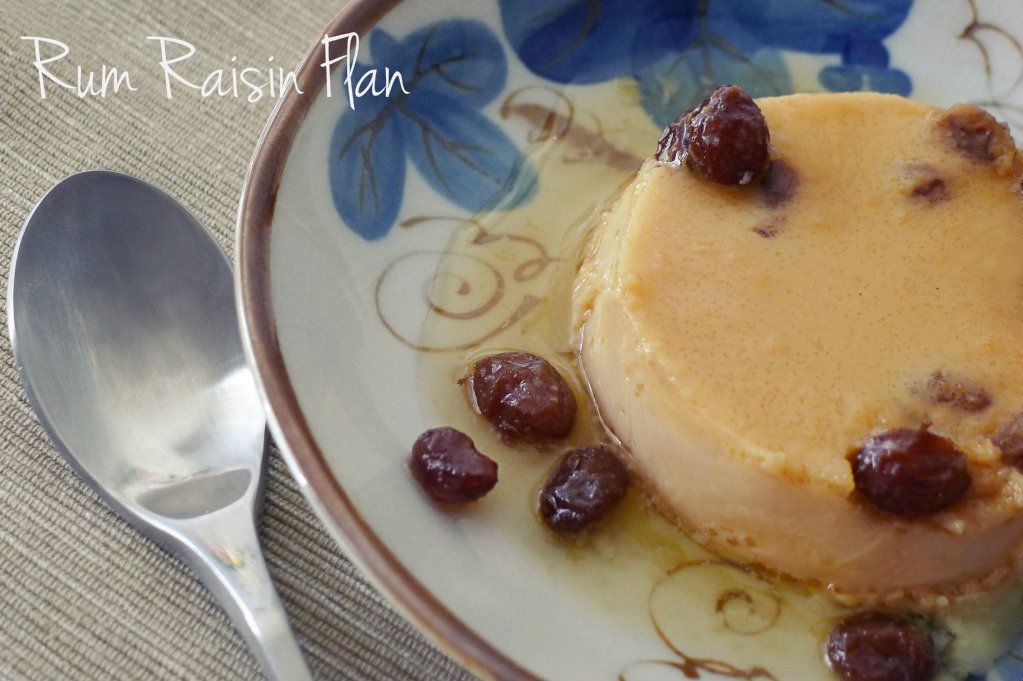 Raisins soaking in rum.  What's a girl to do?  Rum raisin flan, of course! The temperature drop this week in Southern California called for fall/winter dessert.  Even if the temperature is still in the upper 60's, I consider that full blown fall weather and the opportunity to crawl in my closet and find my beloved scarves.
To celebrate this 10 degree drop, I took one of my all-time favorite desserts and incorporated my go-to snack …raisins!  By soaking the raisins in rum, the smooth taste of this creamy decadence gained some delicious depth in flavor, not to mention a very happy family when I placed these babies on our dinner table.
This holiday season, forget the pies!  Make some rum raisin flan instead and be the most popular pot-luck dish contributor at the party.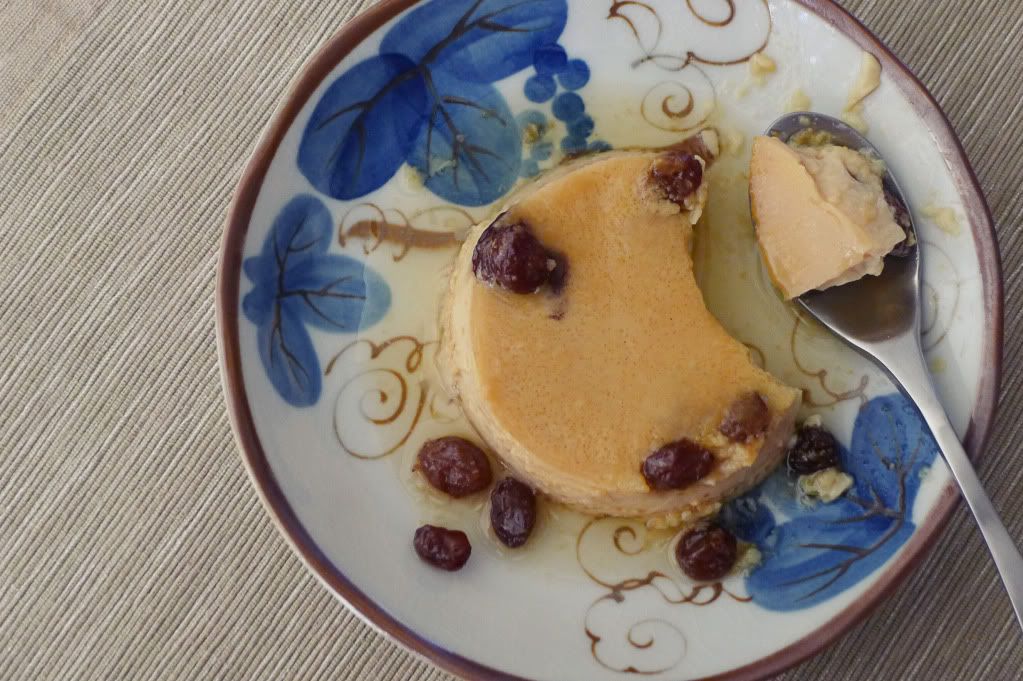 Ingredients
1/3 cup California raisins
1/3 cup dark rum
2 cups whole milk
1 cup sugar, divided
1 vanilla pod
3 large eggs and 2 extra yolks
2 tablespoons of water
Instructions
Soak the raisins in rum for 2 hours then drain. Discard liquid.
Preheat the oven to 350 degrees.
Place four 3/4 – cup ramekins or flan/custard cups in 13x9x2 inch baking pan.
In a medium saucepan, heat milk and 1/2 cup sugar over low to medium heat. Cut the vanilla pod in half and scrape out the seeds. Add the pods and seeds to the milk, gently stir and heat until the sugar dissolves. Remove from heat and discard vanilla pods. Whisk together eggs and yolks, then gently whisk in cooled milk.
In a heavy, small skillet, stir 1/2 cup sugar and 2 tablespoon water over medium-low heat until sugar dissolves. Boil but do not stir, hold skillet's handle and slowly swirl pan to incorporate sugar and water. About 8 minutes.
Immediately pour syrup into custard cups, divide equally and place a small amount of rum-soaked raisins in each custard cup.
Divide the milk mixture in each custard cup.
Pour hot water into baking pan, half way up the sides of cups (bain marie). Bake flans for 45 minutes or until sides of flans are set but centers are wobbly. Remove baking pan from oven and let the flans cool in the baking pan with water. Remove from water and refrigerate overnight.
Run a small knife around flans to loosen. To unmold, place a plate atop ramekin, hold plate firmly and invert. Shake gently and allow flan to settle onto plate.
http://www.nibblesandfeasts.com/2012/11/rum-raisin-flan/

Copyright Nibbles and Feasts