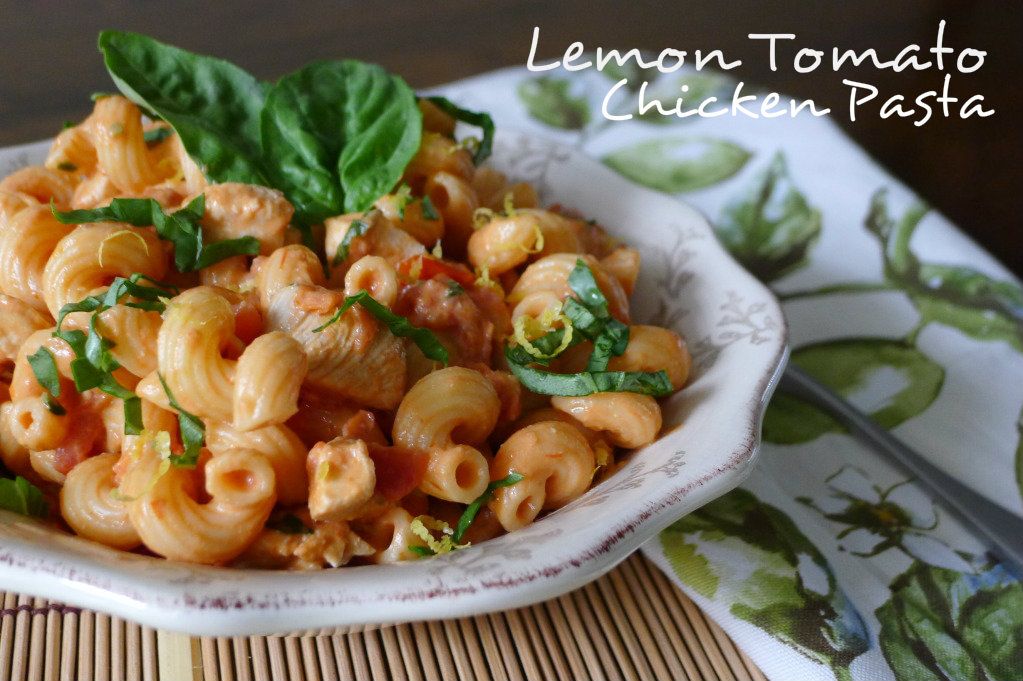 Some of the simplest and quickest meals are the best tasting.  I especially love those that are balanced with veggies, protein and the perfect amount of comfy carbs.
The breezy warm days and chilly autumn nights of California are here and we must bundle up with scarves and light jackets when we are out and about.  In the evenings when we get home from work and school, we seek warm and cozy dishes such as this Lemon-Tomato Chicken Pasta.
Tangy and creamy pasta sauce made with Hunt's Petite Diced tomatoes and sauce, drench this basil seasoned thick cavatappi pasta making it so heavenly that leftovers are nowhere to be found.  The creaminess comes from a small amount of cream cheese to tame down the citrus from the lemon peel and tomato tang.  Bliss….
You can't go wrong with this hearty weekday meal.  Make a big batch and freeze it for impromptu dinner guests or a yummy craving on those days when you run out of cooking time.
*Recipe courtesy of Hunt's Signature Recipe Collection
Lemon-Tomato Chicken Pasta
Ingredients
8 ounces dry cavatappi or rotini pasta, uncooked (8 oz = 2-1/2 cups)
1 tablespoon olive oil
1 pound boneless skinless chicken breasts, cut into bite-size pieces
3 cloves garlic, finely chopped
1 can (14.5 oz each) Hunt's® Petite Diced Tomatoes, undrained
1 can (8 oz each) Hunt's® Tomato Sauce
2 tablespoons fresh lemon juice
1/2 cup soft cream cheese spread
1 pkg (0.75 oz each) fresh basil, coarsely chopped (about 1/4 cup)
1/4 teaspoon shredded lemon peel
Cracked black pepper, optional
Instructions
Cook pasta according to package directions, omitting salt. Meanwhile, heat oil in large nonstick skillet over medium heat. Add chicken and garlic; cook 4 minutes or until chicken is no longer pink, stirring occasionally. Remove from skillet; keep warm.
Stir together undrained tomatoes, tomato sauce and lemon juice in same skillet; bring to a boil. Add cream cheese; stir until cream cheese is melted completely. Simmer 2 to 3 minutes to thicken slightly.
Drain pasta. Add to sauce in skillet; stir to coat. Stir in chicken, basil and lemon peel. Sprinkle with pepper, if desired.
Notes
Substitute 4 oz. cubed regular cream cheese for the soft cream cheese spread. Stir sauce with whisk to combine.
http://www.nibblesandfeasts.com/2012/11/hunts-lemon-tomato-chicken-pasta/
Copyright Nibbles and Feasts
This post is part of a campaign sponsored by ConAgra Foods, I received compensation for my participation. All opinions expressed are 100% my own.