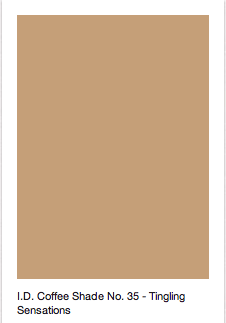 Mi café de la mañana es como mi anillo de estado de ánimo durante el día. Al igual que el lápiz labial, entre más oscuro es el color, más intensa me siento. Gracias a los 50 Shades of I.D. de Internacional Delight, soy capaz de medir exactamente lo que mi día será en escala de estado de ánimo. Últimamente, he estado un poco como el numero número 35: Tingling Sensation.
Creo que he llegado a mi justo medio, la cantidad perfecta de intensidad con un toque de  casual. En términos lápiz labial, esto sería un bonito color malva con un poco de brillo para evitar ser interpretada como demasiado seria. Todavía hay una chica divertida dentro de mí.
¿Dónde está esta mágica paleta de colores de tonos de café ? Pinterest por supuesto! ¿No es ese el lugar donde mucha de la magia sucede? Hace que su tiempo desaparezca por arte de magia, pero al mismo tiempo haciendo que su creatividad aparezca. Es magia que te digo.
Ahora que hemos hablado del color y tono de mi café es por la mañana, vamos a hablar de sabor. No puedes fallar con ningún sabor que te ofrece International Delight.  Desde sabor a Heath Bar, York Peppermint Pattie y Almond Joy. Me gustan todos! Pero por ahora, Mocha de Chocolate Blanco es el sabor del momento. Estoy obsesionada! Mi mañana se garantiza de manera en que tenga un buen comienzo cuando agrego un toque de mocha blanca a mi taza de café .
Que tono eres tu? Visita Fifty Shades of International Delight en Pinterest descubre y comparte tu tono I.D.
Esta es una conversación patrocinada y escrita por mí en nombre de Inernational Delight. Las opiniones y texto míos.