Everyone has quirky shortcuts we use in the kitchen.  Anything to save time, right?  I often get asked the question, "what's the one ingredient or product you always keep stocked in your kitchen?"  and this ladies and gentlemen is my answer!  I was introduced to Gourmet Garden early this year and now I feel I cannot cook without these products in my kitchen, unless I have a half hour or more to spare during my preparation process.
Gourmet Garden is an Australian product of organically grown herbs that are washed, chopped, blended and packaged in handy tubes.There is absolutely no waste and they maintain their flavor and nutrition for weeks if kept refrigerated.
I'm always looking for ways to add flavor to our family dinners.  With Gourmet Garden, I found endless possibilities to prepare different marinades, seasonings and in this case a tartar sauce style cream for my salmon made with Greek yogurt!
I was hooked since the first time I tried these time-saving seasonings and I want you to try them too! The nice folks over at Gourmet Garden have given me the opportunity to give away a cooler filled with their line of herbs and spices!
TO ENTER: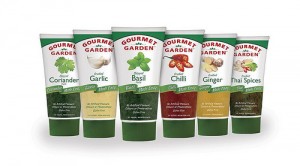 1. Participate in the giveaway  by telling me in a comment below one of your favorite kitchen shortcuts.
2. Like Nibbles and Feasts on Facebook
3. Follow Nibbles and Feasts on Twitter
4. Tweet about the giveaway and come back here letting me know that you did. Sample tweet: Enter to win a cooler filled with #GourmetGarden herbs & Spices via @NibblesNFeasts http://nibblesandfeasts.com/?p=4424
You can have up to 4 entries each; however, please note that you have to comment back and let me know which of the actions you took, so that I can keep track of them.
Open to U.S. Residents only. No PO Boxes, please. Must be 18 years or older to enter. Contest ends October 11, 2012 at 11:59 PM, PST and one (1) winner will be randomly chosen from all entries through random.org.
Salmon with Lemon Grass & Cilantro Yogurt Cream
Ingredients
For the Salmon

4 Salmon filets, boneless (about 1/4 lb. of salmon per person)
seasoned salt
canola oil
lemon juice

For Lemon Grass and Cilantro Cream

1 tablespoon Gourmet Garden Lemon Grass
1 tablespoon Gourmet Garden Cilantro
1 1/2 Cups Greek Yogurt
Instructions
For the Salmon

Salt the salmon lightly and set it out at room temperature for 15-20 minutes before cooking.
Heat a medium non-stick skillet over low-medium flame.
If your salmon filets have skin, use a butter knife to scrape the skin side, removing the scales.
Coat the salmon with oil and place in pan with skin side up. Cook for 6-8 minutes depending on the thickness of the filet.
Gently flip the filet and cook for 3-5 minutes until the fish flakes begin to separate. Remove from heat and add a sprinkle lemon juice. Top with Lemon Grass and Cilantro yogurt cream and serve with your favorite rice dish.

For the Lemon Grass & Cilantro Yogurt Cream

In a medium bowl, whisk all ingredients until well mixed. Keep refrigerated.
http://www.nibblesandfeasts.com/2012/10/salmonwithlemongrassyogurtcream/
Copyright Nibbles and Feasts
I was provided with a cooler filled of Gourmet Garden Herbs and Spices to facilitate this recipe.  All opinions are my own. 
Otra vez… en español!
Todo el mundo tiene sus propias maneras de ahorrar tiempo en la cocina. Lo que sea para ahorrar tiempo, ¿verdad? A menudo me preguntan, "¿cuál es el ingrediente o producto que siempre tienes en su cocina?" y esto señoras y señores es mi respuesta! Me presentaron a los productos Gourmet Garden a principios de este año y ahora siento que no puedo cocinar sin ellos en mi cocina, a menos que tenga una media hora o más de tiempo durante mi proceso de preparación.
Gourmet Garden es un producto australiano de hierbas cultivadas orgánicamente que se han lavado, picado, mezclado y envasado. Nada se desperdicia  y mantienen su sabor y la nutrición durante semanas si se mantienen refrigerados.
Siempre estoy buscando maneras de agregar sabor a las comidas de nuestra familia. Con Gourmet Garden, me encontré con un sinfín de posibilidades para preparar los adobos, aderezos diferentes y en este caso una crema estilo salsa tártara para mi salmón hecho con yogur griego!
Me encantaron desde la primera vez que los probé.  Me han ahorrado bastante tiempo desde que los empecé a usar.  Y quiero que tu también los pruebes! Gourmet Garden me han dado la oportunidad de regalar una lonchera llena de su línea de hierbas y especias!
PARA PARTICIPAR:
1. Participa en el sorteo y dime en un comentario aquí como ahorras tiempo en la cocina
2. Dale "like" a Nibbles and Feasts en Facebook
3. Sigue a Nibbles and Feasts en Twitter
4. Manda un tweet acerca el sorteo y vuelve aquí haciéndome saber que lo hiciste. Tweet de ejemplo: Participa y podrás ganar una lonchera llena de hierbas y especias #GourmetGarden via @NibblesNFeasts http://nibblesandfeasts.com/?p=4424
Puedes tener un máximo de 4 entradas, sin embargo, ten en cuenta que tienes que comentar de nuevo diciéndome cuál de las acciones has tomado para que yo pueda tomarlo en cuenta.
Abierto a residentes de Estados Unidos solamente. No se permiten apartados. Debes tener 18 años o más para participar. El concurso termina el 11 de octubre 2012 a las 11:59 PM, PST y un (1) ganador será elegido al azar entre todas las participaciones a través de random.org.
Salmón con Crema de Hierba de Limón y Cilantro
Rinde 4 personas 
Ingredientes
Para el salmón
4 filetes de salmón sin espinas (alrededor de 1/4 libra de salmón por persona)
sal sazonada
aceite de canola
jugo de limón
Para la crema de Hierba Limón y Cilantro
1 cucharada de Gourmet Garden Lemon Grass
1 cucharada de Gourmet Garden Cilantro
1-1/2 tazas de yogur griego
Instrucciones
Para el salmón
Sazona el salmón con la sal ligeramente y ponlo a temperatura ambiente durante 15-20 minutos antes de cocinar.
Calienta a fuego medio-bajo un sartén antiadherente mediano.
Si los filetes de salmón tiene la piel, usa un cuchillo de mantequilla para raspar el lado de la piel, eliminando las escamas.
Cubre el salmón con un poco de aceite y coloca en la sartén caliente con la piel hacia arriba. Cose durante 6-8 minutos, dependiendo del grueso del filete.
Cuidadosamente voltea el filete y cocina durante 3-5 minutos hasta que el pescado se comience a desmenuzar y separar. Retira del fuego y añade jugo de limón. Cubre con la crema de hierba de limón  y cilantro y sirve con arroz .
Para la crema de hierba de limón y cilantro
En un tazón mediano, mezcla todos los ingredientes hasta que estén bien incorporados. Mantenga refrigerada.