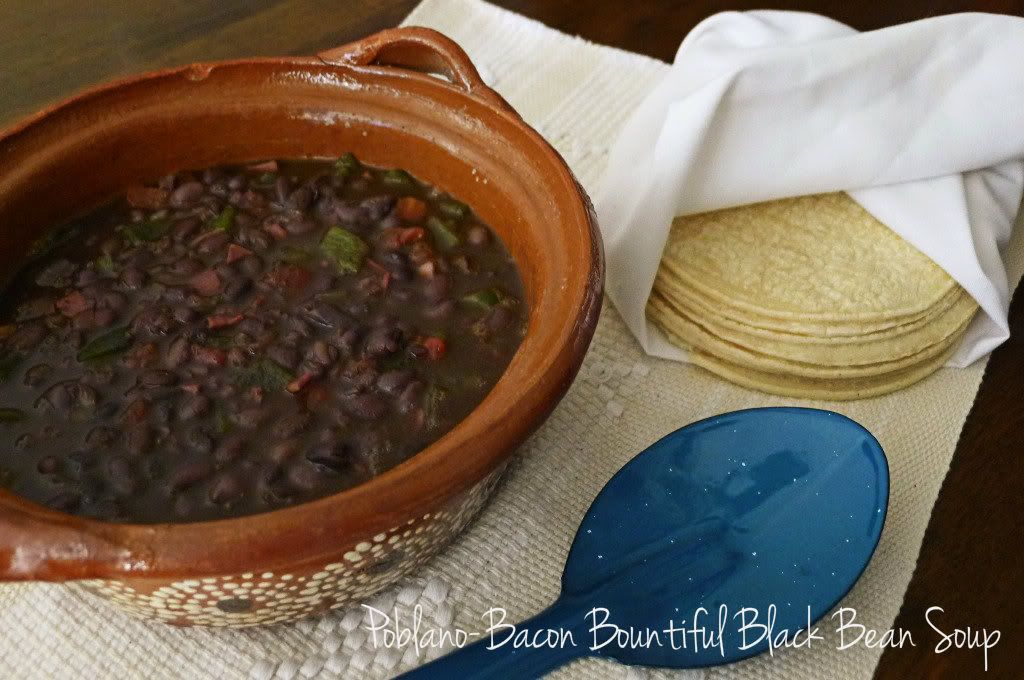 You can never go wrong with a good black bean soup.   It's the perfect complete meal during those chilly nights and a great accompaniment to carne asada and roasted chicken tacos during those outdoor sunny days.  The ingredients are simple, inexpensive, nutritious and most importantly, tasty.
Since autumn just arrived, the first soup of the season prepared in our home this year was my mom's famous poblano-bacon bean soup, but with my own added twist.  I used Bob's Red Mill Bountiful Black Bean Soup Mix.  My version of the soup not only contains black beans but also black-eyed peas, navy beans and pearled barley.
This soup mix is the perfect blank canvass for your own version of a bean soup because it does not contain salt or added seasonings. For added flavor, I decided to use Bob's Red Mill Bean Soup Seasoning Mix to compliment the smokiness of the bacon and spicyness of the Poblano chile.
Poblano-Bacon Bountiful Black Bean Soup
Ingredients
2 Cups Bob's Red Mill Bountiful Black Bean Soup Mix
2 large Poblano chilies
6 cups chicken stock or store bought low sodium chicken broth
4 turkey bacon slices, finely chopped
1 large tomato, diced
½ onion, chopped
2 garlic cloves, finely minced
2 tablespoons of Bob's Red Mill Bean Soup Seasoning Mix
Instructions
Roast Poblano chilies over a gas flame, turning frequently with tongs, until charred on all sides, about 5 minutes each. Place in a plastic bag; set aside to allow steaming for 10 minutes. Then, using your hands, rub and remove the pepper-charred skin under running water*. Cut chilies open, remove, stem, seeds and veins. Chop in small pieces and reserve.
Bring a large pot of water to a boil. Add beans and cook for 3 minutes. Turn off heat, cover and let beans soak for about 1 hour.
Drain the beans through a sieve and rinse out the pot. Return the beans to the pot, add chicken stock and bring to a boil. Reduce heat to low, cover and simmer for 1 hour.
In a large skillet over medium heat, cook bacon, stirring occasionally for 3-5 minutes. Reduce heat and add Poblano chiles, tomato, onion, garlic and seasoning mix. Cook for 3-5 minutes until onion is translucent and tomatoes have softened.
Scrape bacon mixture into the pot with beans. Cover and cook until beans have completely cooked, stirring occasionally, about 1 hour longer.
Divide the soup among six bowls and serve.
Notes
*Cooks Note: You may want to wear latex gloves or plastic bags on your hands as you work with the chilies to avoid inadvertently touching eyes later with pepper-coated fingers!
http://www.nibblesandfeasts.com/2012/10/poblano-bacon-bountiful-black-bean-soup/
Copyright Nibbles and Feasts
I was provided with product to facilitate this recipe.  Recipe and opinions are 100% my own.
Otra vez… en español!
Una sopa de frijol negro siempre cae bien. Es la comida perfecta y completa durante esas noches frías y un gran acompañamiento para carne asada y tacos de pollo asado durante esos días de sol al aire libre. Los ingredientes son sencillos, económicos, nutritivos y más importante, sabrosos.
Como el otoño acaba de llegar, la primera sopa de la temporada preparada en nuestra casa este año fue la famosa sopa de mi mamá:  sopa de frijoles con chile poblano y tocino, pero con mi propio toque personal. Esta vez use la Sopa de Frijoles mixtos de Bob's Red Mill. Mi versión de la sopa no sólo contiene frijoles negros, sino también frijoles de de ojo negro, frijol blanco y cebada perlada.
Esta mezcla de sopa es el blanco perfecto para crear tu propia versión de una sopa de frijoles, ya que no contienen sal o condimentos añadidos. Para más sabor, decidí usar Bob's Red Mill Bean Soup Seasoning Mix para complementar el sabor ahumado del tocino y de lo picante del Chile Poblano.