Today I bring you a story about a football game. A story about a very cold and snowy collegiate football game on Christmas day. I lived in El Paso, Texas at the time and my family looked forward to attending the Sun Bowl game that year.  We purchased our tickets many months in advance and we anxiously counted down the days to go to the game.  Christmas came secondary. We unwrapped gifts early that morning, got that over with and bundled up for the game.  "A little snow never hurt anyone" is what I kept hearing echoing throughout the house.
Piled up in and old (and beige) Ford Fairmont, we headed to the game.  We were cozy and comfortable but I could still see our steaming breath dance in and out of our mouths as we talked football.  This year, the bowl's name was changed to the "Snow Bowl". We arrived to a parking lot covered in slush and followed a path led by very excited football fans.  I was freezing and could feel the cold reach my bones with every step I took.  I had no idea how I was going to sit through an entire football game in the freezing temperature.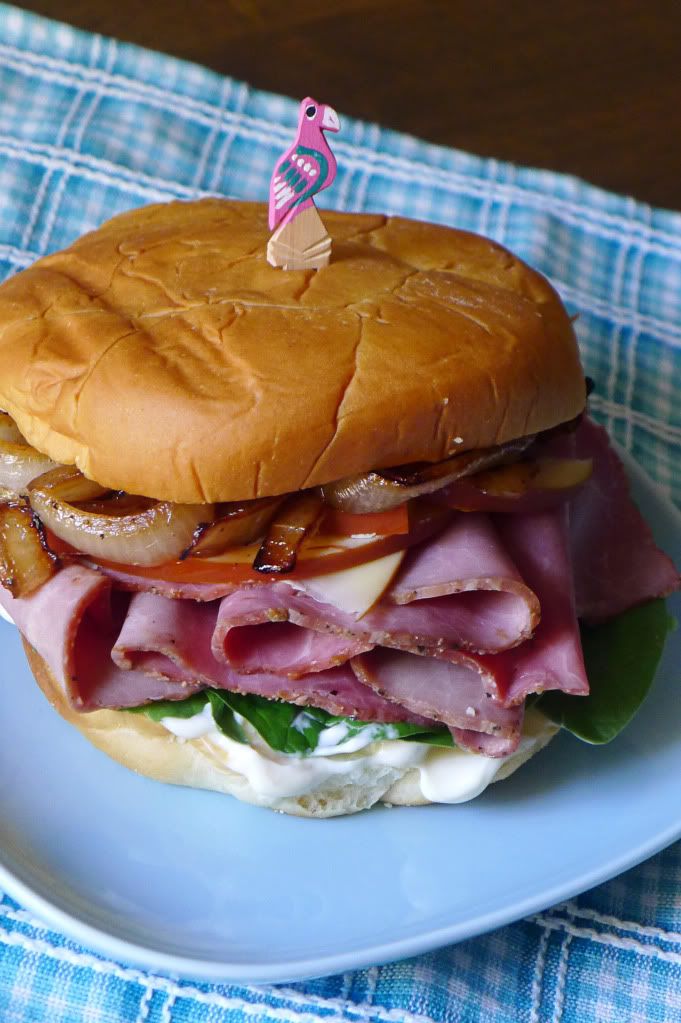 Then it happened… the aroma of warm pastrami sandwiches calling my name. The odoriferous awakening came to me from an RV and an angelic couple from Indiana waving me down and signaling to come and try one. "It'll warm you up!" they yelled. The sandwich did warm up my belly and the genuine couple warmed up my heart. It was the most amazing sandwich ever. Every football season I try to recreate that sandwich with King's Hawaiian Sandwich Buns.  It brings back great memories of my time at the unforgettable "snow bowl."  Enjoy!
Smoked Gouda Pastrami Sandwich with Caramelized Onions & Horseradish Spread
Makes 2 Sandwiches
Ingredients
For Caramelized Onions
1 teaspoon butter
1/4 teaspoon salt
1/4 teaspoon pepper
1/4 white onion, chopped in strips
2 tablespoons white cooking wine
For Sandwich
2 King's Hawaiian Sandwich Bun, toasted
4-6 slices of pastrami, warm
2 slices of smoked gouda
mixed greens
For Horseradish Spread
3 tablespoons freshly grated horseradish
1 large egg, at room temperature
1/2 teaspoon Dijon mustard
1/2 cup vegetable oil
1/2 tablespoon white wine vinegar
pinch of kosher salt
black pepper to taste
Instructions
For Caramelized Onions
In a large skillet, melt the butter over medium-high heat. Add the onions and 1/4 teaspoon each salt and pepper, and cook, stirring constantly, until the onions begin to soften, about 5 minutes.
Stir in the white coking wine and cook until the onions are golden brown, about 20 minutes.
For Horseradish Spread
Combine horseradish, egg, and mustard in the bowl of a food and process until smooth.  30 Seconds.
With the processor running, slowly add oil until completely combined. Add white wine vinegar and a pinch of salt, and pulse until evenly combined. Season to taste with freshly ground black pepper.
To Assemble Sandwich
Spread horseradish spread on the bottom half of the toasted bun, layer on the salad greens, pastrami and cheese slices.  Top off with caramelized onions and top half of bun.
KING'S HAWAIIAN has an all-star line-up of sandwich products which includes: Mini Sub Rolls, Sandwich Buns, and Hamburger Buns and Hotdog buns.
Whether you are at your kid's game or the stadium, KING'S HAWAIIAN is a great choice for a family tailgate.
What is your family's favorite part of game day? Comment below and be entered for a chance to win $200 to put towards your next game day event.
This is a sponsored conversation written by me on behalf of Kings Hawaiian. The opinions and text are all mine.  Official Sweepstakes Rules.