When I was a kid I could not wait for the summer months to come around. Every year I would travel to Mexico from June to August to visit family. I remember during that time, after a hot day, the neighbors from the entire block would take out their folding chairs and watch the kids play outside, as they fanned themselves with old magazines or newspapers. Once a week my aunt and uncle would  treat my cousins and I to an afternoon of ice cream to my favorite ice cream store.
It was an ice cream shop located in a kiosk in the middle of a park. They were famous for ice cream squares of all flavors. We would all choose our creamy squares and sit on a the cool metal patio furniture set up right next to the kiosk and talk for hours as we took in the summer sounds and warm breeze.  Now all grown up, and no longer able to visit Mexico as often as I would love to, I enjoy weekly ice cream socials with my family year-round. Klondike bars bring back those carefree summer memories. The sweet, crunchy shell with creamy ice cream inside reminds me of those warm afternoons with my family.
Now, Breyers/Klondike/Popsicle/MAGNUM/Good Humor have introduced new treats for 2012.  New flavors such as MAGNUM® Mint Chip and Moccachino Bars, Breyers® Banana Split and S'mores.  Not to mention York® Peppermint Pattie Ice Cream Bars, Mounds® Ice Cream Bars and many More!!
Visit the Frozen Treat Social Sweepstakes on Facebook for your chance to win daily sweet frozen treats or a grand prize of frozen treats for the entire year!!
I am also giving away some frozen treats!  Win $25 worth of Magnum/Breyers/Good Humor/Popsicle and Klondike coupons.

TO ENTER:
You can have up to 3 entries each; however, please note that you have to comment back and let me know which of the actions you took, so that I can keep track of them.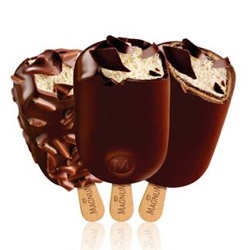 Comment below and tell me your frozen treat favorite flavor
Like Nibbles and Feasts on Facebook
Follow Nibbles and Feasts on Twitter
Open to U.S. Residents only. No PO Boxes, please. Must be 18 years or older to enter. Contest ends September 19, 2012 at 11:59 PM, PST and one (1) winner will be randomly chosen from all entries through random.org.
This is a sponsored post from One2One Network. Product and additional incentives were provided to me. All opinions stated are my own.
Otra vez… en español!
Cuando era niña no podía aguantarme para los meses de verano y las anticipadas vacaciones. Sin falta, viajaba a México, de junio a agosto para visitar a la familia. Recuerdo que durante ese tiempo, después de un día caluroso, los vecinos de toda la cuadra sacaban sus sillas a los patios de las casas y observaban a los niños jugar al aire libre, hacía tanto calor que se abanicaban con revistas viejas o periódicos. Una vez a la semana mi tía y tío nos llevaban a mis primos y a mi a disfrutar la tarde con un helado a mi nevería favorita.
Era una nevería ubicada en un quiosco en el centro de un plaza. Eran famosos por sus helados en forma de cuadrado de varios deliciosos sabores. Todos teníamos nuestro sabor favorito en particular y nos sentábamos en las frías sillas de metal justo al lado del quiosco y platicábamos por horas, disfrutábamos de nuestro helado acompañados de sonidos del verano y la brisa cálida. Ahora, ya no es posible visitar a México tan seguido como me gustaría, pero disfruto de charlas semanales con mi familia acompañados de deliciosos helados todo el año. Las barras de Klondike traen esos recuerdos de verano sin preocupaciones. El chocolate dulce, crujiente con helado cremoso por dentro me recuerda a esas tardes cálidas con mi familia.
Ahora, las marcas Breyers / Klondike / Popsicle / MAGNUM / Good Humor han introducido nuevas delicias para el año 2012. Nuevos sabores como MAGNUM® menta con chip y moccachino, nieve Breyers® de banana split y s'mores. Y barras de York® Peppermint Pattie, y muchos más!
Visita el Sorteo de Frozen Treat Social en Facebook para tener la oportunidad de ganar producto cada semana de las marcas mencionadas o un gran premio de helados para todo el año!
También estoy regalando aquí! Gana cupones validos $25 en total de Magnum / Breyers / Good Humor/ Popsicle y Klondike.
PARA PARTICIPAR:
Puedes tener un máximo de 3 entradas por persona, sin embargo, ten en cuenta que tienes que comentar de nuevo y decirme cuál de las acciones tomaste para que tomarlas en cuenta.
Comenta a continuación y dime tu sabor de nieve favorita
Dale "like" a Nibblesand Feasts en Facebook
Sigue a Nibbles & Feasts en Twitter
Abierto a residentes de Estados Unidos solamente. No se permiten apartados. Debe tener 18 años o más para entrar. El concurso termina el 19 de septiembre 2012 a las 11:59 PM, PST y un (1) ganador será elegido al azar entre todas las participaciones a través de random.org.
Este es un post patrocinado por la Red One2One. Incentivos de productos y adicionales fueron facilitados para crear este post. Todas las opiniones expresadas son mías.