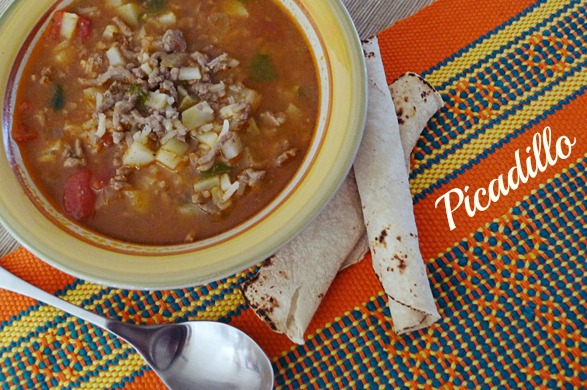 Every family has their go-to meal.  It's that meal that no matter how many times you serve it during the week, everyone flocks to the dinner table as if you were serving a holiday spread.
Our go-to meal is Picadillo.  It's quick, easy, inexpensive, versatile, stores easily and so tasty that it seems as it took hours to prepare.  Depending on your taste, Picadillo is enjoyed either bothy as a hearty soup or dry, wrapped in a corn tortilla or scooped up with tostadas.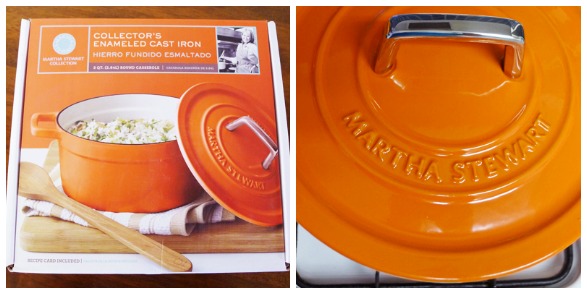 To make picadillo as often as I do, I need a good, strong and durable pot that can handle every day use.  When I was given the opportunity to test out one of Martha Stewart's beautiful enameled cast iron pots, I found this dish to be the perfect test subject.  Not only is the enameled cast iron pot beautiful, it also comes in my favorite cookware color.  If you're not a fan of sexy orange, don't fret, it's also available in cranberry, blueberry, buckwheat, gold and green in three, six and eight-quart for all your cooking needs.
The design is simple, beautiful and most important, heats evenly.  The base and sides of the pot are thick enough to retain and evenly distribute heat.  It is also oven proof and can go from stovetop to oven.  Clean up was easy.
To test out the pot, I decided to make picadillo my favorite way,  very brothy and full of all the vegetables I could find in the veggie drawer of my fridge.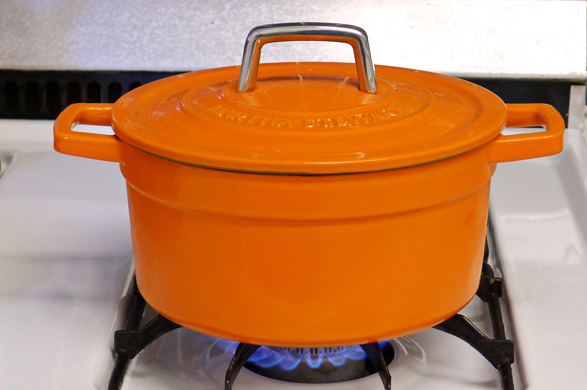 Ingredients
1 lb ground beef
1/2 an onion, sliced
2 cloves of garlic, peeled and chopped
1 jalapeño seeded and diced
1/3 cup cilantro, chopped
2 small or 1 large Yukon potato, chopped in small cubes
4 medium tomatoes, diced
1 Mexican zucchini, diced
2 tablespoon of canola oil
1/3 cup dry white rice
1 teaspoon cumin
1 1/2 teaspoons chicken bouillon
3 cups water
Instructions
Oil cast iron pot evenly and cook ground beef, jalapenos and onions over medium-low heat until the beef is about half way cooked and only some pink remains. Stir frequently separating and crumbling beef with a large wooden or plastic cooking spoon.
Add garlic, chicken bouillon and potatoes and cook 2 more minutes until beef begins to crumble.
Add water and remaining ingredients and cook over low heat until beef is well browned and has crumbled, the tomatoes and onions have softened and rice has cooked. Serve with warm corn tortillas.
http://www.nibblesandfeasts.com/2012/08/picadillo/
Copyright Nibbles and Feasts
Disclosure:  I was provided with Martha Stewart Enameled Cast Iron cookware to facilitate this post.  All opinions and recipe are my own.
Otra vez… en español!

Cada familia tiene su platillo favorito de casi todos los dias. Es el platillo que no importa cuántas veces lo sirves durante la semana y todo el mundo  corre a la mesa como si fuera la cena de Navidad.
Nuestra comida favorita de todos los días es el Picadillo. Es rápido, fácil, barato, versátil y se almacena fácilmente y tan sabroso que parece que se tomó horas para prepararlo. Dependiendo de tu gusto, Picadillo se disfruta ya sea caldoso como sopa o seco, envuelto en una tortilla de maíz o con las tostadas.
Para hacer el picadillo con la frecuencia en que lo hago, necesito una buena olla, fuerte y duradera que puede aguantar el uso diario. Cuando me dieron la oportunidad de probar uno de las hermosas ollas esmaltadas de Martha Stewart de hierro fundido, este platillo tenia que ser el sujeto de la prueba perfecta. No sólo es de hierro fundido y esmaltado, y muy atractiva, sino que también viene en mi color favorito de utensilios de cocina. Si no eres un fan de este color naranja tan sexy , no te preocupes, también está disponible en el arándano, mora azul, trigo, oro y verde en medidas de tres, seis y ocho cuartos para todas sus necesidades de cocción.
El diseño es simple, bello y más importante, se calienta de manera uniforme. La base y los lados de la olla son lo suficientemente gruesos como para retener y distribuir uniformemente el calor. También es a prueba del horno y puede ir de estufa a horno. La limpieza fue fácil.
Para probar la olla, me decidí en hacer el picadillo a mi manera favorita, muy caldoso y lleno de todas las verduras que pude encontrar en el cajón de verduras de mi refrigerador.
Picadillo
Rinde 4 porciones
Ingredientes
1 libra de carne molida
1/2 cebolla en rodajas
2 dientes de ajo, pelados y picados
1 jalapeño sin semillas y finamente picado
1/3 taza de cilantro, picado
2 papas chicas Yukon (o 1 grande), picada en cubos pequeños
4 tomates medianos, cortados en cubitos
Una calabaza Mexicana, cortada en cubitos
2 cucharadas de aceite de canola
1/3 taza de arroz blanco seco
1 cucharadita de comino molido
1-1/2 cucharaditas de caldo de pollo en polvo
3 tazas de agua
Instrucciones
Calienta el aceite en la olla y cocina la carne molida de res, los jalapeños y cebollas a fuego medio-bajo hasta que la carne este cocida aproximadamente a la mitad, con sólo algunos restos de color rosa. Revuelve con frecuencia, separa y desmenuza la carne con una cuchara de cocina de madera o de plástico.
Agrega el ajo, caldo de pollo y las papas y cocina 2 minutos más hasta que la carne comienza a desmoronar.
Añade el agua y el resto de los ingredientes y cocina a fuego lento hasta que la carne esté bien dorada y se desmorone y los tomates, las cebollas se haya suavizado y el arroz este cocido. Sirve con tortillas de maíz calientes.
Una olla de cocina de Martha Stewart fue facilitada para escribir este post.  Todas las opiniones y receta son mías.