I'm always looking for ways to incorporate Greek yogurt into my meals.  Sometimes, I use it in place of sour cream on my enchiladas, chilaquiles and nachos.  It cuts the fat without compromising the flavor in your favorite Mexican dishes.  This time, I gave the typical tuna salad a fresh twist and replaced mayonnaise with my beloved Greek yogurt and used crab instead of tuna.
Living near a fish market with readily available seafood, I was very apprehensive about using canned crabmeat.   On an unexpected grocery store run, I saw Blue Star's Claw Crabmeat and I was curious to try this product, so I developed this simple recipe.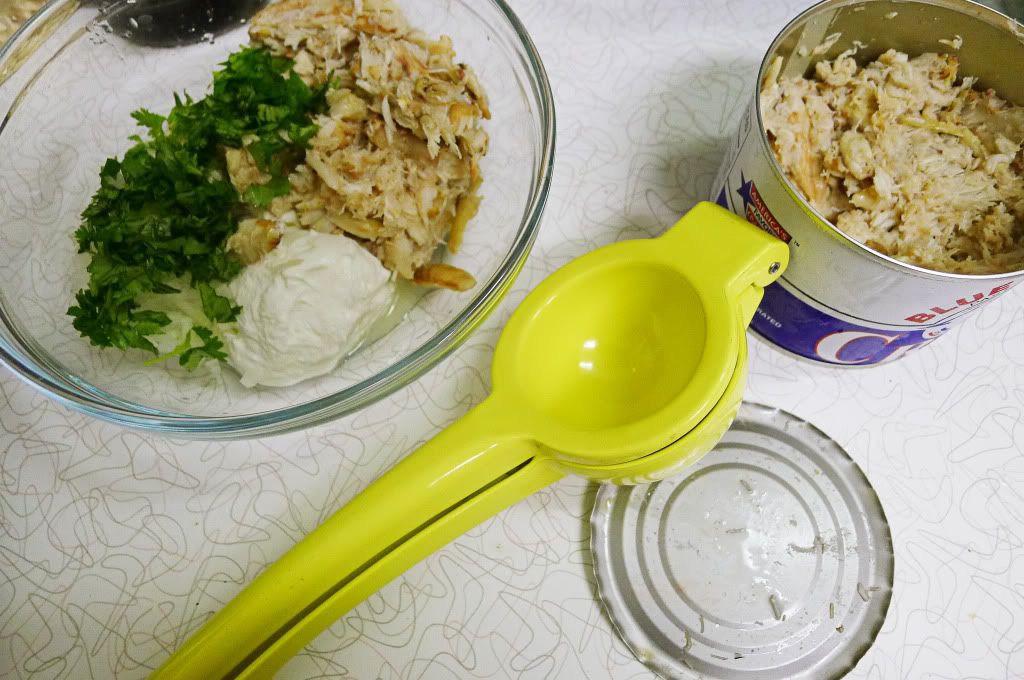 I was pleasantly surprised! The claw meat is light brown and carefully handpicked from the legs and claws of the crab. It is considered to be the most flavorful part of the crab because of its boldness.  It is very versatile and can be used in soups, sauces and dips.
Pair this light and tangy salad with tostadas or transform it into a full meal by making crab salad sandwiches for your family.  It's also a great party food and a wonderful picnic dish your guests will love and ask for more.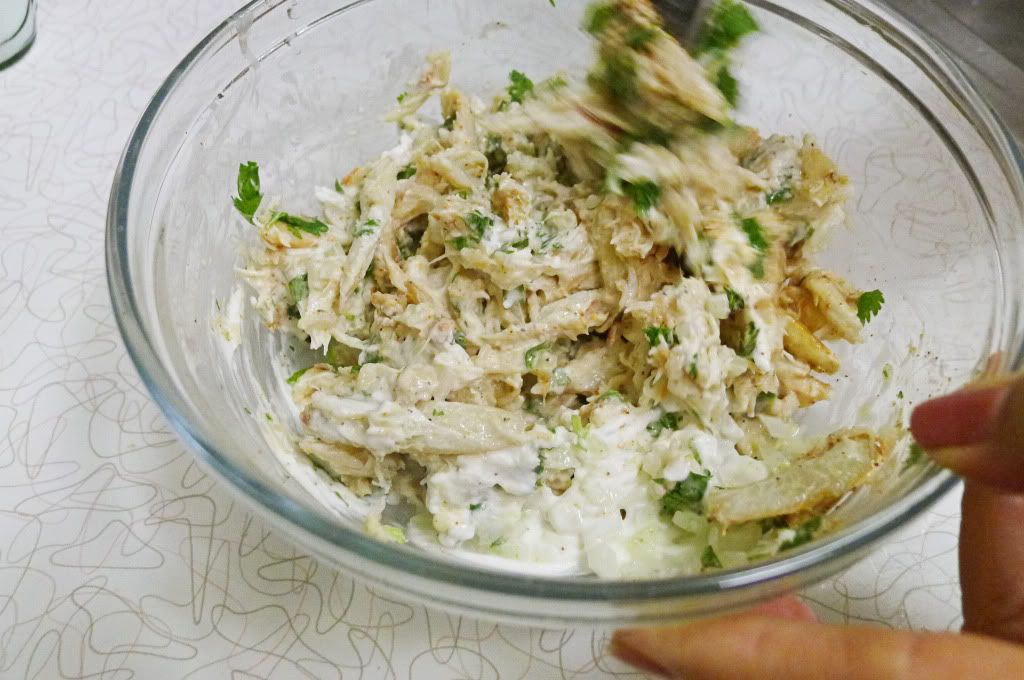 Ingredients
1 cup good quality blue crabmeat (I used Blue Star Claw Crabmeat)
1/4 cup plain Greek yogurt
1 tablespoon lemon juice
2 tablespoons cilantro, finely chopped
1 tablespoon onion, minced
1/4 teaspoon guajillo chile powder
Salt and freshly ground black pepper to taste
Instructions
In a medium bowl, combine the crabmeat, yogurt, lime juice, onions and cilantro. Gently stir being careful not to break up the crabmeat.
Add the guajillo powder and season with salt and pepper. Refrigerate until ready to serve.
http://www.nibblesandfeasts.com/2012/07/tangy-crab-salad/
Copyright Nibbles and Feasts
Otra vez… en español!
Siempre estoy buscando maneras de incorporar el yogur griego en mis comidas. A veces, lo uso en lugar de crema agria en mis enchiladas, chilaquiles y nachos. Corta la grasa sin comprometer el sabor de tus platos mexicanos favoritos. Esta vez, tome  la típica ensalada de atún y le di un toque "light" sustituyendo la mayonesa con mi amado yogur griego y utilice carne de cangrejo en lugar de atún.
Vivir cerca de un mercado de mariscos, estaba muy aprensiva acerca del uso de carne de cangrejo enlatada. En un viaje  inesperado a la tienda, vi la carne de cangrejo Blue Star  y tuve la curiosidad por probar este producto, por lo que he desarrollado esta sencilla receta.
Me sorprendió gratamente! La carne de la pinza es de color marrón claro y cuidadosamente seleccionadas entre las patas y las pinzas del cangrejo. Se considera que es la parte más sabrosa del cangrejo por su sabor intenso. Es muy versátil y se puede utilizar en sopas, salsas y dips.
Disfruta esta ensalada ligera y picante con tostadas o transformarlo en una comida completa al hacer sándwiches de ensalada de cangrejo para tu familia. También es un plato maravilloso para picnics y fiestas.  Haz suficiente porque a tus invitados les encantará y pedirán mucho más.
Ensalada de Cangrejo
Rinde 4 porciones
Ingredientes
1 taza de carne de cangrejo azul de buena calidad de la pinza
1/4 taza de yogur griego, natural sin azúcar
1 cucharada de jugo de limón
2 cucharadas de cilantro finamente picado
1 cucharada de cebolla picada
1/4 cucharadita de polvo de chile guajillo
Sal y pimienta al gusto
Instrucciones
En un tazón mediano, mezcla la carne de cangrejo, el yogur, el jugo de limón, cebolla y cilantro. Revuelve suavemente con cuidado de no deshacer la carne de cangrejo.
Agrega el guajillo en polvo y sazona con sal y pimienta. Refrigera hasta que esté listo para servir.