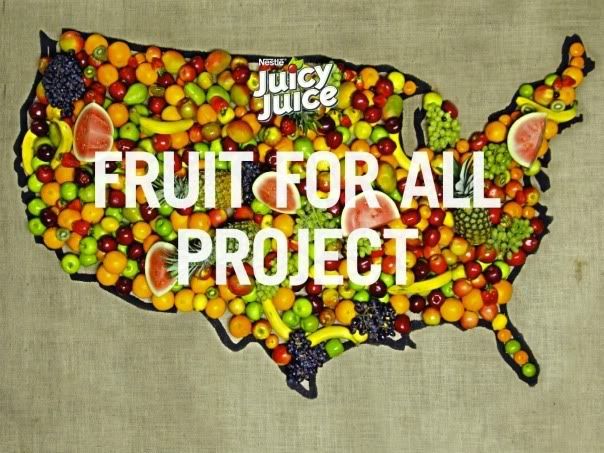 Now that it's summer, when kids are out of school and away from federally assisted school meal programs, an estimated 16 million American children are food insecure and live at risk of being hungry.
One of the wonderful things about a blog is that it can be used to spread awareness of programs that do good. As you may know, I'm a big advocate in childhood hunger and do my part in spreading awareness about this cause whenever I get the opportunity.
First, lets talk a little bit about what Food Insecurity is:
Definition of Food insecurity: the lack of access at times to enough food for an active, healthy life; limited or uncertain availability of nutritionally adequate foods.
I was pleased to learn that Nestle's Juicy Juice has organized a program designed to alleviate summertime childhood hunger.
To learn about what Nestle and Juicy Juice are doing, I was invited to the launch of the Juicy Juice Fruit For All event at the Los Angeles Regional Food Bank. Fruit for All is a new program that will deliver up to 35 million pieces of fresh fruit to children and families at risk of hunger nationwide.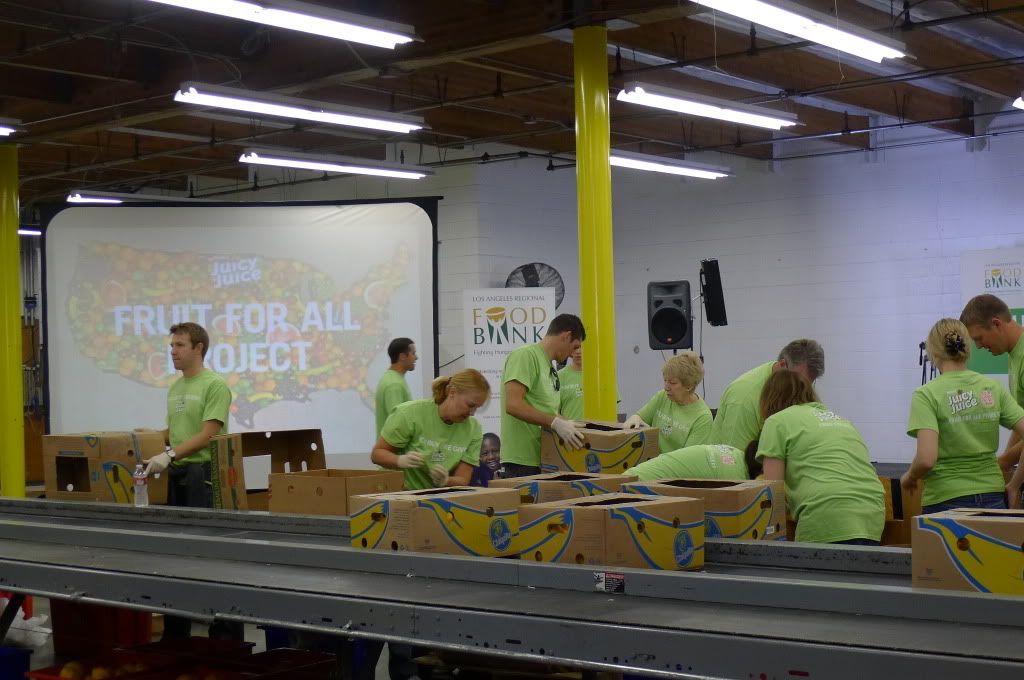 Through August 31, one piece of fruit will be provided to hungry kids and their families each time Juicy Juice is purchased. The event was hosted by celebrity mom and anti-hunger advocate Samantha Harris along with non-profit organization, Feeding America.
Juicy Juice will do it's part by supporting the harvesting and transportation of fresh, nutritious fruits, helping to alleviate the loss of more than six million pounds of produce that are wasted each year in America.
I've always supported the LA Regional Food Bank in various ways by organizing food drives and making donations and I was delighted to finally tour the facility and learn a little bit more about the organization and it's involvement with Fruit For All.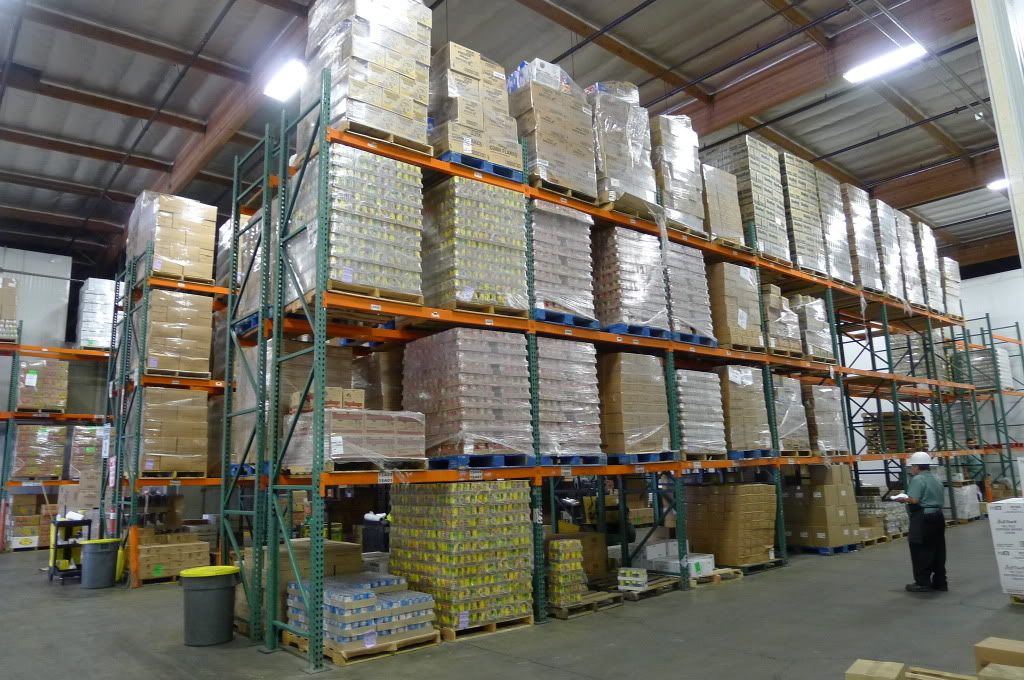 The Los Angeles Regional Food Bank, the third largest food bank in the United States, provides enough food for over 1.2 million meals each week! Participating agencies include food pantries, soup kitchens, youth programs, senior centers and other agencies serving disadvantage individuals.
How can we help?
Purchase Juicy Juice products now through August 31, 2012 and Nestlé will donate fruit to Feeding America.
Visit the Juicy Juice website and complete the different "challenges" in return Nestlé will donate fruit to Feeding America.
For more information, visit www.fruitforallproject.com or visit Juicy Juice on Facebook.
GIVEAWAY!
As part of this wonderful program, Juicy Juice will be donating 400 meals to my food bank (the LA Regional Food Bank) and I have been given the opportunity to host a giveaway of 400 meals more to be donated to YOUR local food bank UNDER YOUR NAME.
You can have up to 4 entries each; however, please note that you have to comment back and let me know which of the actions you took, so that I can keep track of them.
TO ENTER:
Comment below and tell me the name of your food bank where you would like to make the donation to and the city it is located in.
Like Nibbles and Feasts on Facebook
Follow Nibbles and Feasts on Twitter
Tweet: Enter to win a 400 meal donation to your local Food Bank via @NibblesNFeasts http://wp.me/p20laq-Tw
Open to U.S. Residents only. No PO Boxes, please. Must be 18 years or older to enter. Contest ends August 1, 2012 at 11:59 PM, PST and one (1) winner will be randomly chosen from all entries through random.org.
Otra vez… en español!
Ahora que es verano, cuando los niños van a la escuela y fuera de los programas de asistencia federal de comidas escolares, se estima que 16 millones de niños estadounidenses padecen de inseguridad alimentaria y viven en riesgo de tener hambre.
Una de las cosas maravillosas acerca de un blog es que puede ser utilizado para dar a conocer los programas que hacen el bien. Como ustedes saben, soy una gran defensora del hambre infantil y pongo de mi parte en la difusión de información sobre esta causa cada vez que tengo la oportunidad.
Primero, hay que hablar un poco acerca de lo que es la inseguridad alimentaria:
Definición de la inseguridad alimentaria: la falta de acceso, a veces, a alimentos suficientes para una vida activa y saludable, la disponibilidad limitada o incierta de alimentos nutricionalmente adecuados.
Me complace saber que Juicy Juice de Nestlé ha organizado un programa este verano para aliviar el hambre infantil.
Para obtener información acerca de lo que Nestlé  y Juicy Juice están haciendo fui invitada a el lanzamiento de Fruit For All (Fruta para todos) en el Los Angeles Regional Food Bank. Frutas para Todos es un nuevo programa que ofrecerá hasta 35 millones de piezas de fruta fresca a los niños y las familias en riesgo de hambre en todo el país.
A través del 31 de agosto, una pieza de fruta se proporcionará a los niños y sus familias  en riesgo de hambre, cada vez que productos Juicy Juice son comprados. El evento fue organizado por mamá, celebridad y la lucha y defensora contra el hambre Samantha Harris, junto con la organización, Feeding America.
Juicy Juice hara de su parte en apoyar a la cosecha y el transporte de frutas frescas y nutritivas, ayudando a aliviar la pérdida de más de seis millones de libras de frutas que se desperdician cada año en Estados Unidos.
Siempre he apoyado al Banco de Alimentos de Los Angeles en diversas formas mediante la organización de colectas de alimentos y haciendo donaciones. Cuando fui invitada al lanzamiento de este gran programa, estaba encantada de visitar por el local y conocer un poco más sobre la organización y su participación con Fruit for All.
El Los Angeles Regional Food Bank es el tercer mayor banco de alimentos en los Estados Unidos que proporciona suficiente alimento para más de 1.2 millones de comidas a la semana! Las agencias participantes incluyen despensas de alimentos, comedores populares, programas para jóvenes, centros de ancianos y otras agencias que sirven a individuos en desventaja.
¿Cómo podemos ayudar?
     Compra productos de Juicy Juice desde ahora hasta el 31 de agosto 2012 y Nestlé donará fruta a Feeding America.
     Visita el sitio web de Juicy Juice y completa los distintos "retos" a cambio,  Nestlé donará fruta a Feeding America.
     Para obtener más información, visite www.fruitforallproject.com o visite Juicy Juice en Facebook.
CONCURSO!
Como parte de este maravilloso programa, Juicy Juice donará 400 comidas a mi banco de alimentos (el Banco Regional de Alimentos LA) y me ha dado la oportunidad de regalar una donación  de 400 comidas a uno de ustedes para para ser donado a su banco local de alimentos BAJO SU NOMBRE.
Puedes tener un máximo de 4 entradas cada uno, sin embargo, ten en cuenta que tienes que comentar de nuevo y diganme cuál de las medidas se tomaron, para que yo los pueda contar como entradas.
PARA PARTICIPAR:
Comenta abajo y dime el nombre de tu banco de alimentos en el que deseas hacer la donación a la ciudad y que se encuentra
Dale "like" a Nibbles and Feasts en Facebook
Sigue a Nibbles y Fiestas en Twitter
Manda un tweet: Participa y podrás ganar una donación de 400 comidas a tu banco local de alimentos a través de @ NibblesNFeasts http://wp.me/p20laq-Tw
Abierto a residentes de Estados Unidos solamente. No se permiten PO boxes. Debe tener 18 años o más para entrar. El concurso termina el 1 de agosto 2012 a las 11:59 PM, PST y un (1) ganador será elegido al azar entre todas las inscripciones a través random.org.