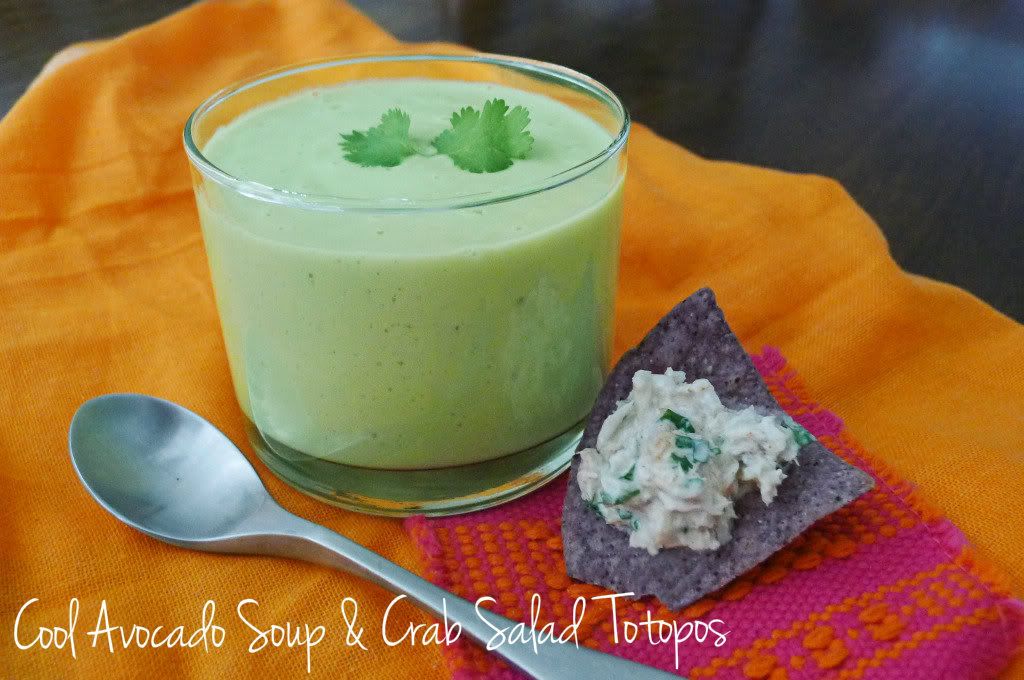 Velvety, silky and delicate with luxurious flavor is the description of  this perfectly chilled soup.  The avocado is the heart and soul of this rich and creamy decadence while ingredients such as wine, kefir and lime juice balance out the flavors, giving it the perfect tang in every spoonful.
I used homemade kefir in this recipe which can easily be replaced with buttermilk.  I've also paired it with my new favorite Crab Salad and blue corn totopos (tortillas chips) for a complete summer meal.
As you can see, this is no ordinary soup.  It's a celebration soup.  What am I celebrating?  I am celebrating my new partnership with Avocados from Mexico.  In my new partnership, I will be spreading my avocado love coast to coast and travel to BlogHer 2012 in New York City to chat with fellow bloggers about the beauty of avocados, favorite recipes and classic recipes passed on from grandma.  Follow my fun avocado adventure on twitter under #AmoLosAguacates or #ILoveAvocados.
Ingredients
2 Avocados
2 cups chicken broth
1 cup kefir (or buttermilk)
1/4 cup white cooking wine
1/4 cup minced onion
Juice of one lemon
Salt and pepper to taste
Instructions
Halve and pit the avocados and scoop flesh into blender.
Add kefir (or buttermilk), cooking wine, chicken broth, onions, lemon juice and garlic and blend until smooth.
Season to taste with salt and pepper.
Refrigerate for 1 hour in a glass bowl before serving.
http://www.nibblesandfeasts.com/2012/07/cool-avocado-soup-crab-salad-totopos/
Copyright Nibbles and Feasts
This is a sponsored post on behalf of Avocados from Mexico and Latina Bloggers Connect. Recipe and opinions are my own.
Otra vez… en español!
Suave como terciopelo, sedoso y delicado con un sabor lujoso es la descripción de esta sopa fría a la perfección. El aguacate es el corazón y el alma de esta decadencia rica y cremosa, mientras que los ingredientes como el vino, el kéfir y jugo de limón dan el balance a los sabores en cada cucharada.
He utilizado el kéfir que hice en casa para esta receta pero se puede fácilmente reemplazar por suero de leche o jocoque (buttermilk) . También lo he acompañado esta sopa con mi nueva Ensalada de Cangrejo favorita y totopos de maíz azul para una comida de verano completa.
Como puedes ver, esto no es una sopa común y corriente. Es una sopa de fiesta. ¿Qué estoy celebrando? Estoy celebrando mi nueva asociación con Aguacates de México. En mi nueva asociación, extenderé  mi amor al aguacate de costa a costa y viajare  a BlogHer 2012 en Nueva York para charlar con los colegas blogueros sobre la belleza de los aguacates, sus recetas favoritas y recetas clásicas de abuelita. Sigue mi aventura en Twitter bajo #AmoLosAguacates o #ILoveAvocados.
Sopa Fría de Aguacate
Rinde 4 porciones 
Ingredientes
2 aguacates
2 tazas de caldo de pollo
1 taza de kéfir (o suero de leche o jocoque)
1/4 taza de vino blanco para cocinar
1/4 taza de cebolla picada
Jugo de un limón
Sal y pimienta al gusto
Instrucciones
Corta y deshuesa los aguacates y coloca la pulpa en la licuadora.Añade el kéfir (jocoque o suero de leche), vino de cocinar, caldo de pollo, cebolla, jugo de limón y el ajo y licua hasta que quede suave.
Sazona al gusto con sal y pimienta. Refrigera durante 1 hora en un recipiente de vidrio antes de servir.
Sirva con Ensalada de Cangrejo