The temperature is rising and we need to find ways of keeping ourselves hydrated. This summer, we are going on a "staycation" and do what we love to do in Los Angeles, explore it! Temperatures vary in different parts of Los Angeles so we always have to be prepared with an easy to transport beverage to keep us cool. Sightseeing and walking the streets Downtown LA can be exhausting and draining so we have to pack smart and light. Since keeping hydrated is extremely important, there are different ways to incorporate water into your routine.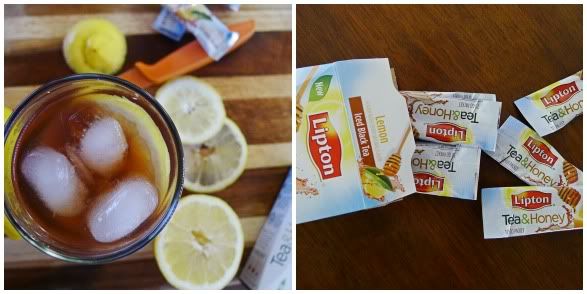 Lipton Iced tea recently released Lipton Tea & Honey in small individual packets. I take these little packets everywhere since they fit perfectly in my purse, pockets and my son's snack bag. Lipton's Tea & Honey is only 5 calories per 8 ounce serving, it is made with tea leaves, real fruit flavors and is sweetened with honey. All you have to do is add a packet to your water bottle and you have yourself a delicious flavored beverage. You really can't go wrong. It's refreshing, has great flavor, is available in a variety of flavors, and it's easy to transport.
China Town, Huntington Beach, Disney Concert Hall and The Huntington Gardens lily ponds.  I love Los Angeles.
I not only use Lipton Tea & Honey as my on-the-go drink but I also like to use the pitcher packs and prepare it for my at home when to accompany a meal. To celebrate the product announcement, Lipton is giving away a limited number of Lipton Tea & Honey samples. You can receive free samples if you visit www.liptonteaandhoney.com and sign up. Happy Summer my friends!
Tell me how you add flavor to your life and the first three people to comment on my blog will win a sample of Lipton Tea & Honey to try for themselves!
For an extra entry to win the Lipton Tea & Honey kit share this sweepstakes with your friends on Twitter and Facebook by clicking the buttons below. Learn more about the amazing Lipton Tea & Honey Flavors on their Facebook page
This is a sponsored conversation written by me on behalf of Lipton Tea. The opinions and text are all mine. Official sweepstakes rules.