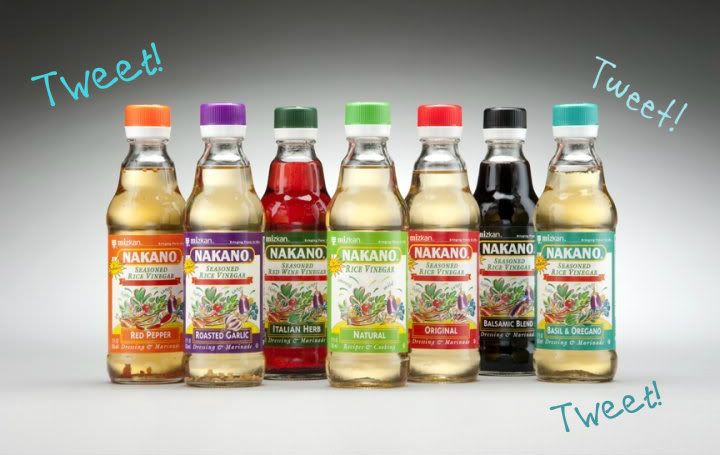 By now, I'm sure you know how much I am a fan of NAKANO® Rice Vinegars.  It is my go-to ingredient when it comes to adding a splash of sabor to all my fruit and leafy green salads, rice dishes, poultry, seafood and even noodle dishes. I used to rely on fatty and high-calorie salad dressings, and sometimes just a squeeze of lime juice for a hint of flavor.
Now, my world of endless flavor-balanced possibilities has expanded thanks to NAKANO® Rice Vinegars.  Cooking has never been easier and my time in the kitchen has been cut in half with the help of NAKANO®.   You don't need to be an expert.  Find out how a group of us NAKANO® fanatics prepare our crowd-pleasing, lip smacking meals in just a few minutes and with  few ingredients.

You are cordially invited to a NAKANO® "Splash of Sabor" Twitter Party
Please join @FlanboyantEats ,@MamaLatina , @AsBestRecipes , @DarielaCruz and yours truly, @NibblesNFeasts with moderators: @JollyMom and @Eva_Smith as we chat about our favorite recipes with NAKANO® and share our meal ideas and kitchen tips on Twitter with you.
June 5th
9-10:30 PM ET (6-7:30 PM PT)
Twitter hashtag:  #NAKANOsplash
There will be prizes!  Be sure to follow @NAKANOSplash  and @LatinaMomBlogs  throughout the evening for updates, prize information and contest details.
*PRIZES:
• One (1) Kindle Fire – Full Color 7″ Multi-Touch Display w/Wi Fi (Valued at $199)
• Two (2) $75 Walmart gift cards (Valued at $75 each)
• Three (3) NAKANO branded gift baskets filled with coupons and cooking accessories (Valued at $35)
For the official rules, please click HERE.
*The Kindle Fire and Walmart are the trademarks of their respective owners, and they are not affiliated with NAKANO or Mizkan Americas, Inc.

Disclosure: This is part of a sponsored campaign with Latina Mom Bloggers and NAKANO . However, all opinions expressed are my own.
Otra vez en español!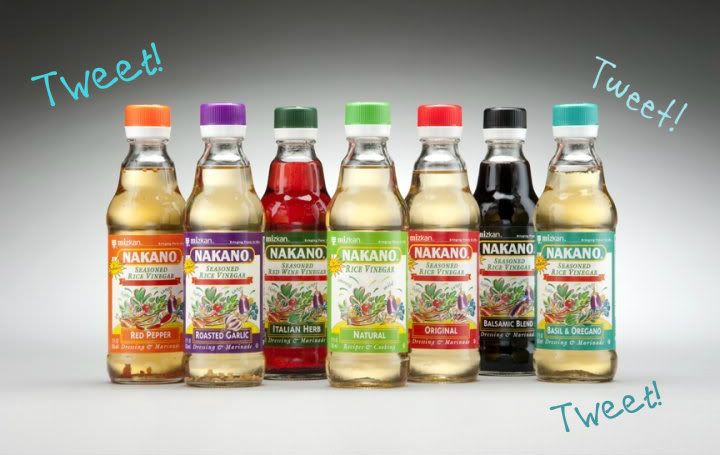 Estoy segura de que ya sabes lo mucho me gusta cocinar con Vinagres de Arroz NAKANO®. Es uno de los ingredientes que mas uso cuando se trata de añadir un toque de sabor a todas mis frutas y ensaladas verdes, arroces, pollo, mariscos e incluso platos de tallarines. Yo solía confiar en aderezos grasosos para ensaladas con un alto contenido calorías y, a veces con sólo un chorrito de jugo limón me conformaba para un toque de sabor a mi comida.
Ahora, mi mundo de posibilidades infinitas se ha abierto gracias a NAKANO® Vinagre de arroz. Cocinar nunca fue tan fácil y mi tiempo en la cocina se ha reducido a la mitad con la ayuda de NAKANO®. No es necesario ser un experto. Descubre cómo un grupo de fanáticas preparamos platillos con NAKANO®,  para chuparse los dedos, y en tan sólo unos minutos y con muy pocos ingredientes.
Estas cordialmente invitado a nuestra fiesta en Twitter: NAKANO® "Splash de Sabor"
Con sus anfitrionas, @ FlanboyantEats, @ MamaLatina,@AsBestRecipes, @DarielaCruz y yo, @ NibblesNFeasts
Moderadoras: @JollyMom y @Eva_Smith mientras conversamos acerca de nuestras recetas favoritas con Nakano® y compartimos nuestras ideas para comidas y consejos de cocina en Twitter
5 de Junio
9-10:30 pm hora Este (6-7:30 pm hora del Pacífico)
Twitter hashtag: # NAKANOsplash
Habrá premios! Asegúrese de seguir @NAKANOSplash y @ LatinaMomBlogs durante toda la noche de la fiesta en Twitter para información sobre el premio y los detalles del concurso.
Deja tu RSVP aquí
*PREMIOS:
Un (1) Kindle Fire a todo color de 7″ y pantalla Multi-Touch con/Wi Fi (Con un valor de $199)
Dos (2) tarjetas de regalo Walmart de $75 (Con un valor de $75 cada una)
Tres (3) canastas de regalo marca NAKANO llenas de cupones y accesorios de cocina (Con un valor de $35)
* Kindle Fire y Walmart son marcas registradas de sus respectivos propietarios, y no son afiliadas de NAKANO ni de Mizkan Americas, Inc.

Divulgación: Esto es parte de una campaña patrocinada con Latina Mom Bloggers y Nakano. Sin embargo, todas las opiniones expresadas son mías.