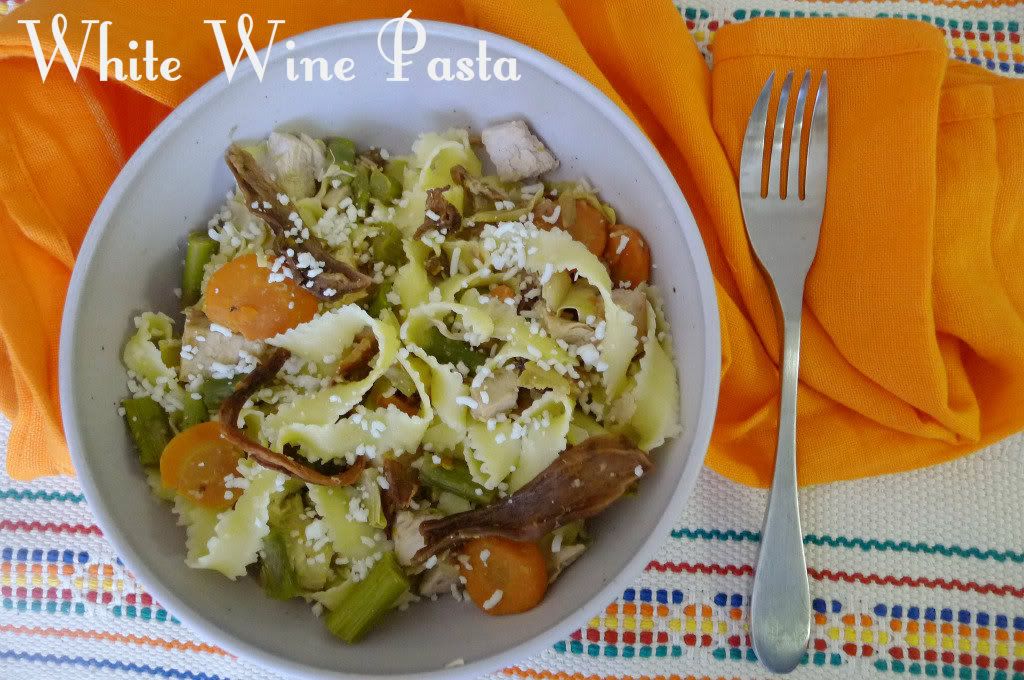 April is over and I instantly went into full summer mode.  I went for a walk, hummed a bit, bought new sandals, cleared out my closet and prepared my version of a very special summer lunch.
I was tired of the same old pasta and I wanted something packed with healthy stuff, satisfying, fun and … summer-y!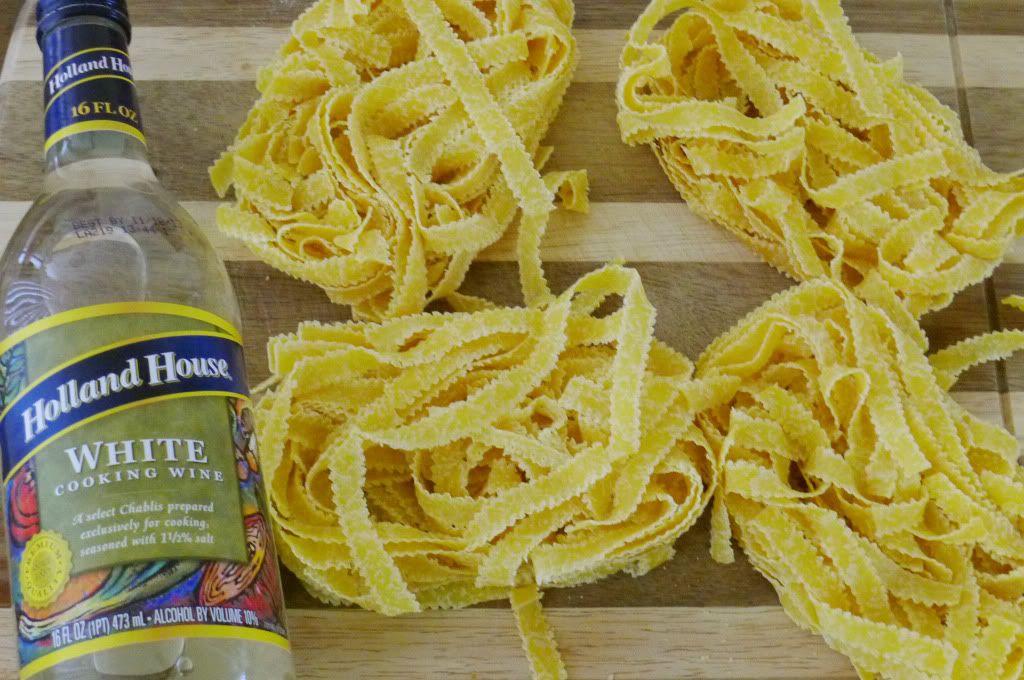 I had to try something different and switch up seasonings.  I didn't want to add marinara sauce or heavy Alfredo sauce.  I wanted something light, flavorful and full of veggies.  So I decided to use Holland House White Cooking Wine for a punch of  freshness and tang.
This was the perfect opportunity to use some dried mushrooms I'd been saving for a special occasion and a great time to play with Holland House White Cooking Wine.  What's more of a special occasion than summer?
Do you have a special meal you must share with all of us?  Win a professional meal makeover with Meal Makeover Moms! Follow them on facebook  and enter for your chance to win!   Good luck!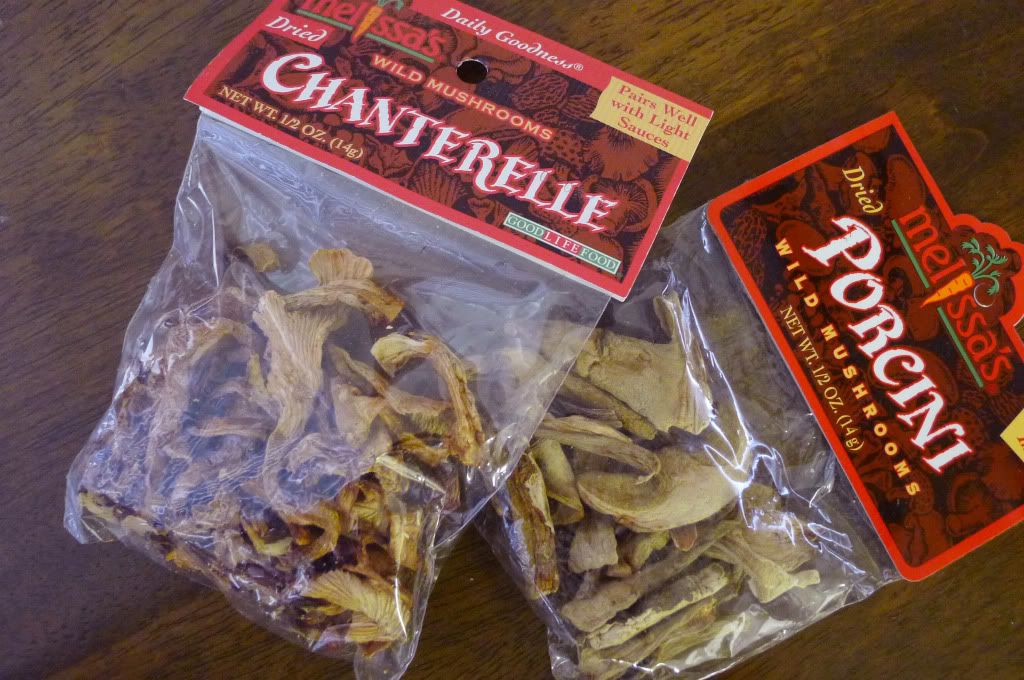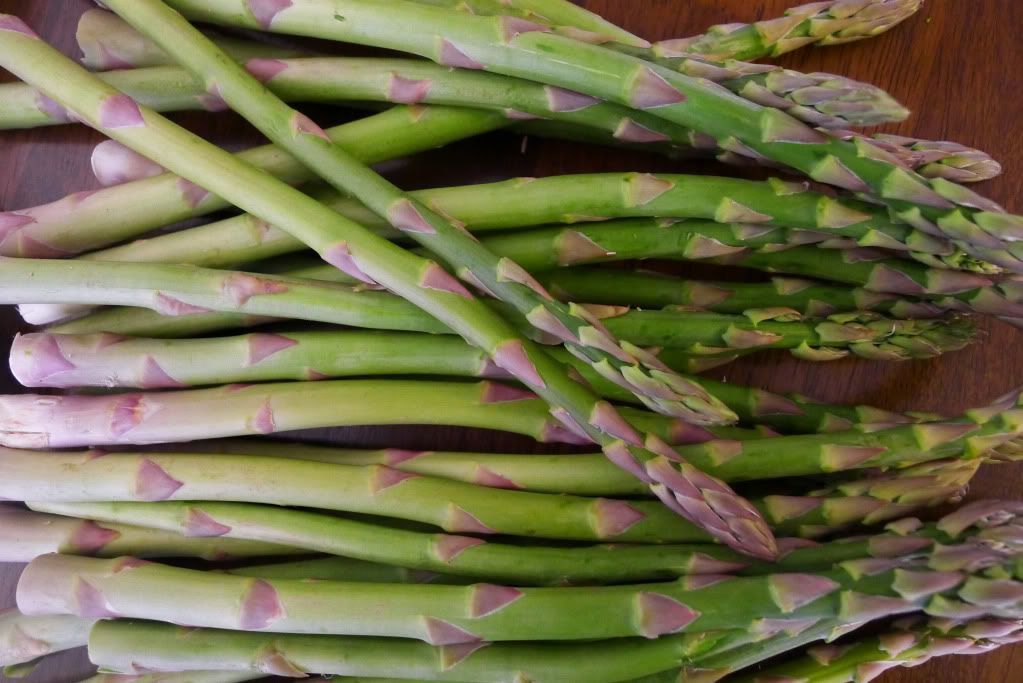 Ingredients
¾ cup Holland House Cooking Wine
2 tbsps extra virgin olive oil
1lb. dried fettuccine
3 chicken thighs, boneless, skinless, chopped in bite-size pieces
1 – 14oz can of artichoke hearts, drained (about 1lb.), cut into 1" chunks
1lb. asparagus, chopped
1oz dried mushrooms, I used a mix of chanterelle and porcini
2 garlic cloves, finely diced
1 carrot. Chopped
1 tbsp dried tarragon leaves
¼ cup cotija cheese
1 cup chicken broth
salt and pepper to taste
Instructions
Soak dried mushrooms in Holland House Cooking wine for 1 hour.
Heat the oil in a large skillet over medium-high heat. Add the garlic, asparagus and carrots and cook, stirring frequently, until soft, about 8 minutes.
Season the chicken with salt and pepper and add it to the vegetable mixture. Cook, stirring occasionally, until chicken is lightly browned, about 6 minutes. Add Holland House Cooking wine and mushrooms and cook, stirring constantly, until liquid has evaporated, about 1 minute.
Add artichokes and chicken broth along with 2 tbsp. tarragon. Bring broth to a boil and reduce heat to medium-low. Cover and simmer until chicken and artichokes are very tender and the broth has reduced by half, about 20 minutes. Season with salt and pepper and set aside.
http://www.nibblesandfeasts.com/2012/04/white-wine-pasta-pasta-con-vino-blanco/
Copyright Nibbles and Feasts
This is a sponsored post as part of the Mizkan blogger advocate program.  Recipe and opinions are my own.
Otra vez… en español!
Abril ya se acabo y  ya entre en la actitud de pleno verano. Fui a dar un paseo, cante un poco, me compre unas sandalias nuevas, limpie mi armario  y preparé mi versión de una pasta de verano muy especial.
Estaba cansada de la pasta de siempre y quería algo nutritivo, divertido y llenador  y algo perfecto para el verano!
Tenía que intentar algo diferente y cambiar de sazón. Yo no quería añadir salsa marinara o salsa Alfredo pesada. Yo quería algo ligero, sabroso y lleno de verduras. Así que me decidí a utilizar Holland House vino blanco para cocinar y darle un toque de frescura y sabor a mi comida.
Esta fue la oportunidad perfecta para usar algunos champiñones secos que había estado guardando para una ocasión especial y un buen momento para experimentar con Holland House vino blanco para cocinar. Que mejor ocasión especial que esta?
Pasta con Vino Blanco
Ingredientes
¾ de taza de vino blanco para cocinar Holland House
2 cucharadas de aceite de oliva extra virgen
1 libra de pasta fettuccine seca
3 muslos de pollo, deshuesado y sin piel, cortado en trozos pequeños
1 – 14 oz lata de corazones de alcachofa, escurridos (alrededor de 1 lb.), cortados en trozos de 1 pulgada
1 libra de espárragos, picado
1 oz champiñones secos, he usado una mezcla de rebozuelo y boletus
2 dientes de ajo, finamente picados
1 zanahoria en rodajas
1 cucharada de hojas de estragón seco
¼ de taza de queso Cotija
1 taza de caldo de pollo
sal y pimienta al gusto
Remoja los champiñones secos en el vino blanco para cocinar Holland House durante 1 hora.
Calienta  el aceite en una sartén grande a fuego medio-alto. Agrega el ajo, los espárragos y las zanahorias y cocine, revolviendo frecuentemente, hasta que estén suaves, unos 8 minutos.
Sazone el pollo con sal y pimienta y añada a la mezcla de verduras. Cocine, revolviendo ocasionalmente, hasta que el pollo se dore ligeramente, unos 6 minutos. Añada el vino de cocina Holland House y los champiñones y cocine revolviendo constantemente, hasta que el líquido se haya evaporado, aproximadamente 1 minuto.
Añadir las alcachofas y caldo de pollo, junto con 2 cucharadas de estragón. Lleve el caldo a ebullición y reduzca el fuego a medio-bajo. Tape y cocine a fuego lento hasta que el pollo y alcachofas estén muy tiernas y el caldo se haya reducido a la mitad, unos 20 minutos. Sazona con sal y pimienta y reserve.
En una olla aparte, hierva agua con sal a fuego alto. Agregue la pasta y cocine hasta que estén al dente, unos 7 minutos. Escurre la pasta y transfiera la olla con alcachofas y la mezcla de pollo y cocine a medio a fuego lento durante 2 minutos. Sazone con la pasta de sal y pimienta y sirva la pasta en 4 – 6 platos hondos.  Espolvoree con queso Cotija desmoronado y disfrute.
Rinde 4-6 personas
Este post patrocinado es patrocinado. La receta y las opiniones son mías.