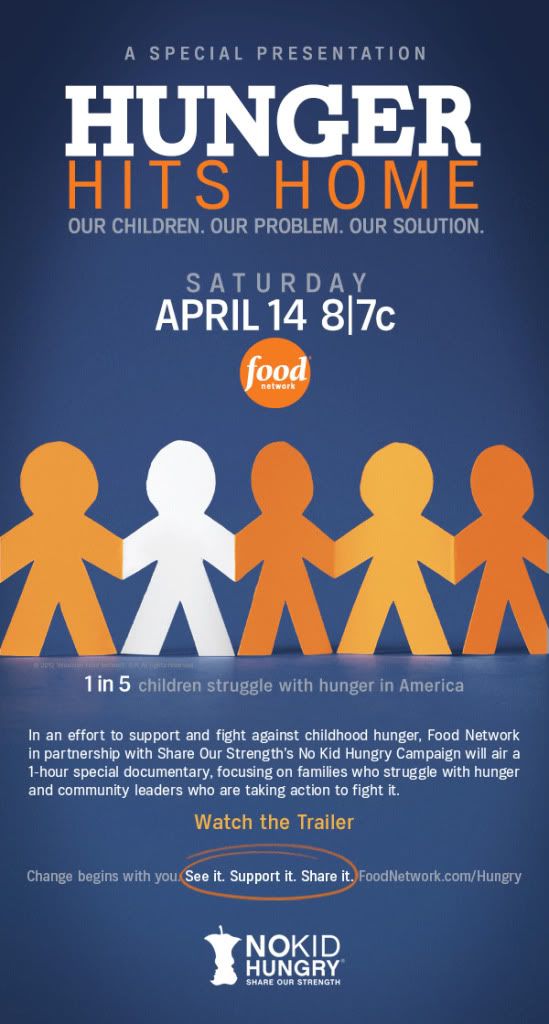 Did you know the 1 out of 5 kids in American live in households that struggle to put food on the table?  That's a lot of kids going to bed hungry at night.  The numbers are very impactful because this can be happening in your own neighborhood to people you see every day.
The Food Network and Share our Strength's No Kid Hungry campaign have partnered to create awareness with a special presentation about this ongoing crisis.   This documentary airing Saturday, April 14 8/7 central will take  you to the front-line to meet three American families struggling every day  to eat.  You will also meet food pantry heroes, hunger activists and school educators making a difference in the lives of families trying to make ends meet.
This is a cause I hold near and dear to my heart and I would like to encourage you to watch this presentation with your family and friends(download viewing guide).  Please spread the word and/or get involved by either making a small donation or signing a petition at FoodNetwork.com/hungry to encourage elected officials support the essential child nutrition programs and help end childhood hunger by 2015.
Follow along on:
Twitter
@FoodNetwork and
@NoKidHungry Hashtag: #HungerHitsHome
Facebook
Facebook.com/foodnetwork
Facebook.com/shareourstrength

The show airs on Saturday, April 14 at 8/7 central
Otra vez… en español!
¿Sabías que 1 de cada 5 niños en América viven en hogares que luchan para proveer comida a la mesa? Eso es una gran cantidad de niños que van a la cama con hambre todas las noche. Las cifras son muy impactantes ya que esto puede estar ocurriendo en tus propios alrededores y a las personas que te encuentras todos los días.
El canal Food Network y la campaña No Kid Hungry de Share Our Strength se han asociado en presentar un documental para crear conciencia sobre la crisis del hambre en América. Este documental se transmitirá el Sábado, 14 de abril a las 8/7 centro.  El programa lo llevara al ojo de esta crisis y le presentara a tres familias estadounidenses que luchan cada día para comer. También te presentara con los héroes que fundan despensas de alimentos, activistas y educadores que están haciendo una diferencia en las vidas de estas familias.
Esta es una causa que la tengo muy cercana a mi corazón y me gustaría animaros a ver esta presentación con su familia y amigos (guía del programa). Pasa la voz y / o participar, ya sea hacer una pequeña donación o firmar una petición en FoodNetwork.com/hunger para alentar a los funcionarios elegidos a que apoyen a los programas esenciales de nutrición infantil y ayudar a terminar con el hambre infantil para el 2015.
Sigue esta buena causa por los medios sociales:
Twitter
@FoodNetwork and
@NoKidHungry Hashtag: #HungerHitsHome
Facebook