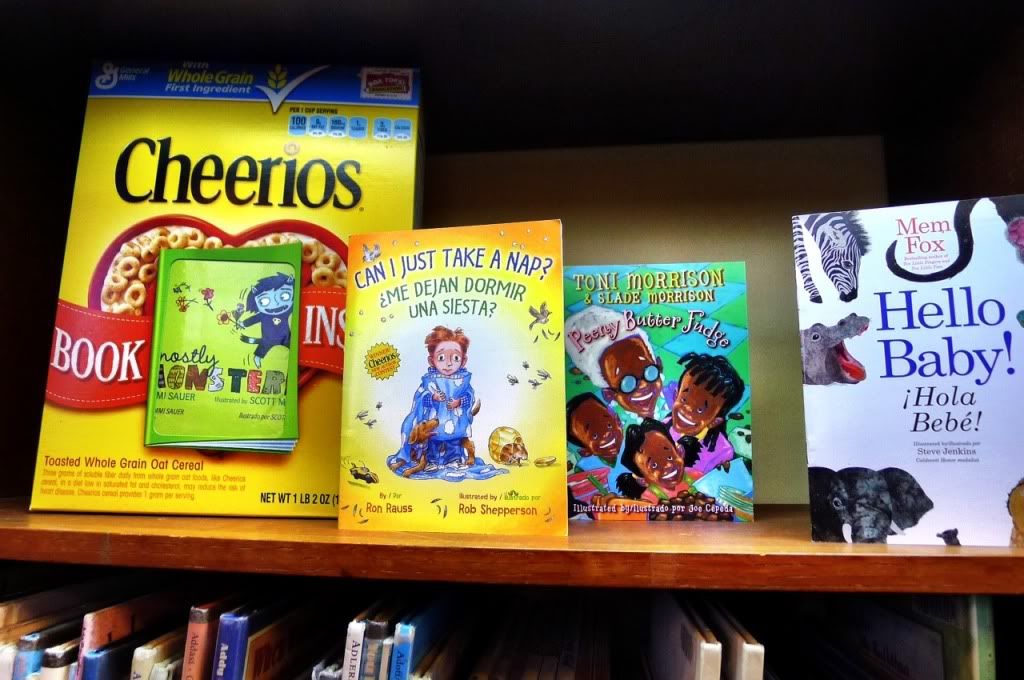 Being bilingual has opened up endless doors of opportunities for me. As a parent, I want that and more for my son. I speak to my son in Spanish as much as possible especially now that studies have revealed that being bilingual is a brain booster.
Cheerios® is doing the same! Through its Spoonfuls of Stories® program, they have once again put six million free bilingual children's books inside specially-marked boxes, while supplies last. To celebrate the program's 10th anniversary and encourage parents to read with their children, Cheerios held a special "Breakfast & A Book" reading event in Los Angeles last week that I had the pleasure in attending.
Actress, Jennie Garth, kicked off the event by serving up stories, and, of course, Cheerios at the Central Branch Library in Los Angeles to area children and their parents. As Jennie read, Los Angeles Mayor Antonio Villaraigosa translated the story into Spanish.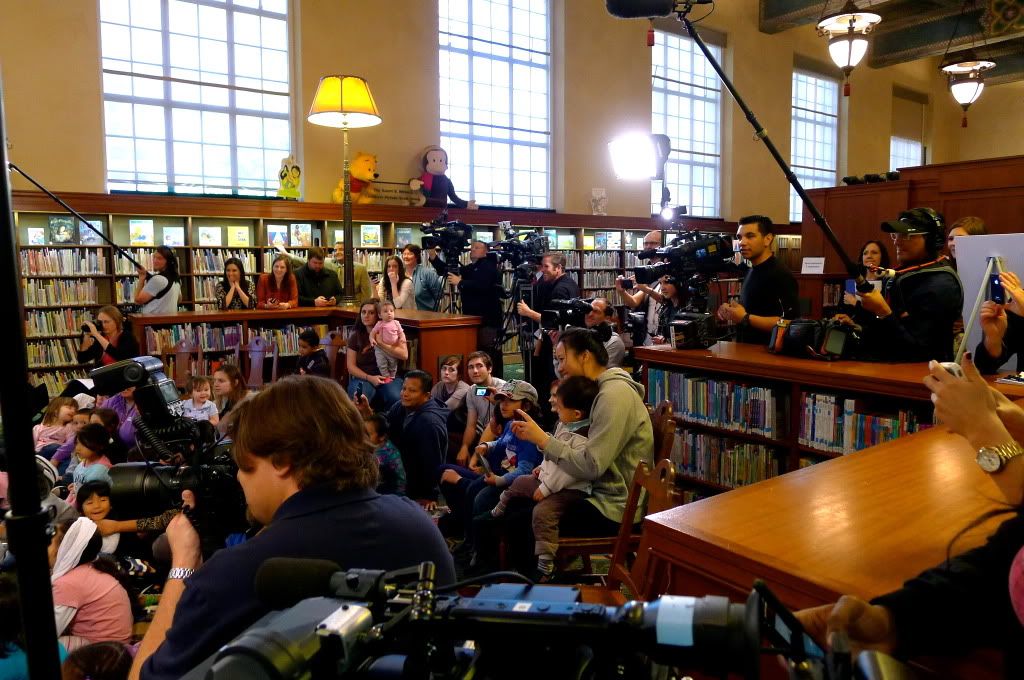 We had a fun filled day as my family and I had the opportunity to explore the Los Angeles Public Library and all it offered.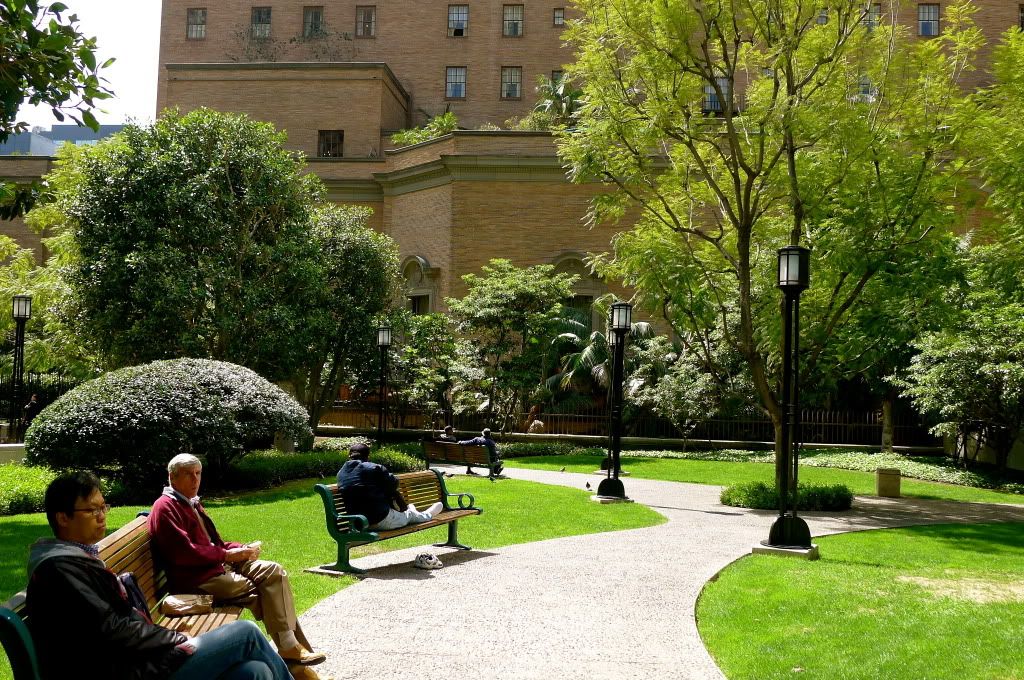 The six titles now appearing in Cheerios boxes have been specially printed in both English and Spanish and are appropriate for children ages three to eight. Since the program's inception in 2002, Cheerios has distributed more than 60 million free children's books inside cereal boxes. In addition, as part of this year's Spoonfuls of Stories program, Cheerios will make a $300,000 donation to First Book, an award-winning national nonprofit that shares Cheerios' mission to get new books into the hands of children from low-income families. Cheerios has donated more than $3.8 million to First Book over the past 10 years.  Garth will also donate 5,000 books to the LA Chapter of First Book on behalf of Cheerios.
No compensation was received.  I was invited to attend a press conference and event regarding Cheerios Spoonful of Stories program.  All opinions are my own.
Otra vez… en español!
Ser bilingüe ha abierto las puertas y un sinfín de oportunidades para mí. Como madre, yo quiero eso y más para mi hijo. Hablo con mi hijo en español lo mas posible y especialmente ahora que los estudios han revelado que el ser bilingüe es un estimulante cerebral.
Cheerios ® está haciendo lo mismo! A través de su programa Spoonful of Stories ®, han vuelto a poner seis millones de libros bilingües para niños en el interior de cajas de cereal que están especialmente marcadas, hasta agotar existencias. Para celebrar el 10 º aniversario del programa y alentar a los padres a leer con sus hijos, Cheerios organizo un evento llamado "El desayuno y un libro" de lectura en Los Ángeles la semana pasada y yo tuve el placer de asistir.
La actriz, Jennie Garth, dio inicio al evento con historias, y, por supuesto, Cheerios en la Biblioteca Central de Los Ángeles a niños y padres. Cuando Jennie leía, el alcalde de Los Ángeles, Antonio Villaraigosa, traducía el cuento a español.
Tuvimos un día lleno de diversión en familia con la oportunidad de explorar la Biblioteca Pública de Los Ángeles.
Los seis títulos que ahora aparecen en las cajas de Cheerios ha sido editados en Inglés y español, y son apropiados para niños de tres a ocho años. Desde el inicio del programa en 2002, Cheerios ha distribuido libros gratis dentro de las cajas de cereal a más de 60 millones de niños. Además, este año, como parte de el programa Spoonfuls of Stories, Cheerios donará $300,000 dólares a First Book, una organización nacional sin fines de lucro y premiada que la misión de sus acciones son para poner nuevos libros en las manos de los niños de familias de bajos ingresos. Cheerios ha donado más de $ 3.8 millones a First Book en los últimos 10 años. Garth también donará 5,000 libros para la organización de First Book de LA, a nombre de Cheerios.
Ninguna compensación se ha recibido. Fui invitada a asistir a una conferencia de prensa y eventos en relación con Cheerios Spoonful of Stories. Todas las opiniones son mías.