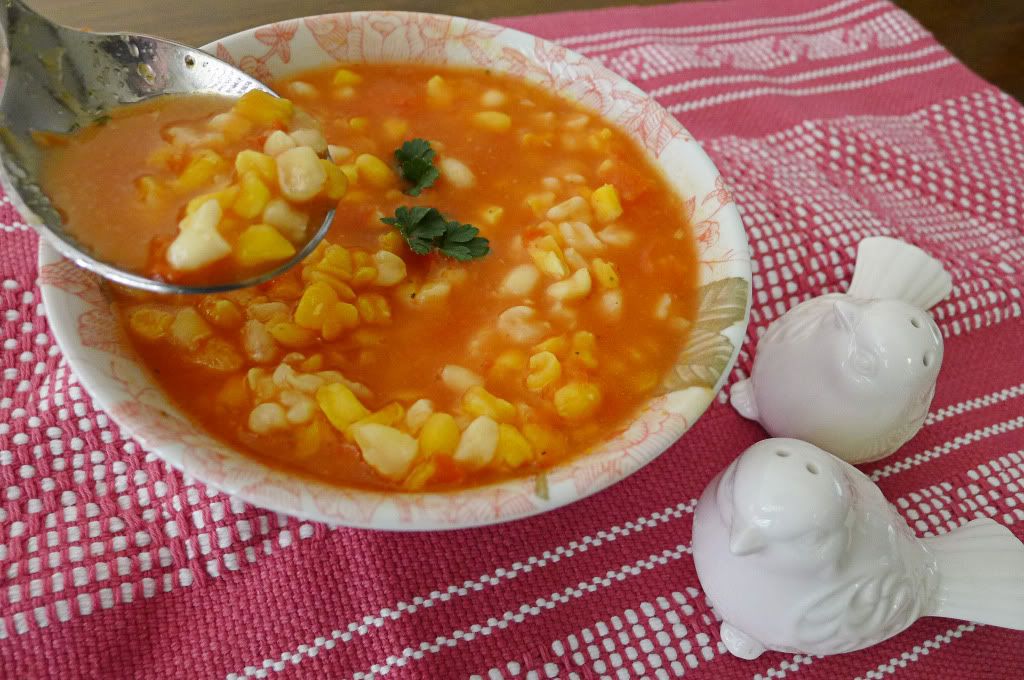 Lent season is in full swing.  This year, I just had to make chacales soup.  Their rustic taste and look take me way back to when I spent Cuaresma Fridays at my grandmother's house in Mexico.  No meat.  Nada de carne.
On two Fridays during the forty days of the season, we cooked for the entire neighborhood (and then some).  Sometimes lentils, sometimes capirotada, sometimes tuna patties and sometimes chacales soup.  Preparing chacales was my favorite part of the process because my job was to clean and rinse the white pebbled corn; a tough job for an 8 year old handling and rinsing 20 lbs. of grains in a giant pot full of water.  I loved it.
Plates in hand, our neighborhood friends lined up  anxiously waiting for their share of a steaming hot bowl of chacales. With a smile, a"thank you" or a "Dios me la bendiga," they walked away knowing they were in for something amazing.
I miss those days.  Preparing and eating this hearty bowl of pure comfort brings back so many wholesome memories in Mexico.
This year, I made it a point to search for chacales and serve them to my family. There had to be a store in Los Angeles where I could find them.  If I could find rompope, I could find chacales.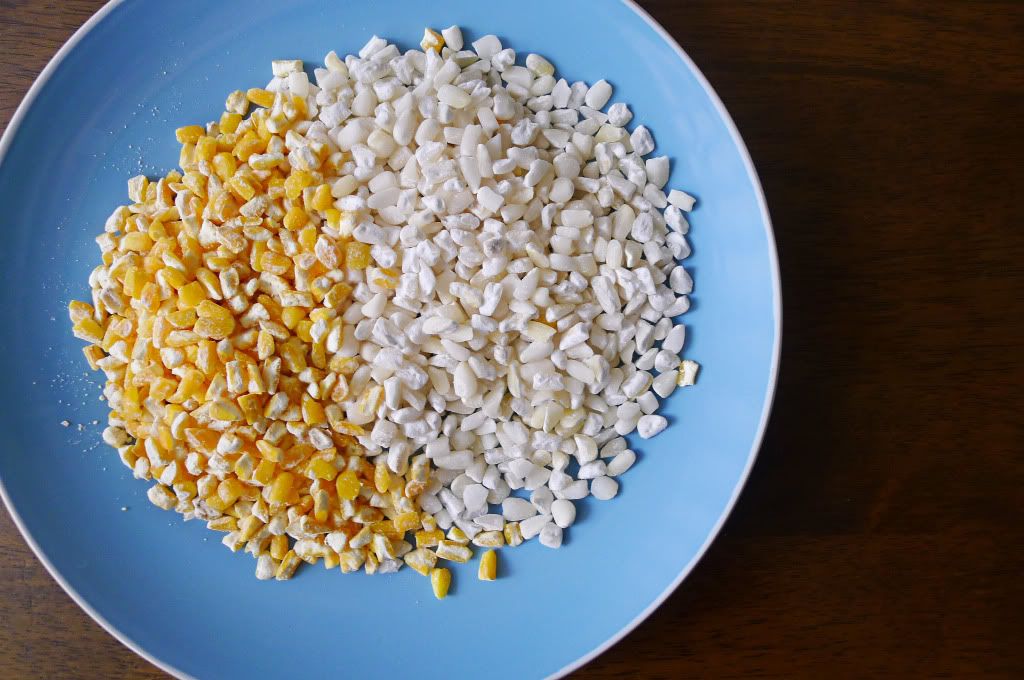 I searched high and low and finally found both varieties, yellow and white,  in a small market near Carson, California.
Chacales are very popular in the state of Chihuahua during Lenten season.  It's a peasant dish of cooked dried corn.  Chacales are also called Chuales in Coahuila, the state in Mexico where I am from.
I've also heard the term "Chacales" refer to dried prawns or jackals and "charales" referred to small dried fish, so don't get confused.
White chacales are the traditional variety.  I had never cooked yellow so I figured, "what the heck, let's cook both."
Chacales or Chuales Soup for Lent | Chacales o Chuales para la Cuaresma
Ingredients
2 cups white or yellow chacales (or chuales)
4 cups water
2 Roma tomatoes, chopped in large pieces
1 medium onion, choped in large pieces
1 garlic clove, roughly chopped
1 8oz can tomato sauce
1 1/2 tbsp chicken bouillon powder
2 tbsp frying oil
Instructions
Rinse chacales in cold water.
In a large pot, add water and boil over medium to high heat. Add chacales and reduce heat. Let simmer for 30-40 minutes until chacales become soft. Set aside and do not drain water.
In a blender, blend tomatoes, onion, garlic, tomato sauce and chicken bouillon powder.
Heat oil in a large sauce pan and carefuly transfer the tomato mixture on to the sauce pan. Fry for 5-7 minutes and add to softened chacales.
Heat over low to medium heat for 10 more minutes and add salt to taste (if needed).
Serve hot.
http://www.nibblesandfeasts.com/2012/03/chacales-or-chuales-soup-for-lent-sopa-de-chacales-o-chuales-para-la-cuaresma/
Copyright Nibbles and Feasts
Otra vez… en español!
La temporada de la Cuaresma está en pleno apogeo. Este año, tenía que hacer la sopa chacales. Su sabor y aspecto rústico me hace recordar los viernes de Cuaresma en casa de mi abuela en México. Sin falta, seguíamos la regla de no comer carne.
Dos viernes durante los cuarenta días de la temporada, cocinábamos para todo el barrio. A veces hacíamos, lentejas, o capirotada, a veces tortitas de atún, o sopa de chacales. El proceso de la preparación de los chacales era mi favorito, ya que mi trabajo consistía en limpiar y lavar el maíz blanco.  Era una tarea muy difícil para una niña de 8 años, enjuagando 20 libras de grano en una olla gigante llena de agua. Me encantaba.
Con plato en la mano, nuestros amigos de la vecindad se formaban en fila esperando ansiosamente su porción de sopa calientita de chacales. Con una sonrisa, un "gracias" o un "Dios me la bendiga," se dirigían a sus casas a comer algo increíble.
Extrañó esos días. El preparar y comer este plato tan delicioso me trae muchos recuerdos tan sanos de México.
Este año, mi objetivo era la búsqueda y preparación de chacales y servirlos a mi familia. Tenía que haber una tienda en Los Ángeles en donde podía encontrarlos. Si pude encontrar rompope, puedo encontrar chacales.
Busqué en todas partes y, finalmente, encontré dos variedades, blanco y amarillo, en un pequeño mercado cerca de Carson, California.
Chacales son muy populares en el estado de Chihuahua durante la temporada de Cuaresma. Es un plato campesino de maíz seco cocinado. Chacales también se les llama Chuales en Coahuila, el estado de México de donde soy.
También he oído el término "Chacales" refiriéndose a langostinos secos, así que no se confundan. Ambos platos son también muy populares en esta época del año.
Los chacales blancos son los tradicionales. Yo nunca había cocinado el amarillo, así que intente cocinar los dos.
Sopa de Chacales (o Chuales)
2 tazas de chacales blanco o amarillo (o chuales).  Yo use 1 taza de cada variedad
4 tazas de agua
2 jitomates, picados en trozos grandes
1 cebolla mediana, picada en trozos grandes
1 diente de ajo, picado en trozos grandes
1-8 oz de salsa de tomate
1 1/2 cucharadas de caldo de pollo en polvo
2 cucharadas de aceite para freír
Enjuaga los chacales en agua fría.
En una olla grande, añada agua y hierve a fuego medio-alto. Agrega los  chacales y reduzca el fuego. Deja cocinar a fuego lento durante 30-40 minutos hasta que se ablanden los chacales. Pon a un lado y no drenes el agua.
Licua los jitomates, la cebolla, el ajo, salsa de tomate y el caldo de pollo en polvo.
Calienta el aceite en una cacerola grande y cuidadosamente transfiere la mezcla de tomate en la sartén. Fríe durante 5-7 minutos y añada la salsa a los a chacales blandos con agua.
Calienta a fuego medio-lento por unos 10 minutos y agrega la sal al gusto (si es necesario).
Sirve caliente.
Rinde 6 porciones