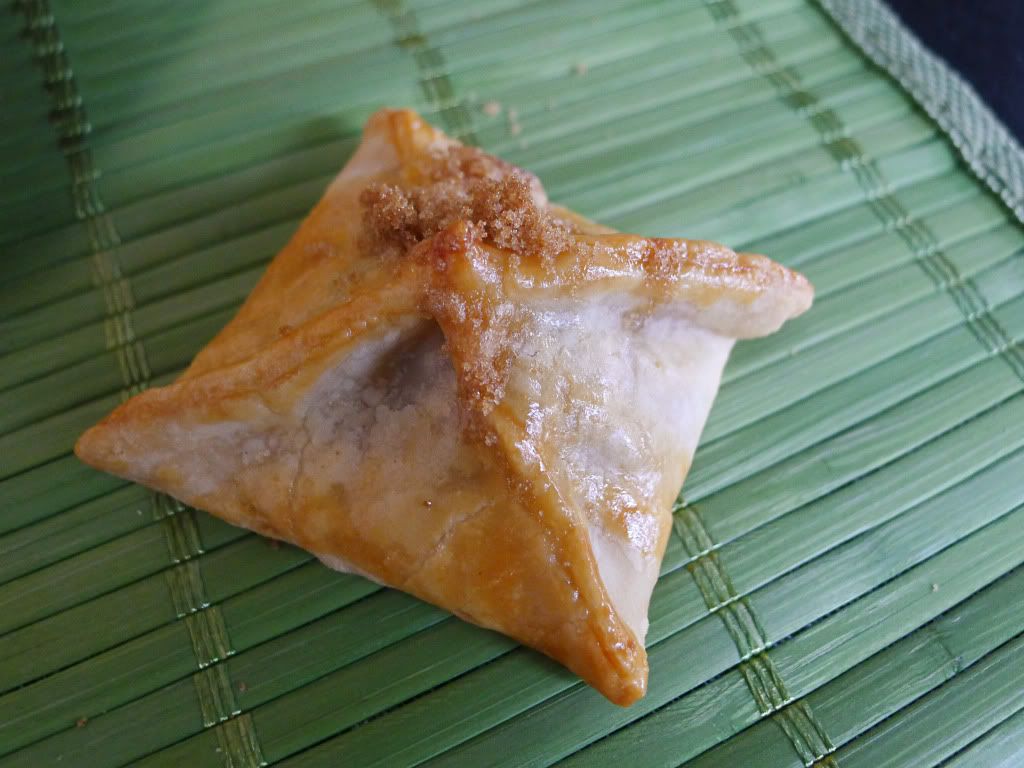 I think my husband and I stopped gifting each other Valentine's Day presents since our son was born.  It was not that we don't celebrate it or think it's corny and commercialized.  Life just … happened.
Bills,diapers,work,dinner,pre-school,gas,laundry,deadlines,  etc… etc… etc…
We are on double-time now and I don't see this routine slowing down any time soon.
What do we do on Valentine's Day?  We spend time together doing at least one fun activity as a family.  This year, we are baking "monkey kisses."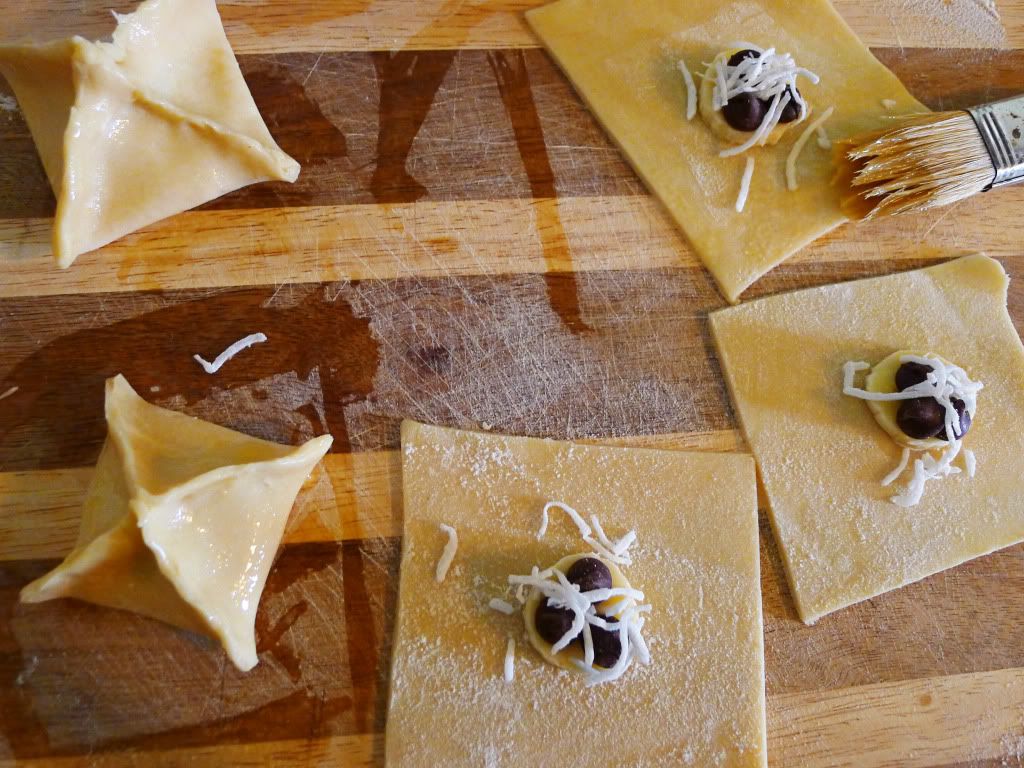 I had some leftover pie dough from this fancy Brie appetizer and some coconut from this Mexican dessert.  I grabbed the two remaining bananas in our fruit bowl, some chocolate kisses and there you have it… monkey kisses.
Disclosure:  I've never kissed a monkey.
… But I would if it had baby-sitting skills.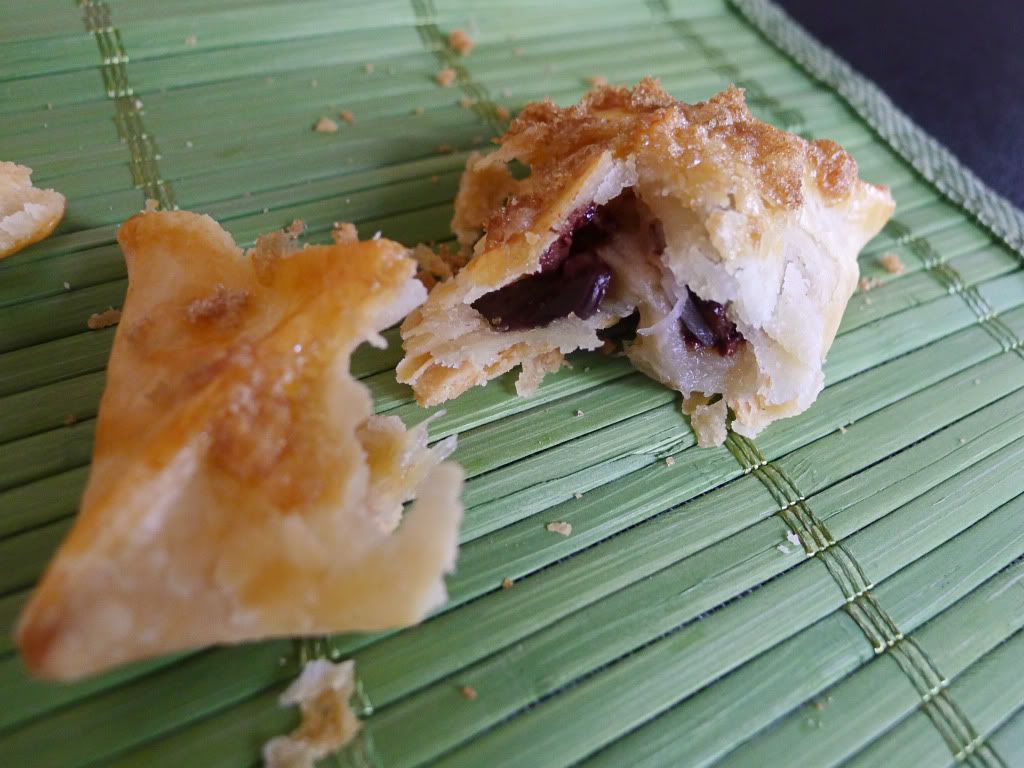 Monkey Kisses | Besitos de Chango on Valentine's Day
Ingredients
2 dough ready made pie crusts
2 bananas, sliced in rounds
1/3 cup chocolate chips
½ cup sweetened shredded coconut
1 egg, beaten
½ cup brown sugar
Instructions
Preheat oven to 350° F
Unroll pie crusts on a floured surface and flatten with a rolling pin.
Cut 3-inch squares with a knife and place banana slices, chocolate chips and 1 teaspoon shredded coconut (or more if you wish).
Brush edges of square with egg and pinch the dough square corners, carefully sealing the chocolate/banana/coconut filling.
Brush "monkey kiss" with egg and place in the oven for 15 minutes or until golden brown.
Remove from oven and immediately sprinkle with brown sugar.
http://www.nibblesandfeasts.com/2012/02/monkey-kisses-besitos-de-chango-on-valentines-day/
Copyright Nibbles and Feasts
This recipe is also part of La Cocina de Leslies food of the month club.  This month, we are featuring chocolate, of course!
Otra vez… en español!
Creo que mi marido y yo paramos de regalarnos uno al otro detallitos para el día de San Valentín desde que nació nuestro hijo. No es que no lo celebramos, o pensamos que es cursi y comercializado. La vida simplemente … sucedió.
pagos, pañales, trabajo, la cena, la escuela, que la gasolina, lavar la ropa, plazos, etc … etc … etc …
Estamos en doble tiempo y no veo que esta rutina se acabe pronto.
¿Qué hacemos en el día de San Valentín? Pasamos tiempo juntos haciendo por lo menos una actividad en familia. Este año, estaremos haciendo "besos de chango".
Me sobro un poco de masa de pay cuando hice este aperitivo con queso Brie y un poco de coco cuando prepare este postre mexicano. Tome los dos plátanos que quedan en nuestro tazón de fruta, algunas chispas de chocolate y ahí lo tienes … besos chango.
Divulgación: Nunca he besado a un chango
Pero … si tuviera habilidades de niñera si lo haría.
Besitos de Chango
Ingredientes
2 cortezas de pay
2 plátanos, en rodajas
1/3 taza de chispas de chocolate
½ taza de coco rallado endulzado
1 huevo batido
½ taza de azúcar morena
Precalienta el horno a 350°F.
Desenrolla las cortezas de pay sobre una superficie enharinada y aplanar con un rodillo.
Corta cuadrados de 3 pulgadas con un cuchillo y pon las rebanadas de plátano, chispas de chocolate y 1 cucharadita de coco rallado (o más si lo desea).
Cepille los bordes de cada cuadro de masa con el huevo y pellizque las esquinas de cada cuadrado de masa, sellando cuidadosamente el relleno de chocolate, plátano y coco.
Cepille el  resto del "beso de chango" con huevo y llevar al horno hasta que estén dorados; 15 minutos.
Retire del horno e inmediatamente espolvorea con azúcar morena.
Rinde 10 piezas
Esta receta también es parte de La Cocina de Leslie food of the month club. Este mes, destacamos con el chocolate, por supuesto!