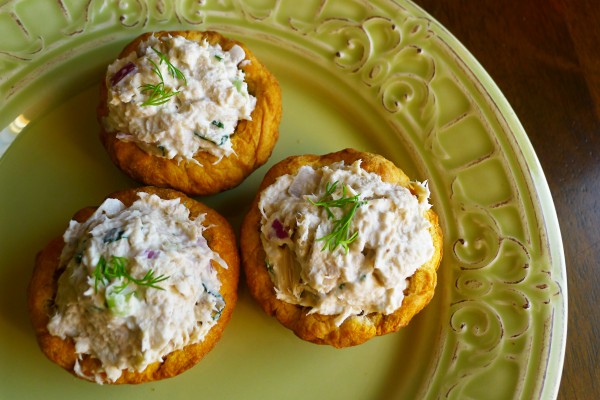 I've come a long way from baking pigs in blankets when it comes to Pillsbury Crescent rolls. I love creating fun party food with them because they are so quick and easy to prepare. No messy clean up, fun to cook with and yes, very tasty.
My latest success? Tuna and wasabi! Yeap. I love adding mustard to my tuna salads but this time, I went a step further. Wasabi powder adds a little kick to these cute crescent cups. You can find it in Asian super markets or spice stores.
Get creative! Substitute tuna with chicken breast, add chopped apples and pecans for a surprising crunch. Make it your own! You can scoop almost anything into these cute little Pillsbury Crescent Roll appetizers.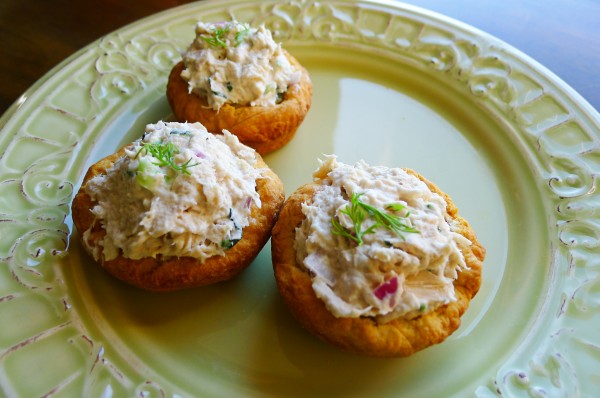 Ingredients
1 8oz can Pillsbury Crescent Rolls
1 (7 ounce) can white tuna, drained and flaked
6 tablespoons lite mayonnaise
1/3 cup finely chopped celery
1/3 cup finely chopped purple onion
1/8 teaspoon dried minced onion flakes
1/4 teaspoon wasabi powder
1 tablespoon dried parsley
1 pinch garlic powder
½ teaspoon fresh dill
Salt and Pepper to taste
Directions
Heat oven to 375. Unroll Pillsbury Crescent dough; separate into the 8 precut triangles and roll each triangle into a small ball. Press each ball into small dough discs with rolling pin and press each disc into bottom of greased muffin cups. Bake 10-12 minutes or until golden. Set aside and let cool.
In a medium bowl, stir together tuna, mayonnaise, celery, onion, onion flakes, wasabi powder, garlic powder and parsley. Mix well and serve spooned over crescent cups. Garnish with fresh dill.
What are some of your favorite ways to enjoy Pillsbury Crescents Rolls?
Vote for my Creative Crescent Recipe and you'll be entered to win a $1,000 grocery gift card!
Find more quick and easy Pillsbury recipes at www.CreativeCrescents.com.
This is a sponsored conversation written by me on behalf of Pillsbury. The opinions and text are all mine. Official Contest Rules.