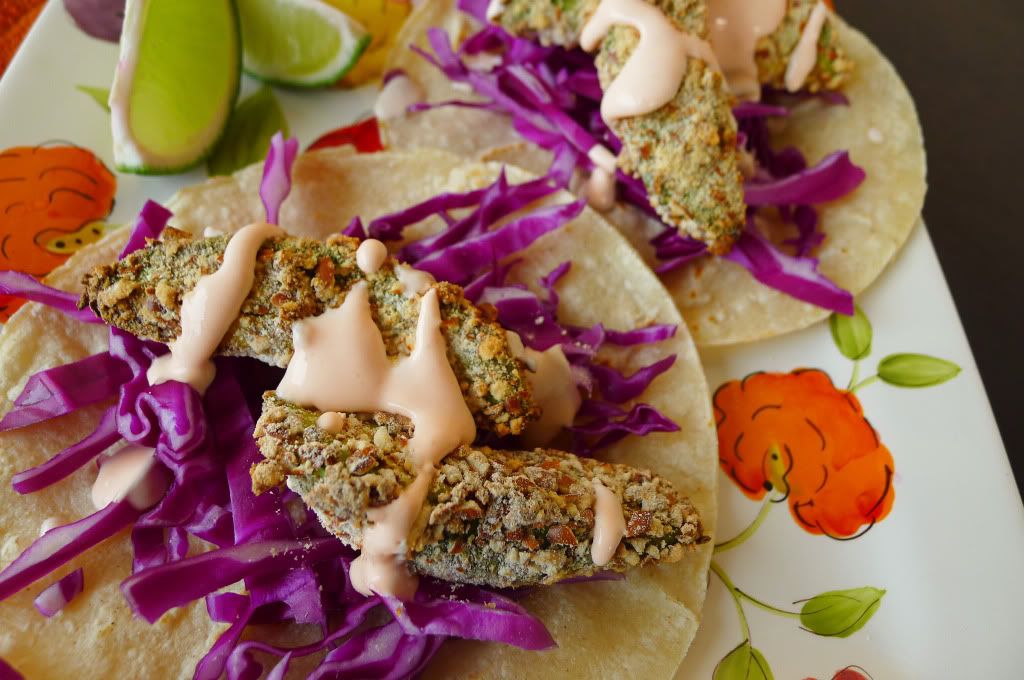 I'm on a taco kick lately. I've been trying to improve my taco eating with healthier taco-making. The latest … fried avocado tacos. Drool, right? Yes, but the fried part is not so great with my New Year's resolution. I'd hate to break my "cut back on fried foods" resolution in mid-January. It happened in 2010 and 2011.
The light bulb in my head went off and I thought "oven fry those babies!" I took it one step further and used Snyder's Pretzels to "bread" the avocado slices.  I decided to use the salted pretzels as the only salt in the recipe, no more was needed.   Snyder's makes a variety of other flavored pretzel products that would be perfect for this recipe too (buttermilk ranch and jalapeño flavored pretzel pieces!). To kick up the healthy level, I used plain Greek yogurt instead of sour cream to make the spicy and creamy chipotle dressing.  The entire dish was completely guiltless and my craving was satisfied. Next, I'll be "pretzeling" not "breading" fish, potato patties and chicken fingers, just watch me!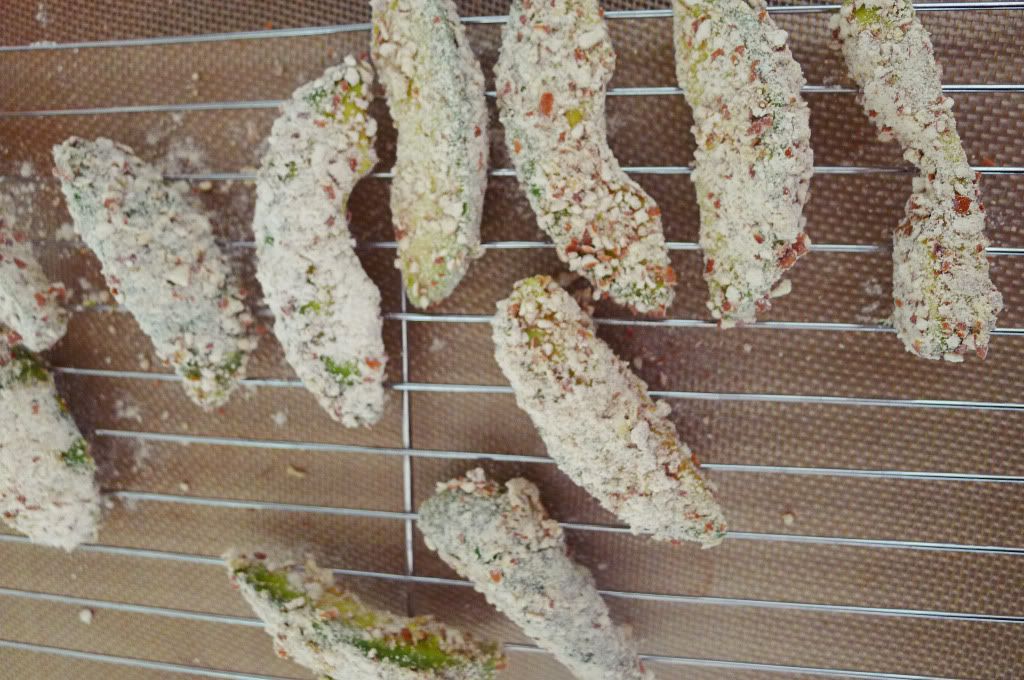 Pretzel Oven-fried Avocado Tacos with Creamy Chipotle Dressing

Ingredients
1 1/4 cups salted Snyder pretzel crumbs
1/4 cup flour
2 large eggs, beaten
2 firm-ripe medium avocados, pitted, peeled, and sliced into 1/2-in. wedges

Creamy Chipotle Dressing

1 (8 ounce) container plain flavored Greek yogurt
1/2 cup adobo sauce from chipotle peppers
2 tablespoons fresh lime juice
2 teaspoons lime zest
1/4 teaspoon cumin
1/4 teaspoon chili powder

Extras

corn tortillas
shredded purple cabbage
pepper to taste
lime juice
Instructions
Preheat oven to 450.
In a separate bowl, combine pretzel crumbs with flour. Coat avocado slices in egg, then pretzel-flour mixture. Spray baking sheet with non-stick cooking spray and carefully layer avocados. Spray the top of the wedges with olive oil, then bake for about 20, or until golden brown.
For dressing: Combine all ingredients in a large bowl and slowly whisk together, blending all ingredients.
Warm up tortillas and assemble pretzel oven-fried avocado tacos with shredded cabbage, a squeeze of lime juice and a drizzle of chipotle dressing.
http://www.nibblesandfeasts.com/2012/01/pretzel-oven-fried-avocado-tacos-with-chipotle-dressing/

Copyright Nibbles and Feasts
I wrote this blog post while participating in the SocialMoms and Snyder's of Hanover blogging program, for 6,000 My SocialMoms Rewards Points. For more information on how you can participate, click here
He tenido ganas de tacos últimamente. Pero también estoy tratando de mejorar mi forma de comer haciendo decisiones saludables al cocinar. Lo último de mis antojos … tacos de aguacate frito. Hasta hace que a uno se le caiga la baba, ¿verdad? Sí, pero lo frito no va con mi con mi resolución de Año Nuevo. No me gustaría romper mi  resolución de "disminuir  los alimentos fritos en mi dieta" a mediados de enero. Sucedió en 2010 y 2011.
Se me prendió el foco y pensé, "hay que empanizarlos y hornearlos!" Pero decidí empanizarlos con pretzels en vez de pan. Decidí usar pretzels con sal como la única sal en la receta y no se necesito más. Snyder tiene pretzels en una variedad de sabores que también serían perfectos para esta receta (Buttermilk Ranch y Jalapeño).   Para ser un poco mas saludables, he utilizado yogur griego en lugar de crema agria para hacer la salsa de chipotle y crema. El platillo no contenía nada de grasa  y al mismo tiempo mi antojo fue satisfecho. Después de esta receta que fue todo un éxito, voy a estar "empanizando" el pescado, empanadas de papa y dedos de pollo, me acaba de ver!
Tacos de aguacate horneado en migas de pretzel
Ingredientes
1 1 / 4 tazas de migas de pretzel Snyder con sal
1 / 4 taza de harina
2 huevos grandes, batidos
2 aguacates medianos, maduros en rebanadas Cremoso aderezo de chipotle
1 (8 onzas) de yogur griego sin sabor
1 / 2 taza de salsa de adobo de chipotle
2 cucharadas de jugo de limón fresco
2 cucharaditas de ralladura de limón
1 / 4 cucharadita de cominos
1 / 4 cucharadita de chile en polvoExtras
tortillas de maíz
repollo morado, rallado
pimienta al gusto
jugo de lima
Precaliente el horno a 450.En un recipiente aparte, combine las migas de pretzel con harina. Bañe las rebanadas de aguacate en el huevo, y luego en mezcla de harina y pretzels. Rocíe una bandeja para hornear con aceite en aerosol antiadherente y con cuidado tambie rocíe la capa de rebanadas de  aguacate. hornee durante unos 20 minutos, o hasta que estén doradas.Aderezo: Mezcle todos los ingredientes en un tazón grande y poco a poco bata a mano, mezclando todos los ingredientes.
Caliente las tortillas y monte las rebanadas de aguacate con repollo picado, un chorrito de jugo de limón y un chorrito de aderezo de crema de chipotle.
Rinde 4 tacos