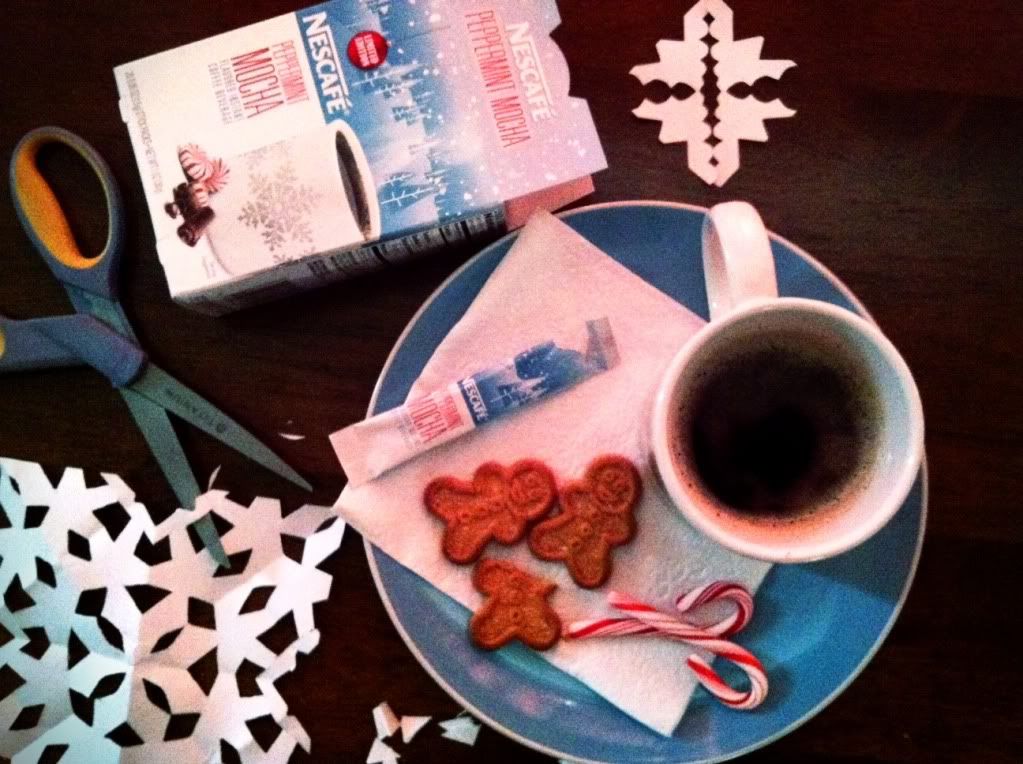 The weather outside was certainly frightful today.  We had thunder, rain and hail.  Snow?  Not quite.  It's a rarity when it comes to snow in Southern California.  So we brought the snow indoors.  With a nice, warm cup of  Nescafé Peppermint Mocha, cookies, some paper and scissors, I set out to create the coziest winter ever by teaching my son how to make paper snowflakes.
It's the small moments that matter. Witnessing the look of awe and delight on my son's face as I slowly unravel the paper snowflake, make it all worthwhile.  "Ta da!"  Followed by a, "yay Mom!  Again!"
That was my highlight of the day.  I could not ask for anything more.  Remember to cherish each moment.  Stop if you can (or slow down just a bit), relax with a cup of coffee, breathe and ponder.
Hope you're keeping warm during these blistery (and wet) winter days.  Happy holidays!
No compensation was received.  I love telling you about the great products in my life that I enjoy.  All opinions are one hundred percent my own.
El clima de hoy fue sinceramente espantoso. Tuvimos truenos, lluvia y granizo. Nieve? No exactamente. Es una rareza cuando se trata de nieve en el sur de California. Así que transportamos la nieve hacia el interior de nuestro hogar. Con una taza de Nescafé Peppermint Mocha,  galletas, un poco de papel y tijeras, me puse a crear el más acogedor de inviernos.  Simplemente enseñando a mi hijo cómo hacer copos de nieve de papel.
Son los pequeños momentos como este lo que importa. Me encanta la mirada de asombro y deleite en el rostro de mi hijo mientras poco a poco desdoblo el copo de nieve de papel, su expresión hace que todo en la vida valga la pena. "Ta da!" Seguido por un " ¡yay Mamá! ¡Otra vez! "
Ese fue mi punto culminante del día. No podría pedir nada más. Recuerden de valorar cada momento. Pare si puede (o ralentice un poco), relájese con una taza de café, respire y reflexione.
Espero que se mantengan fuera de este invierno tan frio y húmedo.  ¡Felices fiestas!
Ninguna compensación fue recibida. Me encanta compartir con ustedes acerca de los productos en mi vida que me gustan. Todas las opiniones son cien porciento mías.