How's this for a last minute giveaway?  Your own Nescafe Dolce Gusto Coffe Machine!  Make lattes, mochas, caramel machiattos, even hot chocolate.  Capsules for this super-sleek coffee machine are available at the Nescafe Dolce Gusto online Store.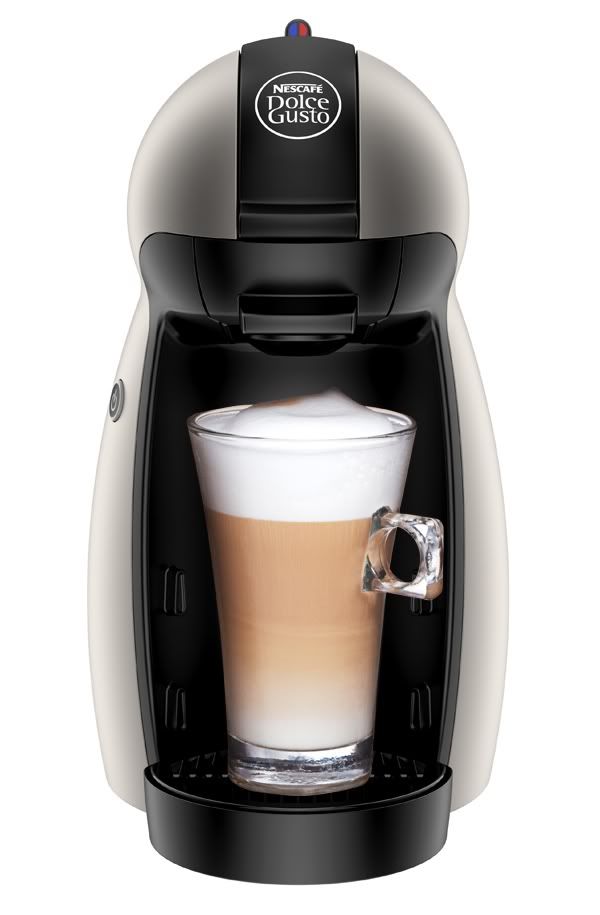 One winner will receive:
One Nescafe Dolce Gusto Coffee Machine (Piccolo Model)
To enter, tell me in a comment below, what your favorite coffee flavor is. (Please make sure to leave an email address like patty at nibblesnfeasts dot com in order to notify you if you win).
Counts as 1 entry:  Like Nibbles & Feasts on Facebook


Counts as 1 entry:  Tweet: #giveaway Win a Nescafe #DolceGusto coffee machine via @NibblesNFeasts: http://bit.ly/vGUSfD

You can have up to 3 total entries each; however, please note that you have to comment back and let me know which of the actions you took, so that I can keep track of them.
Open to U.S. Residents only.  No PO Boxes, please. Must be 18 years or older to enter.   Contest ends December 23, 2011 at 11:59 PM, PST and one (1) winner will be randomly chosen from all entries through random.org.
Otra vez…en español!
¿Qué les parece esto como regalo de último minuto? Tu propia máquina de Nescafé Dolce Gusto! Puedes hacer lattes, mochas, machiattos de dulce de leche, incluso chocolate caliente. Cápsulas para esta máquina de café súper elegante están disponibles en la tienda de Nescafé Dolce Gusto en su sitio web.
Un ganador recibirá:
     Una maquina de Nescafé Dolce Gusto  (Modelo Piccolo)
Para concursar, diganme en un commentrario cual es su cafe favorito.  (Por favor, asegúrese de dejar una dirección de correo electrónico como Patty at nibblesnfeasts punto com con el fin de que le notifique si gana).
Cuenta como una entrada: Oprime "me gusta" Nibbles and Feasts en Facebook
Cuenta como una entrada: Tweet: #sorteo Gana una maquina de cafe Nescafe Dolce Gusto a través de @NibblesNFeasts: http://bit.ly/vGUSfD

Pueden tener hasta 3 entradas totales cada uno, sin embargo, tenga en cuenta que tiene que comentar y dejarme saber cuál de las medidas tomó, para tomar cada entrada en cuenta.
Abierto a residentes de EE.UU. solamente. No se permiten apartados. Debe tener 18 años o más para entrar. El concurso termina el 23 de diciembre 2011 a las 11:59 PM, PST y un (1) ganador será elegido al azar entre todas las inscripciones a través de random.org.