Los Angeles never seizes to amaze me.  From a bus ride to work, a fancy dinner in Hollywood and a routine visit to the laundry mat, I find inspiration.
A couple of weeks ago I wanted to purchase some ingredients and supplies for our Christmas posada.  Since Los Angeles is so diverse, I usually find what I need at the local Hispanic foods market or even at the big box grocery stores.  This year my husband surprised me by taking me here…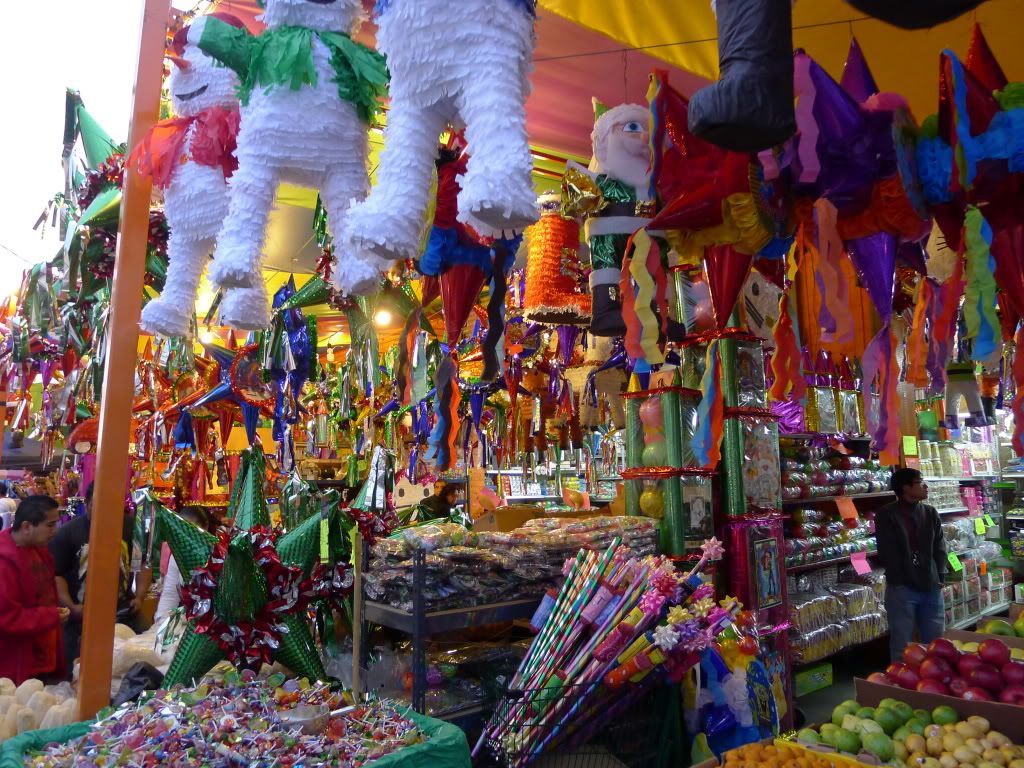 This is Piñata Alley in downtown LA.  Located on Olympic and Central and my latest inspiration for numerous blog posts you will soon read.  One of those inspirations is this Mexican Candy Series.
Candy aisles after candy aisles, the stores begin to blend with one another.  How can I not share this with you?
Lets start with my favorite, the home made classics.  The home made classics have a nostalgic connection to me.  I grew up buying these treats from sidewalk vendors and dulcerias (candy stores) for less than a peso.  They were fresh, and most were made on site.
Cocadas
These coconut sweets are made with shredded coconut, condensed milk, sugar and eggs. They are soft and crispy and come in a variety of shapes and colors.
Banderitas (Cocadas)
Pepitoria
The Mexican peanut brittle.  Largely consumed by active workers as energy snacks.  One of the most popular treats because they are inexpensive and are made with very few ingredients:  pepitas, peanuts, sesames seeds, water, piloncillo and lime juice.
Jamoncillo
best known as Milk Fudge or hardened dulce de leche and is made with pecans, whole milk and boiled sweetened condensed milk. My favorite too!
Tarugos
Made with Tamarind, sugar and chilly powder give a spicy sweet and sour kick.  "Tarugo" is also a slang word for "blockhead."
 Dulce de Higo or Pasta de Higo
Delicious with crackers, cheese and muscato wine, this dessert is made with dehydrated figs, honey (or sugar) and water.  It is then refrigerated to harden and shape.  Sold large enough to share at a party.
Cajeta Saluya
Packaged in pinewood containers, Cajeta Saluya is golden brown, sweet, and is a bit grainier than the smooth version we've come to know.  This endulgence originated in Spain as an Iberian recipe, then taken to Saluya, Jalisco about 90 years ago.   Made with whole milk, sugar, vanilla, rice and flour to add body.   A popular gift or souvenir for tourists.
Interesting note:  The pinewood does not meet FDA standards but tourists love the packaging so much that the candy maker refuses to change to glass or plastic.
I hope you enjoyed this first installment of Mexican Candy 101.  Please let me know if there is particular Mexican Candy that you would like to be featured.  I will try my best to focus and research all the favorites in future posts.
Otra vez…en español!
La ciudad de Los Angeles nunca se apodera de sorprenderme. Desde un viaje en autobús al trabajo, una cena de lujo en Hollywood o una visita de rutina a la de lavandería, encuentro inspiración.
Hace un par de semanas, quería comprar algunos ingredientes y materiales para nuestra Posada Navideña. Como Los Angeles es tan diverso, por lo general encuentro lo que necesito en el mercado local de alimentos hispanos, o incluso en los supermercados grandes. Este año mi esposo me sorprendió llevándome aquí …
Este es el Callejón de las Piñatas en el centro de Los Ángeles. Situado en la intersección Olympic y Central y mi última fuente de inspiración para numerosas publicaciones en este blog que pronto van a leer. Una de esas inspiraciones es esta serie de dulces mexicanos.
Pasillos y pasillos de dulces, las tiendas empiezan a mezclarse unas con otras. ¿Tengo que compartir esto con ustedes!
Vamos a empezar con mis favoritos, los dulces clásicos hechos en casa. Estos dulces son muy especiales para mi porque tienen una conexión nostálgica. Crecí comprando estas golosinas de vendedores ambulantes y dulcerías a menos de un peso. Estaban frescos, y la mayoría eran hechos ahí mismo.
Cocadas
Estos dulces de coco están hechos con coco rallado, leche condensada, azúcar y los huevo. Son suaves y crujientes, y vienen en una variedad de formas y colores.
Pepitoria
Consumido en gran parte por los trabajadores activos como bocadillos energeticos. Una de las golosinas más populares porque son baratas y se hacen con muy pocos ingredientes: pepitas, cacahuates, semillas ajonjoli, agua, piloncillo y jugo de limón.
Jamoncillo
mejor conocido como dulce de leche endurecida.  Es hecho con nueces, leche entera y leche condensada hervida. También es mi favorito!
Tarugos
Hecho con tamarindo, azúcar y chile en polvo da un toque picante agridulce. "Tarugo" también significa "tonto".
Dulce de Higo o Pasta de Higo
Delicioso con galletas, queso y vino Muscato, este postre se hace con miel (o azúcar), higos deshidratados, y agua. Después se  refrigera para endurecer y dar forma. Es lo suficientemente grande como para compartir en una fiesta.
Cajeta Saluya
Envasados ​​en cajitas de madera de pino, la Cajeta Saluya es doradita, dulce, y es un poco más granulada que la versión suave que hemos llegado a conocer. Este postre se originó en España como una receta ibérica, luego llevada a Saluya, Jalisco alrededor de hace 90 años. Hecho con leche entera, azúcar, vainilla, arroz y harina para darle cuerpo. Un regalo popular o un recuerdo para los turistas.
Nota interesante: La madera de pino no cumple con las normas de la FDA, pero los turistas aman el envase, tanto que el fabricante de cajeta se niega a cambiar a vidrio o plastico.
Espero que hayan disfrutado esta primera series de Dulces Mexicanos 101. Por favor, hágamelo saber si hay dulces mexicanos en particular que les gustaría ver aquí. Yo haré todo lo posible para encontrar e investigar todos los favoritos en posts futuros.