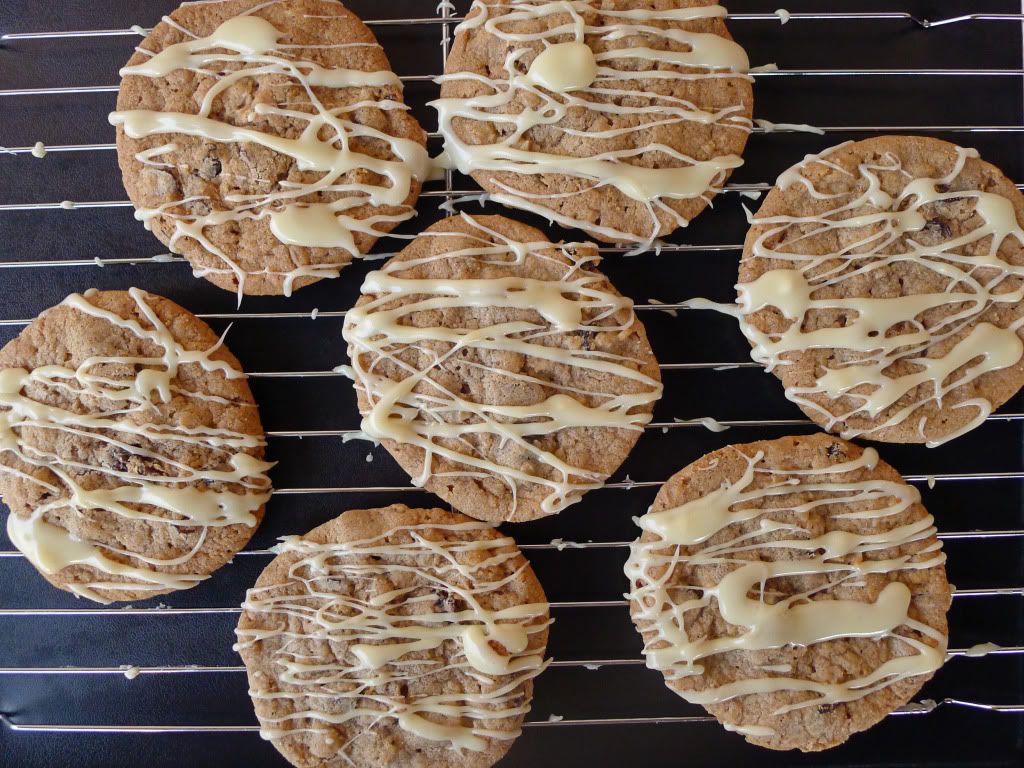 Oh, yes I did! Watch out Santa Claus!  I have compiled a tantalizing and naughty holiday cookie list from some of my favorite cookie baking bloggers.  This list has something for everyone…gluten free, chocolate love, some with nuts, some with fruit, and yes, some with Nutella.
I've also included my recipe for Double Chocolate Oatmeal Cookies because they are my hubby's favorite cookie of all time.  And let's face it, he's the one buying my Christmas present, not Santa.
**Don't miss out on the great giveaway at the end of this post.  Good luck!**
The List… 
Double Chocolate Oatmeal Cookies
Ingredients
1 cup all purpose flour
1/2 teaspoon baking soda
1/2 teaspoon cinnamon
1/4 teaspoon salt
1 ¼ stick unsalted butter, room temperature
1/2 cup sugar
1/2 cup (packed) brown sugar
1 large egg
1 teaspoon vanilla extract
1 cup old-fashioned oats
1 cup semisweet chocolate chips
1/2 cup white chocolate chips
1/2 cup raisins
Instructions
Preheat oven to 350. Line 2 baking sheets with parchment paper.
In a medium bowl, whisk flour, baking soda, cinnamon and salt.
Using and electric mixer in a large bowl, beat butter and sugars until smooth. Gradually add egg and vanilla as you continue to mix. Stir in flour mixture and oats until blended. Fold in semisweet chocolate chips and raisins.
Drop rounded tablespoons of batter onto lined baking sheets about 1 ½" apart. Bake one sheet at a time until edges are light brown. About 15-20 minutes. Cool on sheets for 10 minutes then transfer to rack and cool completely.
Stir white chocolate chips in top of double boiler until melted and smooth. Using small spoon, drizzle melted white chocolate over cookies in zigzag pattern. Let stand until chocolate sets, about 1 hour. (Can be made 2 days ahead. Store in airtight container at room temperature).
http://www.nibblesandfeasts.com/2011/12/double-chocolate-oatmeal-cookies-plus-giveaway/
Copyright Nibbles and Feasts
All this sugar has put me in a giving mood so lets have the last giveaway of the year…
All you have to do is comment below and tell me what your favorite holiday cookie is. Giveaway is now CLOSED
(Please make sure to leave an email address like patty at nibblesnfeasts dot com in order to notify you if you win).
Counts as 1 entry:  Like Nibbles & Feasts on Facebook


Counts as 1 entry:  Tweet: Enter to win a holiday kit, including a $25 Visa GC via @NibblesnFeasts: http://bit.ly/v0Be0U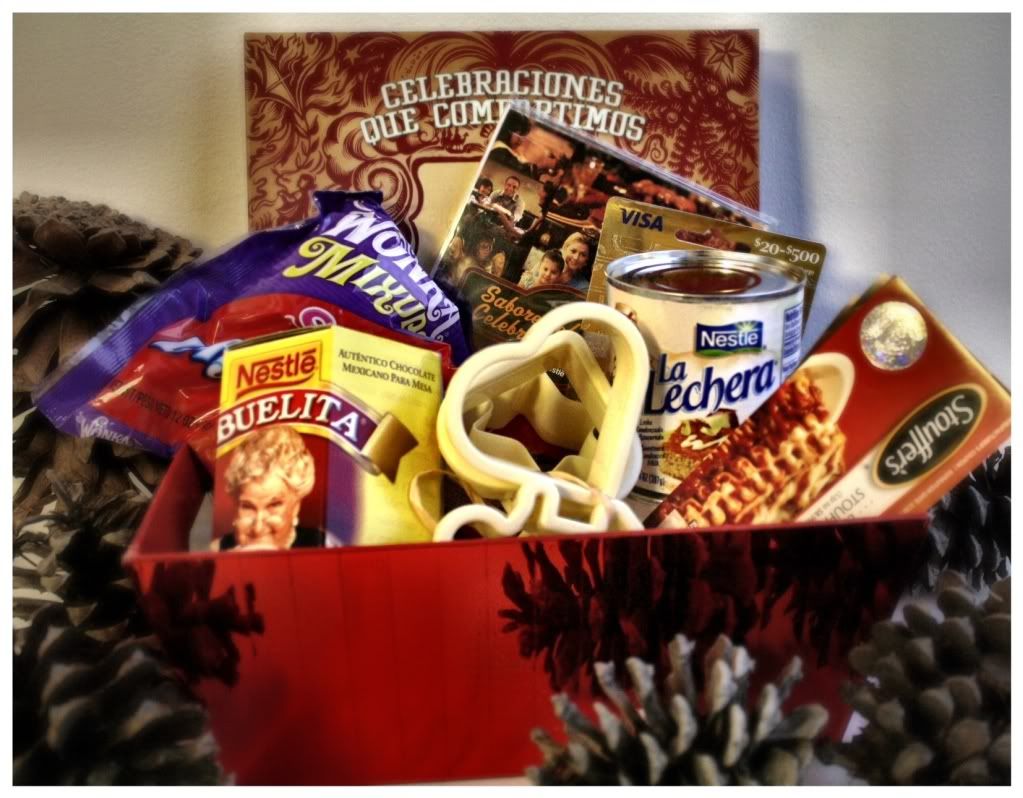 Prize includes:
$25 Visa gift card
La Lechera Cookie-cutter set
Nestle Holiday Music CD
Nestle Holiday Book
Assorted Nestle product units/coupons, including:
(2) Abuelita (2) La Lechera (2) Wonka (2) Carnation, Stouffers
You can have up to 3 total entries each; however, please note that you have to comment back and let me know which of the actions you took, so that I can keep track of them.
Open to U.S. Residents only.  No PO Boxes, please. Must be 18 years or older to enter.   Contest ends December 30, 2011 at 11:59 PM, PST and one (1) winner will be randomly chosen from all entries through random.org.
Congratulations Karina Castro!

Otra vez…en español!
Oh, sí me atreví! Mucho cuidado Santa Claus! He compilado una lista de galletas de navideñas mas tentadoras hechas por algunos de mis blogueros favoritos. Esta lista tiene algo para todos … sin gluten,  para los que aman el chocolate, algunas de ellas con frutos, nueces, y sí, algunas de ellas con Nutella.
También he incluido mi receta de galletas de avena con doble chocolate, porque son las galletas favoritas de mi esposo. Y seamos sinceros, él es el que me va a comprar mi regalo de Navidad, no Santa Claus.
** No te pierdas el sorteo al final de este post. ¡Buena suerte! **
La Lista… 

Galletas de Avena con Doble Chocolate
1 taza de harina para todo uso
1 / 2 cucharadita de bicarbonato de sodio
1 / 2 cucharadita de canela
1 / 4 cucharadita de sal
1 ¼ barra de mantequilla sin sal, a temperatura ambiente
1 / 2 taza de azúcar
1 / 2 taza (con embalaje) de azúcar morena
1 huevo grande
1 cucharadita de extracto de vainilla
1 taza de avena
1 taza de chispas de chocolate semidulce
1 / 2 taza de chispas de chocolate blanco
1 / 2 taza de pasas
Precaliente el horno a 350. Línea 2 bandejas para hornear con papel pergamino.
En un tazón mediano, mezcle la harina, el bicarbonato, la canela y la sal.
Usando una batidora eléctrica, en un tazón grande, bata la mantequilla y el azúcar hasta que quede suave. Poco a poco agregue el huevo y la vainilla a medida que continúe mezclando. Revuelva la mezcla de harina y la avena hasta que se quede bien combinada. Agregue las chispas de chocolate semi-amargo y pasas y revuelva.
Coloque cucharadas colmadas de masa en las bandejas para hornear, separadas alrededor de 1 ½ "de distancia. Hornee una  bandeja a la vez hasta que los bordes de las galletas quede un poco doraditos. Unos 15-20 minutos. Deje enfriar las galletas sobre la bandeja unos 10 minutos y luego deje enfriarlas por completo sobre una rejilla.
En baño maría, rvuelva los chips de chocolate blanco en la parte superior del baño hasta que se derritan y suavisen. Usando una cuchara pequeña, garúa el chocolate blanco sobre las galletas en forma de zigzag. Deje reposar hasta que el chocolate se endurezca un poco, alrededor de 1 hora. (Se pueden hacer 2 días de anticipación. Guarde en un contenedor hermético a temperatura ambiente).
Rinde 30 galletas
Toda esta azúcar me ha puesto en un estado de ánimo dadivoso y tendre el ultimo sorteo del año …
Todo lo que tienes que hacer es comentar abajo y dime cual est tu galleta favorita. El sorteo se ha CERRADO.
(Por favor, asegúrese de dejar una dirección de correo electrónico como Patty at nibblesnfeasts punto com con el fin de que le notifique si gana).
Cuenta como una entrada: has "Like" a Nibbles & Feasts en Facebook

Cuenta como una entrada: Tweet: Participa para ganar un kit navideño, incluyendo una tarjeta Visa de regalo de $ 25 a través de @ NibblesnFeasts: http://bit.ly/v0Be0U
Premio incluye: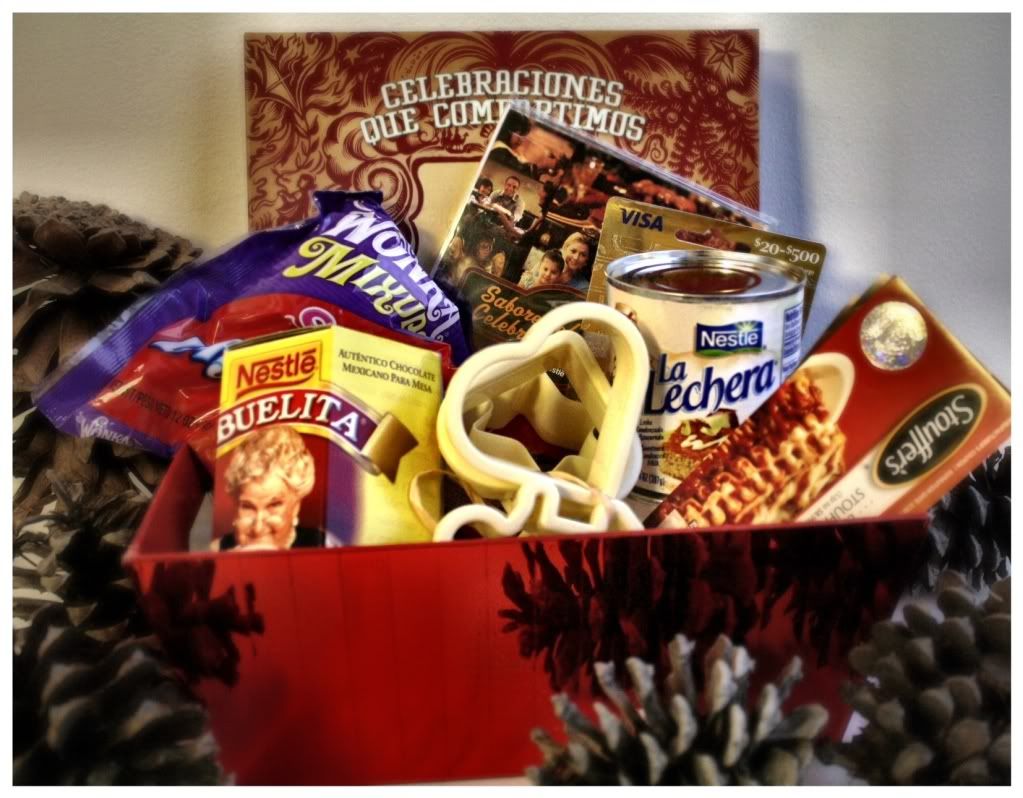 Tarjeta Visa de regalo de $25
Moldes para galletas de La Lechera
Un CD de musica navideña Nestlé
Un libro navideño de Nestlé
Una variedad de cupones de producto Nestlé, incluyendo:   (2) Abuelita (2) La Lechera (2) Wonka (2) Carnation, Stouffers
Puede tener hasta 3 entradas totales, sin embargo, tenga en cuenta que tiene que comentar y dejar saber que cuales de las medidas tomó, para contar su entrada.
Abierto a residentes de EE.UU. solamente. No se permiten apartados. Debe tener 18 años o más para entrar. El concurso termina el 30 de diciembre 2011 a las 11:59 PM, PST y un (1) ganador será elegido al azar entre todas las inscripciones a través de random.org.